Our website is supported by our users and contains affiliate links. We get paid when you purchase or sign up for anything through those links. Read the full disclaimer for more information.
Last Updated on December 1, 2020 by Yovana
We recently reviewed VIPKID and are excited to also bring you a Qkids review (a similar site where you can teach and tutor online as an English teacher).
Online teaching jobs are on the rise with many new companies emerging like VIPKID and Qkids where you can get paid for teaching English online abroad to Chinese students.
In today's gig economy, more people are freelancing, working side gigs, and side hustles. Even if you have a 9 to 5 day-job, no matter your career track in 2020 it's common to have a side hustle.
Many people are turning toward working online side hustles rather than ones that require them to work where they live. One of the most popular options is tutoring ESL students (English as a Second Language).
Are you interested in earning money to teach English online? Keep reading to learn about Qkids and if it is the right option for you.
What is Qkids?

Qkids is a strong contender in the virtual ESL space due to the virtual classroom that allows you to work from home. Additionally, teachers love the platform because it equips them with pre-planned lessons.
The virtual space also includes games and video chat to ensure that your students are engaged and truly benefiting from the platform. This is incredibly important considering the age range of the students is 5-15.
How Does Qkids Work?
Qkids is relatively simple to use compared to other e-learning platforms and requires two steps for teachers to sign up for and continue teaching on the platform. First is the multi-stage interview process.
In this stage, the company will evaluate your capabilities as a teacher and observe you teaching classes. This serves as practice and an opportunity for feedback to ensure that teachers will adhere to the Qkids standards when hired.
The second stage happens after the initial hire when teachers continue to be evaluated on an ongoing basis. This is important because it ensures that teachers are adhering to the Qkids curriculum and that each teacher is meeting the minimum required teaching hours.
How Does the Interview Process Work?
The interview process has four major steps. They are:
Initial Screening: Prospective teachers are asked to send in a one to two-minute video of themselves telling or reading a children's story. This helps the platform gauge your interactive skills. This initial screening is via a video that users send in to help them efficiently gauge who they should make time to interview.
Demo Interviews: The demo interviews are set up to allow teachers to demonstrate their teaching skills and knowledge. The first is set up to answer a few questions about teaching and the second interview is a Q&A interview session. The Q&A session lasts for about 25 minutes.
Trial Classes: This step in the hiring process is a formal review of someone teaching two to five lessons with students. The big perk for interviewees is that they get paid for these classes.
Formal Hire: When someone passes all the steps above, they will hear back from Qkids within three business days. At that point, they will be able to start teaching classes and earning income.
How Does the Role Work Once Hired?
When a online teacher is hired, they will have to set their own schedule and teach regularly. The hours at Qkids are not always flexible. This is because the students reside in China, so classes are scheduled in Beijing's time zone.
This means that teachers based in the United States will work early mornings or late nights. Classes are scheduled seven days a week.
While these hours might be tough for some, teachers can choose how much they want to teach. The only rule is that they must teach at least six hours per week.
Another perk of Qkids is that all lesson plans are planned out for you as a teacher. This means that teachers pull from the playbook given to them by Qkids.
Teachers will use the same technique they did in the original hiring process to teach. The goal is to make learning both fun and entertaining for the students as they learn the English language.
Because the hiring process is so competitive, Qkids knows that they are hiring the best of the best. Once you become a teacher with Qkids, you do not have to compete for students or drum up additional business in any way – Qkids does the recruitment work for you.
Teachers simply set their hours, show up for classes, and do their best to create a positive experience for students.
What Are the Qualifications?
Speaking of the competitive hiring process – you may be wondering what the other requirements are to teach for Qkids.
Founded in 2015, Qkids is a relatively new online ESL option but is gaining traction in the industry very quickly. In order to maintain their presence and reputation in the e-learning space, they adhere to high standards for the teachers they hire.
Qkids hires individuals with a bachelor's degree and they must be interested in working with children.
The other requirements to be a Qkids teacher are:
The individual must be a native English speaker (they want their students to learn from native speakers).
Teachers must be English speaking and based in Canada or the United States.
Teachers must exemplify digital literacy. The platform will also require proof that ESL teachers meet certain system requirements including a stable internet connection and that your computer has the correct software capabilities.
Teaching certifications such as a TEFL certificate or a TESOL certificate and/or a teaching license.
Prior teaching experience or a background of working with children is preferred (past tutors are very appealing to them).
Even if you have experience homeschooling your own children, you might be qualified. Give it a try and see. They just want you to know how to teach. If they approve you, you may just need to follow up after the fact with something like a TESOL or TEFL certification.
If you don't meet these requirements and must look elsewhere for work – don't fret! There are other ways to earn money from home – including these 31 work from home jobs.
Is Qkids Legit?
If you skimmed the requirements and believe you may be a good fit and understand how Qkids works, then you may have a few questions. The first question is likely: how do you know this isn't a scam?
Qkids, while new, is a legitimate company that hires people with the intention of making an impact on children's education. The e-learning industry is setting the example for what online work should look like.
Of course, every industry has its hiccups, but Qkids is not out to just hire anyone. Qkids is looking for those that are serious about teaching kids, work from home, and maintain a sense of consistency.
Therefore, they have a multi-step hiring process and have real interviewers grade potential teachers on their abilities to teach children.
Many people who are looking for a side gig will enjoy the consistent pay that e-learning offers. Almost every e-learning platform pays its teachers a set hourly amount, and some allow parents to tip teachers. Qkids allows individuals looking for online work or an online side-hustle to make more than minimum wage while using their degrees.
Ultimately, Qkids is a great example of online part-time work. The company is reliable and provides an easy way for freelancers, teachers, or side-hustlers to earn a consistent income.
How Much Can I Expect to Make with Qkids?

The second question after deciding that you want to teach with Qkids is deciding on whether the pay is worth your time.
If you do decide that Qkids is the direction you want to head in, it's important to note that you will make a set amount of money per hour. Qkids is that straightforward.
The hourly rate is anywhere from $16 – $20. The pay ranges because English teachers earn $8 per half-hour lesson. The platform also offers bonuses and incentives that can bring your pay up to $20 per hour ($10 per half hour).
Those bonuses and incentives are for good attendance and quality work. Because you serve as an independent contractor, there are no paid time off days or benefits, and you must do your own taxes.
It is up to you to decide if the additional income from this teaching job is worth the time commitment.
Pros and Cons of Qkids
Qkids is a completely legitimate way to make money, but it isn't for everyone. Here are a few pros and cons to consider before signing up for Qkids.
Pros
If you love working with kids and think that Qkids is the best option for you, then you will love:
Qkids allows users to choose their own hours permitting that they are hours that students in China are available.
Qkids pays more than many online side hustles, and the pay is both consistent and predictable.
The Qkids team is selective about who they bring on as a teacher, so you know that the kids you teach will be taught by some of the best teachers available.
Cons
Of course, there are a few downsides to Qkids.
The Qkids website caters to kids in China, so if you can't get up early or stay up late, this is not likely a good platform for you.
Qkids pays slightly less than some of its competitors but higher than others. Depending on your level of qualification, you might be able to earn more on a different platform.
Qkids does not take taxes out of teachers' pay, so they must manage their money for when tax season comes around.
When Chinese students take a vacation, so do teachers. This often comes as a surprise to teachers when there is a one-month break for Chinese New Year in the middle of a typical North American school year.
Should I Work for Qkids?
Ultimately, you must decide if up to $20 per hour is a good use of your time. When compared to other side hustles, Qkids has a set earnings-to-hour ratio and provides a lot of stability.
However, where other side hustles like driving for DoorDash have higher earning potentials per hour, there is also the risk of earning nothing.
The real benefit to Qkids is consistency in both pay and hours.
Some people even choose to make teaching online a career.
Whether or not Qkids is worth investing in comes down to why you are taking up a side hustle to begin with. When you understand what you want from your side hustle, you will be able to evaluate if Qkids is right for you.
Qkids Review: The Bottom Line
Qkids, while new, is a reputable online e-learning platform. The hours are set to be advantageous for children in China, so the hours in the United States and Canada are much different from a typical 9 to 5 job.
Teachers can set their own hours but must teach at times that Chinese students are available and teach at least six hours per week.
Qkids pays well compared to many other side hustles, and users report loving that the pay is a set rate.
Overall, we give Qkids our stamp of approval.
What do you think? Would you give Qkids a try? If you do, let us know how it works out for you!
Subscribe to get your free list of side hustles you can start this week!
Claim your free list of side hustles + tons of helpful resources to get started!
More Reviews:
Pin it for later!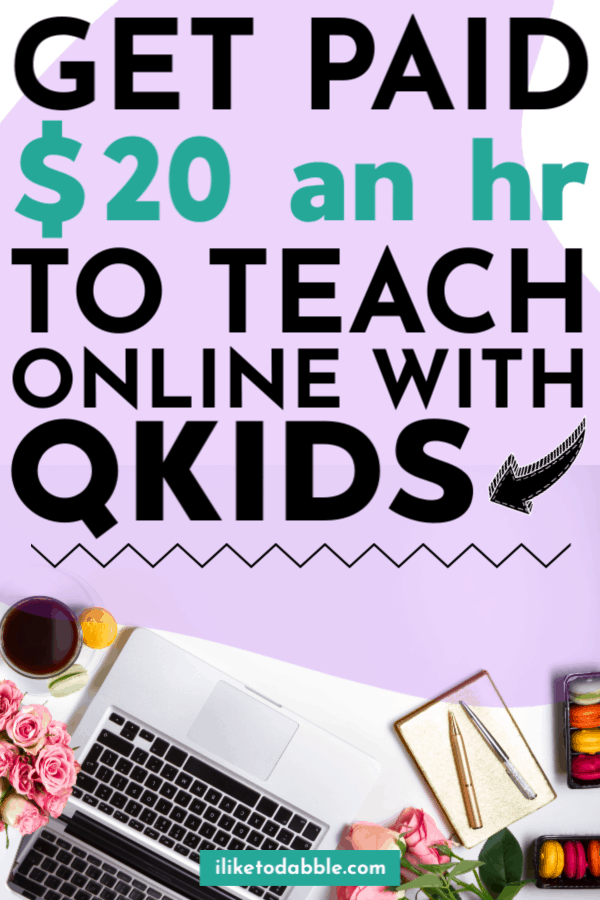 Application Process
9.5/10
Pros
You can choose your own hours (but will still need to be when Chinese students are available)
Pay is consistent and predicatable
Qkids is selective of teachers so you know you are working with authentic people + kids will have some of the best teachers online
Cons
Early mornings and late nights might be required because of the time zone difference between the US and China
They pay slightly less than other online teaching companies
You will be responsible for paying your own income and state taxes as an independent contractor
When Chinese students take vacation, teachers are forced to as well (during Chinese new year for a month without pay)
Ashley is a personal finance writer and content creator. In addition to being a contributing writer at I Like to Dabble, she writes for solo entrepreneurs as well as for Fortune 500 companies. When she's not calculating her net worth or reading the hot new finance book, you might find Ashley cage diving with great white sharks in South Africa.