Our website is supported by our users and contains affiliate links. We get paid when you purchase or sign up for anything through those links. Read the full disclaimer for more information.
Last Updated on December 7, 2020 by Daniella
The following post is contributed by Martin of Studenomics, where he tries to make personal finance fun since you have enough to stress about already. You can click here to check out the wide range of content on everything from student loans to getting paid to drink coffee.
"You get paid to drink coffee?"
A buddy couldn't believe that I was getting paid to drink coffee. He just couldn't fathom that someone would pay to drink coffee with me. He was baffled by my entire coffee crawl experience on the Airbnb platform. This was just another unique side hustle that I decided to pursue.
There are some fascinating ways to make money out there these days. Today we're going to look at interesting ways to make money these days so that you can have some inspiration to finally work on that side hustle venture that you've been putting off.
The one positive thing these days is that unique ways to make money are constantly popping up and you're always meeting folks who make money through ways you've never heard of, even with strange hobbies.
I try to explore all income sources because I know that making money is a priority since it's difficult to survive on just one income or to rely on one source of income because anything can happen at any time.
Let's look at unique income sources and how you can get started.
What are some unique ways to make money these days?
1. Social media management.
Everyone's on social media these days. Not everyone knows how to use social media for business or how to use it to make money.
How much can you earn with social media management?
According to Zip Recruiter you can make an average of $25/per hour to be a social media manager. That's if you get an official job through an online job site. If you market your own services, you could charge more.
Many local businesses need to figure out how to use social media to gain customers, but they just don't know how to start. Small business owners have enough to worry about so they tend to neglect social media thinking that it's just another distraction. However, social media can be the best business tool for any small business. This where your management services could help out.
How can you make money with social media management?
Take the time to become proficient at one platform. Figure out how to use all of the tools and features (reels, messaging and so on) for a business purpose and for spreading a message.
Look at ways to grow on a platform. Can you think of ways to grow this page? Can you use the tools to your advantage?
Offer your services to a small business. Most companies just need some sort of a presence online and they don't know how to do it. Show them what you've done for yourself and what you can do for them.
Show businesses how you can make them money. Most people just want to see a decent ROI. They want to know that this is going to be worth it.
Look for jobs in the field if you don't want to offer your services. There are many gigs available for social media management. Companies are always looking for content creators and for help in the social media department.
This is one of those gigs that's going to be taking off more these days since every company wants to establish an online presence. You can get paid to be on Instagram all day or to make silly clips for Tik Tok.
The point of this section is to let you know that your time spent on social media isn't a waste since you're learning a new skill.
If you don't want to offer social media management services, then there's another option.
Become popular on social media.
"Being famous on social media isn't real."
I've seen many variations of this quote mocking folks who are popular on social media. That's incorrect.
I'll tell you this: it does pay to be popular on social media.
There's plenty of advertising money online to be made and it's up to you to go after it. Where the eyeballs go, the advertising dollars follow.
This article on The Street talks about the highest-paid Tik Tok Influencers. There's also this Instagram influencer calculator that you can check out. The point is that there's money to be made in becoming popular on social media. I'm tired of seeing folks scoff at the idea using social media.
How can you become popular on social media?
Pick a platform that you think you could excel at. Only you know yourself. You may be good at video (YouTube), you may be silly (Tik Tok), you may love taking pictures (Instagram/ Pinterest), or perhaps you prefer to write (blogging/Facebook/LinkedIn). It's up to you to figure this out.
Create content. You have to create content that engages people and allows you to grow. You have to either entertain or educate so that your page becomes more popular.
Be consistent with your content. Consistency is key and you have to stay at it for a while if you want to grow and see results.
Have a unique angle. You can get noticed if you have a unique perspective or something different to offer. The world doesn't need more boring motivational quotes. Those who find a way to stick out from the crowd will do so even more.
The one thing that I have to stress is that you truly don't know what's going to take off these days. It could be anything that goes viral. I've seen some of the most absurd ideas take off while some of the most practical concepts get zero traction.
It's important that you pick one platform instead of trying to hop around. What this platform is will depend on you and what you enjoy doing.
How do you make money from becoming popular on a social media platform?
You sell your own products. You can create your own eBook, course, or whatever else you would like.
You promote other products (affiliate marketing). You can earn a commission for promoting something that you already use.
Sell advertising space. You can charge for advertising by mentioning the product.
You could do sponsored content. You get paid to discuss the product/service.
It's important to remember that you can't compare your account to the popular accounts that have been around forever.
There are many ways to make money with social media. The trick is to focus on growing so that you attract advertising dollars. Once your account becomes popular enough, you can look at different ways to monetize your page.
2. Start your own Airnbnb Experience.
Did you know that you can start your own experience or tour that you perform for money on the Airbnb platform?
I discovered in 2019 that anyone could apply to host an experience so I went through with it and start my own coffee tour. I would take tourists and locals to the best coffee shops in my community. Every shop would provide a different lesson or experience about coffee.
What exactly qualifies as an Airbnb Experience? According to the official website:
"Experiences are activities designed and led by inspiring locals. They go beyond typical tours or classes by immersing guests in a host's unique world."
There's a list of the most unique experiences along with a look at online experiences that have popped up.
What Airbnb Experiences can you can start?
Coffee tour.
Food sampling.
Cooking lessons.
Bike rides around town.
Taking professional photos.
Anything unique that you can offer.
What is especially great about Airbnb experiences is that you can also run online experiences and work from anywhere.
What are interesting online experiences that have become popular?
Anything with cooking.
Sheep meditation.
Tarot card reading.
Virtual tours of towns.
Dance lessons.
What are the most popular Experiences in Seattle?
Forging a knife from a horseshoe.
The history of Seattle's Disappearing Hill.
Eating Pakistani street food (online).
Photo tours.
Walking tours.
Baking delicious scones.
Hiking trails.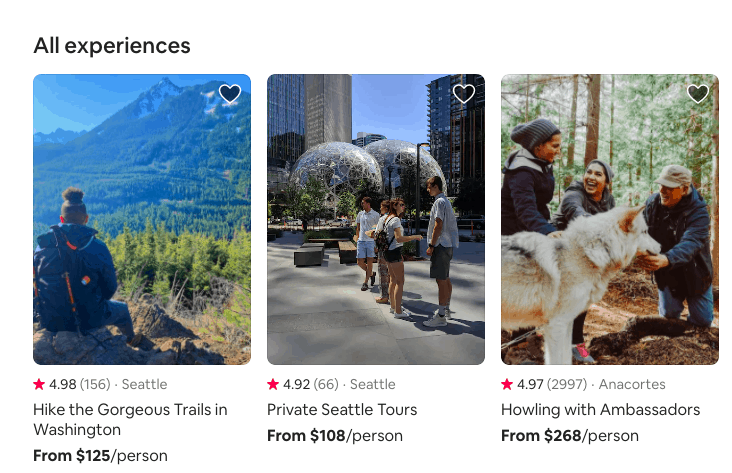 These are just a few of the ideas that you can start as your own Airbnb Experience. You can turn any passion into a profitable side hustle.
Conclusion: A few more side hustle ideas for you…
Here are a few more options for income sources that you can go after these days:
Start an Etsy shop. You can sell crafts or digital printables with your own Etry shop.
Be a dog walker. Apps like Rover pay you to become a dog walker so you can get paid to go for walks with dogs or to watch a dog for the weekend.
Create your own coaching services. You can offer any possible service that you could think of if you take the time to build yourself up on a social media platform.
Deliver food/alcohol. There will always be money to be made in delivering food and alcohol.
There's an endless list of things you can do for money.
We could go on with all of the random side hustle services that exist out there. There are more options than ever. The trick is to choose one that best fits your personality and lifestyle.
Then all is left is to do some research, take action, and get started. Don't wait until you think you're ready either – getting started messy is better than never getting started.
What do you think? Are either of these ideas something you might want to try? Let us know if this article was helpful to you in the comments below!
Related:
Pin it for later!
Martin Dasko has been helping readers invest money and make more money since 2008. Studenomics has won the Plutus Award for best personal finance blog for students two years in a row.