Our website is supported by our users and contains affiliate links. We get paid when you purchase or sign up for anything through those links. Read the full disclaimer for more information.
Last Updated on December 3, 2020 by Yovana
While 'free money' might sound too good to be true, Rakuten seems to have found a way to help shoppers earn cash back and extra points simply for shopping through their app and website.
Rakuten won't make you rich or earn you enough money to make up for a second job, but it can help you earn money for purchase you already planned to make.
This Rakuten review will cover everything you need to know before signing up to earn cashback with the app and online browser extension.
What is Rakuten?
Rakuten, formerly known as Ebates, is a cashback site that rewards users for making purchases through their website or using their browser extension. They also have an app that users can use to earn cashback.
Users can earn from 1% to 40% cashback on their purchases permitting that they are 18 years or older and use the Rakuten platforms to purchase their products.
Is Rakuten Legit?
In short, yes, Rakuten is legit. While 'free money' might seem like a scam, Rakuten is a legitimate company. Not only have millions of people cashed out using the Rakuten platform, but the company is also trusted by the Better Business Bureau (BBB). The company has been active for over two decades and continues to welcome new users every day.
How Does Rakuten Work?
Rakuten is simple to sign up for and use. Signing up takes only a few moments, and once users start to use the platform, they can continue to earn unlimited cash back.
To sign up for Rakuten, you simply enter your email address and choose a password. Then, you can choose to complete your profile or just start shopping. To shop with Rakuten, you can download the plug-in on your browser, download the smartphone app, or both.
Users can sign up via a referral link to earn a $10 welcome bonus. This money is automatically credited to the user's account permitting that they make at least $25 of qualifying purchases within their first 90 days of being a member.
Rakuten allows users to choose between receiving this bonus as a $10 Walmart gift card or a $10 cash bonus when they cash out.
In Your Browser
When you sign up for Rakuten, the easiest way to use the service is by installing the browser extension for Google Chrome. When you visit a store online that has a cashback offer, a pop-up alert you that you can activate cashback with Rakuten.
For example, if you are shopping on Amazon, a pop-up might alert you that you can activate a 1% cashback on your purchase. If a store that you are shopping on does not have a cashback offer, the pop-up might alert you about a site that does have a cashback option for the items you are purchasing.
In the Rakuten App
The Rakuten app is available for both iPhone and Android users. When you download the Rakuten app, you can check offers when you are shopping in-store. For example, if you are shopping at Target, you can check the app to see what items you might be able to receive cashback for. This is easier than using physical coupons because you will always have your phone with you and will be able to search easily.
When shopping in-store, you can check the Rakuten app to see if there are discounts, cashback offers, deals, sales, and other promotions that you can use.
Ways to Earn with Rakuten
If using Rakuten sounds easy for you, then there are plenty of ways that you can enhance your shopping experience and earn even more cashback.
Earn In-Store
Many stores offer cashback opportunities when shopping in-store. Users can simply select the deal they want to use on the Rakuten app, then show the cashier at checkout. Your cashback credits will then show up in your account. Sometimes, users can pair coupons with cashback offers to both get immediate savings as well as to earn cashback in their Rakuten payouts.
Rakuten Cash-Back Visa
Most Rakuten users shop online, which means they are using credit cards often. You can earn even more cashback from Rakuten by signing up for the Rakuten Cash-Back Visa Card. You can stack your rewards, which means that you can earn the usual cashback that you would via the plug-in, plus you can earn an additional 3% cashback on Rakuten purchases, plus 1% cashback on all other purchases. Your rewards will be paid out via PayPal or a mailed check, and there are no limits on how much you can earn with this credit card.
Hot Deals
Hot Deals are like coupons and are available within the Rakuten website and app. You can earn gifts with specific purchases, receive free shipping, buy gift cards, and get deals like buy one, get one free on specific items.
Refer Friends
Rakuten users can earn up to $25 per quarter for referring friends who start using the platform. The friends you refer will earn $10 permitting that they make at least $25 of qualifying purchases in their first 90 days. This can be an easy way to boost your earnings each quarter.
How to Get Paid with Rakuten
Rakuten pays out its users quarterly. As you earn points and cash within the app, it accumulates over a fiscal quarter. This means that any money earned between January and March, April and June, July and September, and October and December are paid out 6 weeks after the close of the quarter. For example, any money earned between January and March is paid out by May 15.
Rakuten users are only paid out if they earn over $5. If they earn less than $5, their balance carries over into the next quarter and will be added to their next payout.
Users can choose to be paid out with a physical check or to receive the balance via PayPal. While the payout is not immediate, it can be a great feeling to receive an extra bit of money four times a year.
Should You Use Rakuten?
The decision to use any affiliate marketing company is up to the individual and their goals. However, there are plenty of pros and cons of using Rakuten.
Pros
There are myriad reasons to use Rakuten. Users can start earning free money today, simply by using the Rakuten app to shop.
Easy to use – Rakuten is simple to download and use. Users can get signed up within a manner of minutes and can download the Google Chrome plug-in and app quickly as well. It is free to use and users can earn money on hundreds of online and brick-and-mortar purchases.
Multiple ways to earn – Rakuten users are not limited to one method of earning. Instead, they can leverage the Rakuten app to save money, refer friends, and use the Rakuten credit card to earn extra cashback, and more.
Minimal change in how you shop – Online shoppers simply need to select the cashback option on the Chrome pop-up when purchasing items online. In-store, users simply select the coupons and other deals they want to use to earn cashback.
Variety of stores to choose from – Rakuten works with over 2,500 retailers including popular electronics retailers like Lenovo, Dell, Verizon, and more. They also work with grocery stores like Thrive Market, and other stores like Kohls, Target, and more.
Unlimited earning – Users can earn unlimited cashback on Rakuten. This means that they can refer friends, earn unlimited credit card rewards, and more. Some users can earn hundreds of dollars each quarter.
Cons
While there is plenty to love about Rakuten, there are a few things that users are encouraged to keep in mind when using the platform.
May encourage impulse buying – Some people may see a great deal and be encouraged to purchase an item, even if they were not already planning to purchase it. Rakuten is designed to earn shoppers cashback on purchases they were already going to make. Therefore, the app may inadvertently encourage impulse buying, thus costing users more money rather than helping them to save.
Quarterly payouts – Rakuten pays users every quarter rather than as they earn. This can be frustrating for some users that are looking to earn quick money. However, the quarterly payouts can be a nice bump in income occasionally.
Requires spending – As they say, there is no such thing as free money. Rakuten users must spend money on the app to earn cashback. However, if users make purchases they already needed to make, they can earn cashback without spending additional money.
The Bottom Line
Rakuten is a completely legitimate company that helps shoppers earn cashback on their purchases. Users can maximize their earnings by using the app in-store, using the Rakuten credit card, referring friends, and more.
If you're an online reseller, you can use the app to get stuff even cheaper to flip and apply your cash back towards your profits. You can even use it to do online grocery shopping or buy other necessities for you and your family.
Rakuten users are paid out quarterly, and there is no limit to how much a user can earn. Overall, this easy-to-use app is a great way to earn extra cash and save money on purchases.
More reviews:
Pin it for later!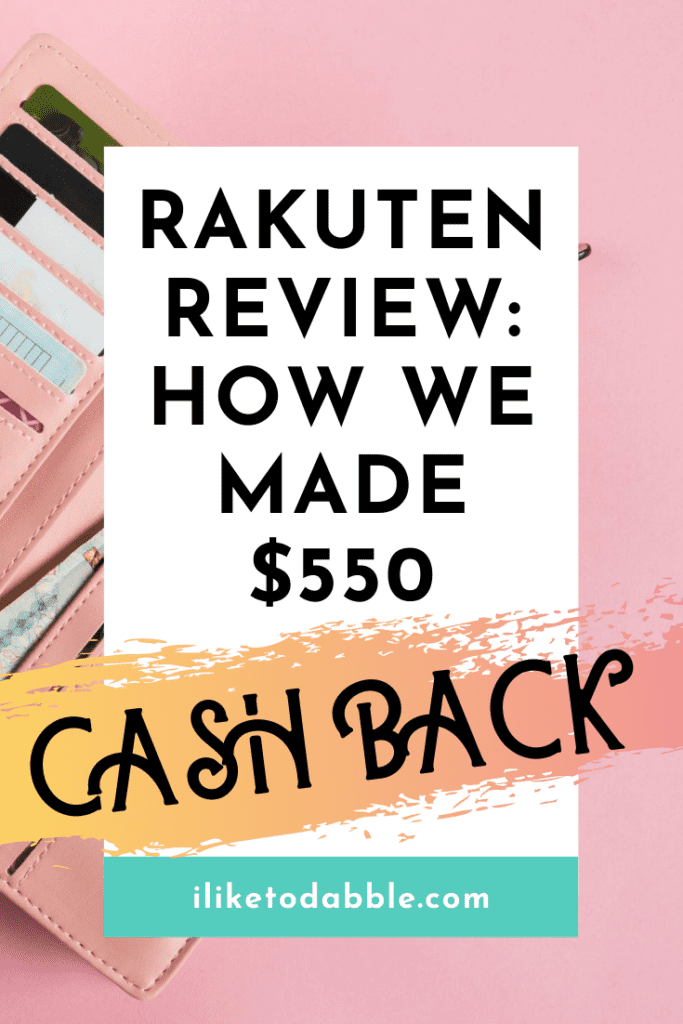 Pros
Multiple ways to earn
Minimal change in how you shop
Variety of stores to choose from
Ease of use
Unlimited earning of referral money
Cons
May encourage impulse buying
Only pays out quarterly
Requires spending to save
Ashley is a personal finance writer and content creator. In addition to being a contributing writer at I Like to Dabble, she writes for solo entrepreneurs as well as for Fortune 500 companies. When she's not calculating her net worth or reading the hot new finance book, you might find Ashley cage diving with great white sharks in South Africa.