Our website is supported by our users and contains affiliate links. We get paid when you purchase or sign up for anything through those links. Read the full disclaimer for more information.
Last Updated on October 27, 2020 by Yovana
I feel like we just made it out of that time of year again when we constantly had to tend to our lawns so they didn't grow out of control. Summer can be brutal on your lawn if you don't take care of it often, no matter where you live. In the summer time or any season for that matter, lawn care can become pretty expensive once all those little things add up. There are tons of ways to keep your yard in tip-top shape without spending a fortune though. It is totally possible to achieve flawless landscaping on a budget with these cheap landscaping ideas.
Now as we move into fall and everything in nature kind of goes into a 'slumber', lets talk about how we can prepare our lawns for any season. Whether you are wanting to revamp your yard for your own enjoyment or need to spruce it up to sell your home faster, I have tons of tips that will help you get the job done on a low budget.
Instead of paying thousands for professional clean up and landscaping, do it yourself! It is easier than you think!
Want to start a blog like this one and make extra money while doing it? That extra money could go towards some home and lawn renovations. Start a blog with Bluehost! If you sign up for Bluehost with my link you get a free domain, free site builders, free 1-click WordPress install, 24/7 support and all for only $2.95 a month! You really can't beat that deal. I have already made $3000 from affiliate marketing alone after only 6 months of blogging, thanks to the Making Sense Of Affiliate Marketing course.
Not sure about starting a blog, no sweat. You can even make money with affiliate marketing on Pinterest!
Want to start a blog like this one? Sign up and I can help you out!
The Ultimate Blogger Freebie Master List
Sign up to get this master list of the top freebies for bloggers; free stock photos, checklists, courses, guides, planners, etc.
Here are my top tips for 'do-it-yourself' yard cleanup and landscaping on a budget!

A great way to save money on your yard and landscaping purchases are to use great cash back and rebate apps like some of these:
First, let's clean up that yard!
Forget the hassle of a dumpster or those tiny paper bags from home depot that you are stuck stuffing in yard clippings, leaves and branches into for hours. Instead, use a bagster or garden waste bags for yard cleanup. The best thing is they won't break apart on you like those pesky brown bags.
We have a huge yard that goes back pretty far. Of course with us, our lives became a bit busy and we let our yard go a bit (as everyone does, I am sure). We later had to tear down our shed completely because a tree fell on top of it during a bad storm. So along with tearing down that shed, most of the stuff inside of it had to go too.
I do not know what we would have done without a bagster to help us easily clean out our yard and get it in tip top shape. Even though you do have to pay for your local Waste Management company to come pick up your bagster, they only cost about 20 – 30 bucks on Amazon!


Have more junk in your yard than you can handle? Check out 1-800-GOT-JUNK at 1800GOTJUNK.COM to book your junk removal online and save $10 with this link!
Let's talk about pests.
Our yard has tons of trees so we are often trimming and cleaning up heaps of leaves. Especially now during the beginning of fall as our yard is covered in leaves it seems almost every week.
Having many trees and plants in your yard attract an array of beautiful animals and insects such as butterflies, dragonflies and chipmunks. However, they can also attract unwanted visitors such as pests. Pests are unwanted insects like ants, termites, fleas, mosquitoes, gnats, etc.
Small animals can also be considered as pests if they nest in your yard or underneath your house, such as rabbits and mice. The more leaves and branches you have in your yard piling up, the more pests will be attracted to your yard. So it is important to keep your yard clean and pest free so you aren't paying for it in the long run.
Get rid of pests and keep them away for good!
We had a flea problem earlier this summer and the ONLY thing that worked in our yard were spraying Beneficial Nematodes throughout our yard. Beneficial Nematodes are microscopic round worms that are safe for your family and your pets but kill over 250 kinds insects including fleas, ticks, mosquitoes and any other disgusting insect that is a pest to your lawn and garden that you can think of. This pest control strategy is an all natural and organic way to control pests in your yard and the only one that has worked for us. We have been flea free ever since!
Diatomaceous Earth Food Grade is another great all natural strategy for pest control. There is really no other way than going all natural that actually works, especially if you need a pest control strategy that is safe for you, your family, and your pets!


Go crazy with the evergreens.
Evergreens are really the best trees for your money. They keep their foliage all year long, even during the winter. Because they keep their foliage all winter, low-growing evergreens are perfect for planting around the perimeter of your yard, near your fence, and your foundation to hide it all year.
We value our privacy, especially in areas like our back yard where we want to stay tranquil and free of outside stresses. Let's face it, not everyone likes their neighbors nor do they want to see them all the time. When we are outside, chill-axing with our dogs out back, our evergreens provide the perfect ambiance and privacy setting for full relaxation.
Make a bold statement in your garden by selecting a variety that offer different shapes and colors. Evergreens also have the ability to stay compact and rarely outgrow their space. I recommend the white pine, blue spruce, swiss stone pine, or a juniper. Check out this fun article from Better Homes and Gardens for fun evergreen landscaping ideas!


Add an edging layout.
My favorite budget friendly option for landscaping is adding edging layouts. Edging layouts are perfect for adding focal points. You can surround an ornamental tree or maybe a flower bed of mums with edging to add beautiful focal points in your lawn.
You can easily add more edging than just around certain trees or flower beds, maybe around an entire side of your yard where you have a variety of plant species that intertwine with each others' color. I recommend using temporary spray paint to create an outline for the edging and then follow along that outline as you place the edging. This tip is easy to follow and keeps your landscaping cost down so you can stay within your budget.


Top it off!
Top off your cleaned up, newly landscaped yard with some eclectic garden ornaments and solar fixtures. These will highlight certain areas of your garden that you want to stand out and give it more of a 'Secret Garden' feel. You can get solar lights and fun garden accessories for next to nothing at the DollarTree! Check out seasonal items to make it fun and inclusive for the whole family.
I personally love this solar light + edging combo on Amazon! Check it out here!
Check out these super cool glow in the dark garden pebbles for walkways or anywhere that you want this magical accent.
Maybe even add some adorable Halloween decor to your yard from Trendy Halloween!
What other strategies do you keep your lawn and garden budget friendly? I would love to hear more from you!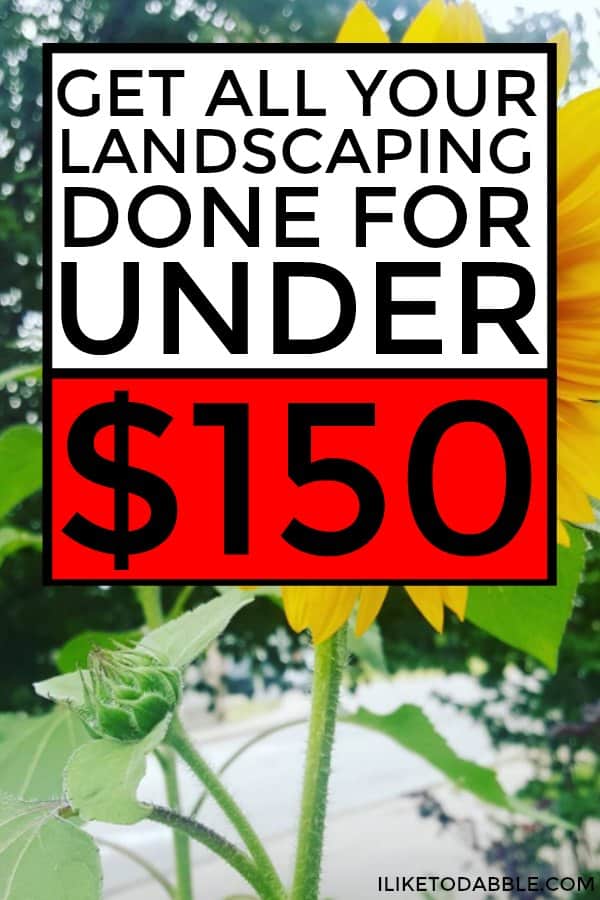 Related:
20+ Ways To Lower Your Monthly Bills
10 Steps Closer To A Frugal Lifestyle
How To Save $500 Dollars A Month
How To Cut Your Grocery Bill In Half
How To Make $1000 By Losing Weight
15+ Ways To Make An Extra $100 Every Day
How To Score Free Concert Tickets
How To Shop Online And Not Pay A Dime
The Best Ways To Sell Your Stuff Online And Actually Make Some Money
10 Things You Are Throwing Away Your Money On
Want to pave the way for a future of financial freedom? Get loads of tips that I use every day to make extra money and save extra money as I prepare for mine!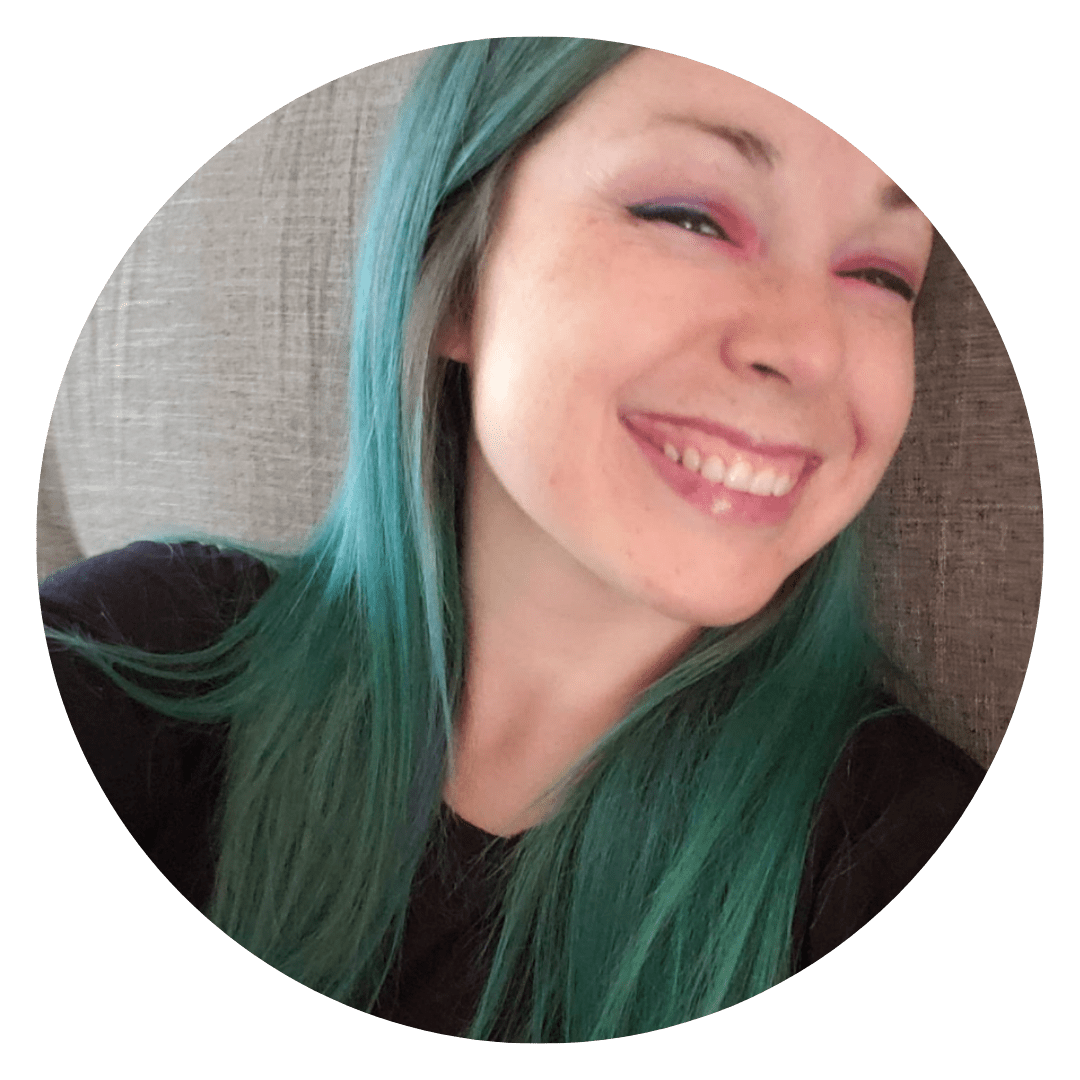 Daniella is the creator and author of iliketodabble.com. When their wife Alexandra and them aren't globetrotting or playing with their 7+ animals, they are dabbling and working towards a future of financial freedom.