Our website is supported by our users and contains affiliate links. We get paid when you purchase or sign up for anything through those links. Read the full disclaimer for more information.
Last Updated on October 26, 2020 by Yovana
If you are not the best salesperson, you might steer away from the idea that you can sell your stuff online. What if you knew of a way where you don't really have to sell the product, but the product sells itself or the platform sells your product for you? Well that is kind of what this article is all about, the apps that make it easy as pie to sell your stuff online.
Selling online is the easiest way to make money these days, it seems. If you have a knack for it, of course. It all started with selling collectibles and antiques at auctions and the idea of those auctions moving to online platforms such as eBay. Then came the wave of eCommerce and now there is no other way BUT selling online, unless you are craigslist.
I have always had the knack for being able to swing a few bucks by selling some old things when I needed gas money or whatever. Hey, I was in high school. I had to get crafty at times. I went from selling at vintage resale shops to selling online. Even though I mainly sold old textbooks or cell phones on eBay and Amazon in college, it was the easiest sale to make when textbooks and cell phones are expensive everywhere else! Some other popular items to sell on both of these platforms are guitars and other musical, automotive, tech or gaming items.
Amazon and eBay may be all you hear about these days for the best platforms for selling your stuff online. Did you know there are about a dozen other types of applications like these? Well not exactly like them, but similar.
Related:
How To Work From Home Doing Anything You Want
9 Unusual Ways To Make Some Extra Cash
Make Money For Your Spring Cleaning
These Apps Want To Give You Money
How To Shop Online And Not Pay A Dime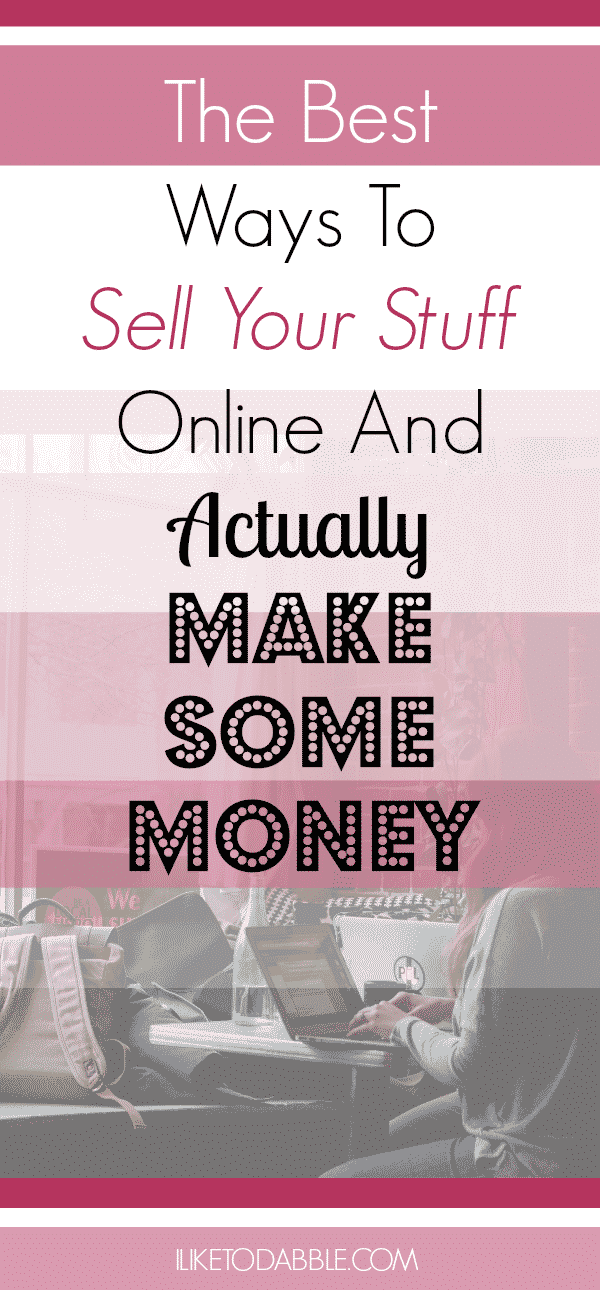 Check out the best ways to sell online.
The best ways to sell online and make some actual money may be easier than you think.
Amazon and eBay are great for when you want to sell something that will gain attention quickly such as collectibles, antiques, rare and in demand items, musical instruments, electronics, games and platforms, and sports memorabilia. Some of the below tools will help you sell the rest.
Gazelle is the nation's leading consumer electronics reCommerce site, providing an easy, fast and safe way for consumers to get cash for their used electronics or buy certified pre-owned devices. Gazelle reduces the risk and effort of buying and selling pre-owned electronics online with benefits such as comprehensive data removal. They also have a strong and positive reputation for their customer service. Currently, Gazelle has paid out more than $200 million dollars. Your sale potential is high here as they bought and resold more than 2 million devices. Click to start selling on Gazelle and boost your side income immediately!
Decluttr is the easiest way to sell your unwanted CDs, DVDs, Games, Blu-Rays, Books and Tech! It's completely free, and it's easy to get started too. You scan the item's barcode, ship the item for free and get fast same day payments.
With Poshmark, you can sell your old clothing and accessories. Users who sign up create a virtual closet. The virtual closet is where you can display items you would like to sell. Make sure the items you are trying to sell are in good condition or it won't fly. Sign up here and get $5 credit to your account!
Mercari is more of a flea market application as it includes handmade items. It allows users to buy and sell a wide variety of new, used and handmade items. Items range from clothing and beauty products to collectibles and video games. Mercari originated in Japan, where it's become a mobile shopping sensation, and launched its app in the U.S. in 2014.
The Ultimate Blogger Freebie Master List
Sign up to get this master list of the top freebies for bloggers; free stock photos, checklists, courses, guides, planners, etc.
All you have to do to get started with Gone is snap a picture or record a video of your used product. The used product can be used electronics, gadgets or small appliances. If Gone determines that an item can be resold, the company will make you an offer. If you accept the offer, Gone will pick up the item from your house or send you prepaid shipping materials and a printed label to drop off at any UPS location. It will also list the item and find a buyer for you, so you can just sit back and relax. As long as your item passes inspection and sells successfully, you'll receive your payment. If your item doesn't sell in 30 days, you'll have the option to lower the price or receive your item back at no cost. Gone makes selling your old tech stuff so easy.
Reverb.com is the world's largest music gear website, most used by musicians or collectors. Reverb is a marketplace for musicians to buy and/or sell used, vintage, and new music gear online.
ThredUp is easy to use and navigate and probably one of the most intuitive clothing resale online methods out there. How it works is you order a Clean Out Kit, pack it full of styles you've loved while making room in your closet, and return the kit to thredUp. This way you support causes that strengthen our communities and keep clothing out of landfills.

Vinted is another easy to use clothing and accessory resale online method. All you have to do to get started selling is upload the video or picture of your products, fill out the specifics, and you are off tot he races!
OfferUp is like if Cragislist became an app but was also safe. OfferUp is like craigslist where it lets you buy and sell locally but keeps your private information secure. After you browse your local area and find something you want, you can message users securely through the app without giving away personal information
Ebay is great for making money from selling online. The hard thing with eBay at times, is that it is hard to find a buyer. It is easy to sell online if it is eBay that is the buyer! Ebay wants to pay you for your old phones, new phones, or all your phones! Send your new or used phone to eBay Valet and make money. Click here to get a quote. Find out how much you can get! I know people who make a living off of selling on Ebay. My wife sells about 2-5 guitars a month using Ebay and it has become a tremendous help in our finances.


Amazon and eBay are still some of the best ways to sell online but can include much more competition than these tools. That is what makes it so great about these tools is that there is more chance you will make a sale.
The 'no competition' option – Selling in your very own online store. Create a store today with Shopify.

It is extremely easy to set up a store in Shopify and start selling products with just a couple of clicks! Once you sign up for Shopify and gain access to your dashboard area, click to set up your store. I currently have the trial version of 50 free orders and even though I do not have any products set up yet, you can see how easy it is to set up products and customize the store from the dashboard below.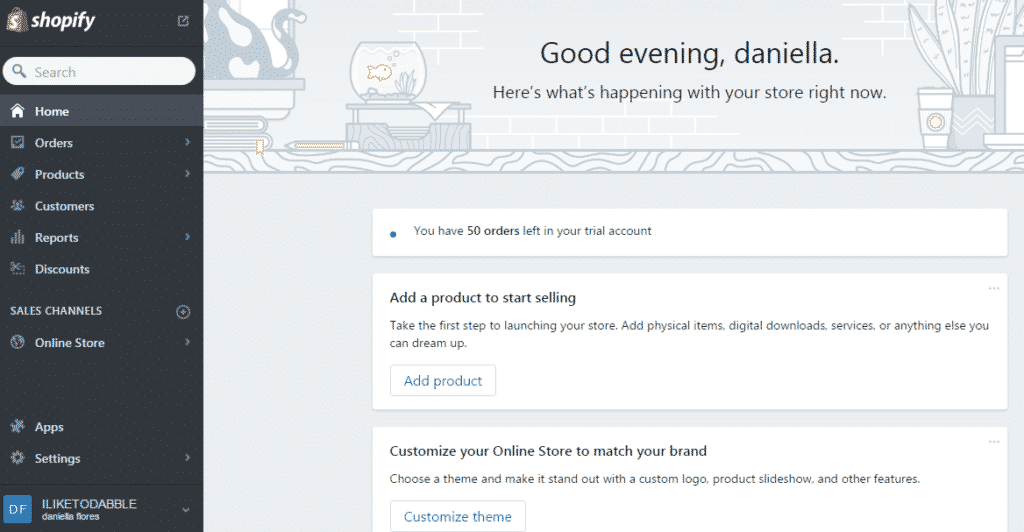 This took me maybe a couple of minutes to sign up for Shopify and as I played around with some of the modules, I noticed how easy it is to use. No wonder millions of companies use Shopify! Sign up for Shopify today and get rid of the competition.
If you have not yet started a blog and want to, or are having trouble with where to start, check out How To Create A Self Hosted WordPress Blog. If you sign up for Bluehost with my link you get a free domain, free site builders, free 1-click WordPress install, 24/7 support and all for only $2.95 a month! You really can't beat that deal. I have already made $3000 from affiliate marketing alone after only 6 months of blogging, thanks to the Making Sense Of Affiliate Marketing course.
If you want more scale and options out of your hosting, check out managed WordPress hosting options with GoDaddy or WPEngine. With this link, you can get started on GoDaddy today for only $1!
Here are some free blogging resources that have helped me on my blogging journey. Maybe they can help you too?
The Ultimate Blogger Freebie Master List
Sign up to get this master list of the top freebies for bloggers; free stock photos, checklists, courses, guides, planners, etc.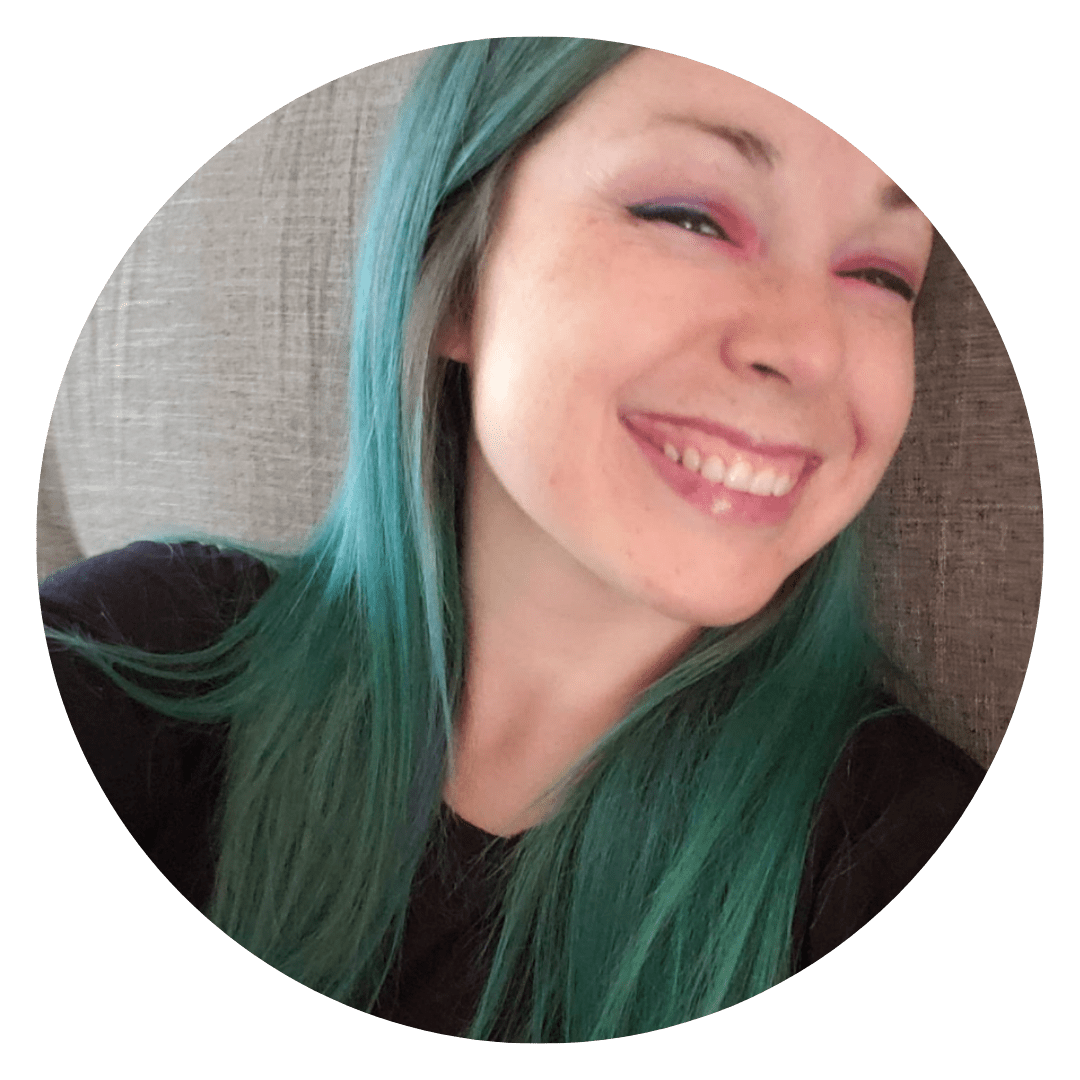 Daniella is the creator and author of iliketodabble.com. When their wife Alexandra and them aren't globetrotting or playing with their 7+ animals, they are dabbling and working towards a future of financial freedom.