Our website is supported by our users and contains affiliate links. We get paid when you purchase or sign up for anything through those links. Read the full disclaimer for more information.
Last Updated on December 3, 2020 by Yovana
Do you want to pad your pockets by selling things online? Or, perhaps you have extra items around your house that you'd like to sell to reach a financial goal like having extra pocket money or making an extra payment on your debt. Even if you simply want to declutter and make a little bit of money doing it, selling apps make it easy.
But, before you choose a platform to sell your things on, you should do your research to make sure that it is safe and that you don't get scammed. Therefore, you'll want to read up on Mercari.
In this article, we'll dig into what Mercari is and do a full Mercari review, show you how to use it, and if this is the right platform for you.
What is Mercari?
Mercari is an online e-commerce marketplace. Users can download the app then buy and sell items using the platform. You can buy and sell almost anything on the marketplace, but the most popular items tend to be electronics, clothing, household items, and outdoor items.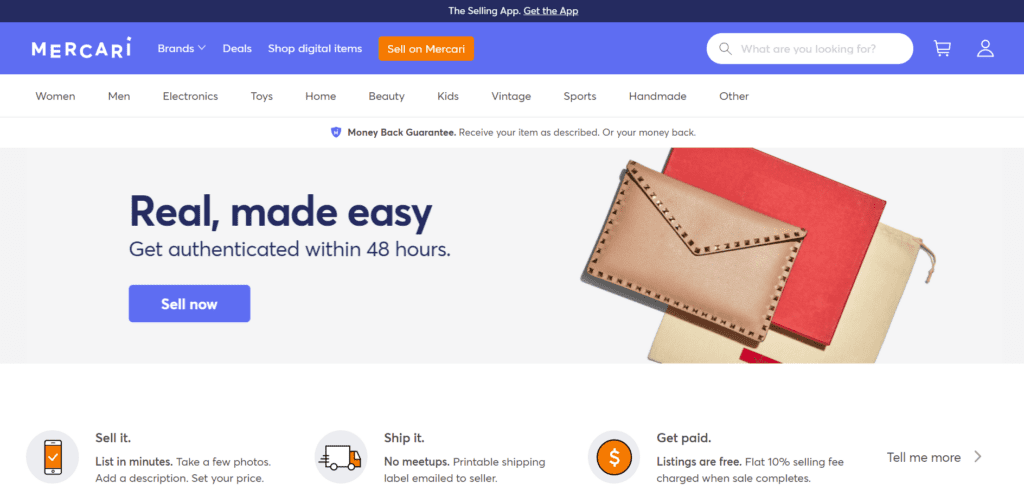 Is Mercari Legit?
Mercari is a legitimate and reliable website. It has been around since 2013 and is one of the top buying and selling apps used in the United States – an average of 150,000 listings are posted every day. The app has a 4.5-star rating on the Google Play store, and over 45 million people have downloaded the app.
On Mercari, both the buyers and sellers are individuals rather than retailers. While this means that you are dealing with real people, it also means that there is no way for the website to determine if the items you are purchasing are authentic. Therefore, you should do your research before purchasing an item in the marketplace to ensure that you are getting what you pay for.
How to Use Mercari
Mercari takes pride in being easy to use and one of the rising stars in the e-commerce market. All you need to get started is a smartphone and something that you want to buy or sell.
Getting Started
To get started using Mercari, you first need to download the app. Once it is downloaded, the app will prompt you to create a login with either your email address or your Facebook account. Then, you'll receive a confirmation link. This will activate your profile.
Once you've activated your profile, you can choose to complete your profile. If you don't want to complete your profile, you can start browsing items to purchase or start listing items right away.
Buying
Once you've logged in to Mercari, you'll notice how simple it is to browse available items. You can choose to browse by category or simply look at popular items. You'll notice that high-quality images with popular items show up first. For example, when the Nintendo Switch and related accessories are trending, similar items will show up at the top of your feed.
Some of the items will be new and have tags on them, and others will be gently used. Most of the items will be at least 70% off retail value, meaning that shoppers can get extraordinary deals as they navigate the site.
The buying experience also allows you to 'like' items. When you 'like' and item, the seller is notified that someone is interested in the item. They can then choose to offer you a lower price if the items don't sell right away.
Selling
If you're looking to earn some extra cash, then selling on Mercari is easy. First, you take a photo or two of the items you want to sell. Then, you'll write a short description of the item. The more descriptive, the better, so that buyers can understand what they're purchasing and make informed decisions.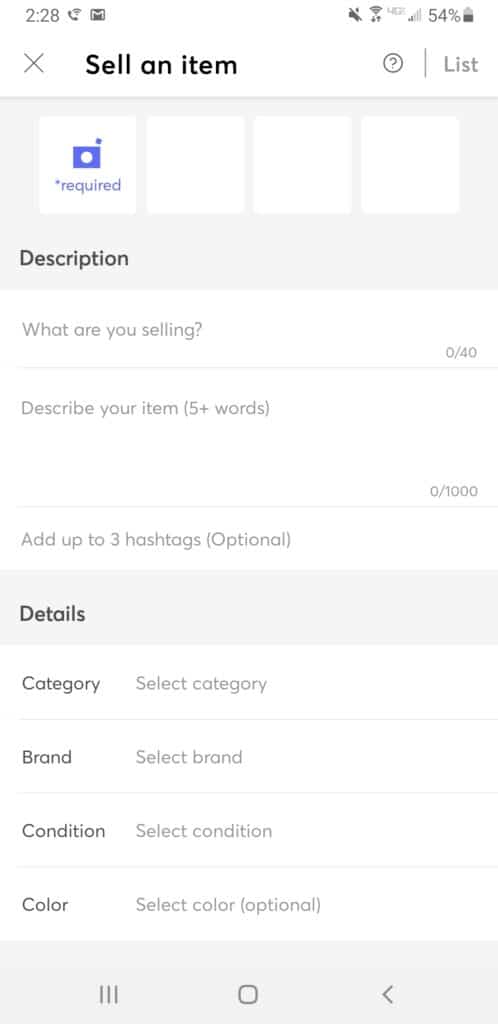 Then, you can choose a category to post the item in. This will make it easier for buyers to find your item. You will also fill in details about the quality of your item and its condition. Finally, you can choose a price and post your item for sale.
Your item will remain for sale for as long as you wish. When you post your item for sale, Mercari adds 10% to the sale price, because this is how much they'll take when it comes time to payout. If your item doesn't sell, you won't owe Mercari anything.
Once your item is purchased, you'll be sent a packing slip and shipping label. Then, you'll send the item to the buyer and wait for them to receive the item and rate the transaction. You will receive your payment once the buyer rates the transaction.
You can link your bank account or debit card to the Mercari platform. This will allow Mercari to pay you with Instant Pay, meaning you can have your money immediately. The other option is to request your money and wait for it to arrive in your bank account.
Best Selling Categories
You can actually use the app to tell you what is currently popular on the app and selling well.
On the homepage of the selling part of the app, scroll to where it says "Popular items to sell". There you will see a couple of items and what they are selling for.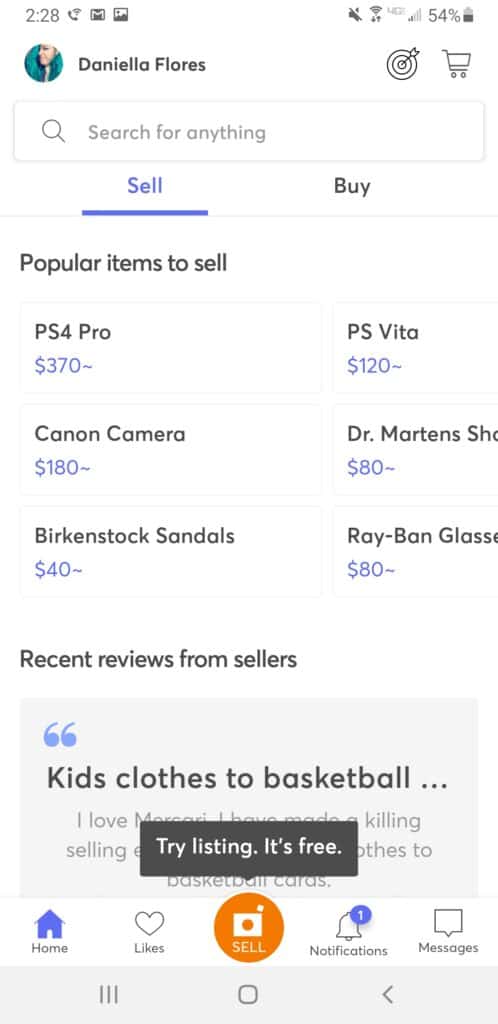 Categories that sell well on Mercari:
Electronics
Cell phones
Video games and video game consoles
Name brand shoes and clothing
Name brand hand bags
Name brand items in general
Starbucks merchandise
Toys
Kitchen items
Collectibles (like bobbleheads)
Men's sneakers
Leggings
Home decor and accents
Outdoors
Sign up to get your FREE list of items to flip and resell!
Get your list of over 30 ideas for items to flip and resell for a profit!
Avoid Scams on Mercari
Unfortunately, when dealing with private sellers, there is a chance that you will encounter a scammer. Therefore, there are several measures that you can take to both buy and sell safely on Mercari
Buying Safely
When you're purchasing on Mercari, be sure to take your time to research the item and seller before buying. These tips will help you make a safe purchase:
Read the reviews. Before purchasing, look at the seller's profile. You will be able to see all their reviews, including negative reviews. You can look at the photos that the seller has posted and see if the photos look like they were taken from the internet or done at home.
Read the descriptions. When reading a description, see if the seller has posted any information about damage to the item, or anything that seems like a red flag. You should also examine the photos of the item to be sure that the item is legitimate and undamaged.
If it's too good to be true, it probably is. If you see a price tag that sounds like a dream come true, it could easily be fake. While you will find good deals on this site, if you're purchasing a brand-new item that should cost significantly more than what you're paying for it, then it's probably a counterfeit or a scam.
Check your order when you get it. When you do decide to make a purchase, check the item when you receive it. Make sure that it's undamaged and meets the description of the item you purchased. Do not review the item and pay the seller until you've thoroughly examined the item you bought.
Selling Safely
If you are looking to turn this into a side hustle or simply selling a couple of extra items, you want to be sure to sell well on the app, too. Here are some tips to help you with the selling process:
Only sell allowed items. While you can sell a lot of items on Mercari, you can't sell firearms, drugs (legal or illegal), foods, some digital items, other weapons or weapon-related items, mystery purchases, animals, pornographic material, and more.
Package your items well. You must ship within three days of someone ordering your item. When you ship, be sure to keep your tracking information and shipping details and be sure to package the item so it doesn't break.
List your items accurately. When you post an item, be sure to list all the pertinent details. This will help you to get good reviews and be paid out expediently. You will also be more likely to make a sale if your items are listed well. Include clear photos of the items and provide detailed descriptions so that people know what they're getting.
Should I Use Mercari?
Ultimately, the decision to use Mercari over other online selling platforms is up to you. Here are some things that we do and don't love about the platform:
Pros
It's easy to find things to enjoy about Mercari. Some of the best features include:
$10 for signing up. You can refer friends to the app. When you do, you both receive a $10 boost to your account.
Easy to use. You can download the app and start selling items right away.
Popular. Because so many people are on the app nationwide, your items will have plenty of exposure.
No meetups. The app posts your items nationwide and provides shipping labels, so you won't have to meet people in person or set a meetup time.
You can earn a lot of money. If you have an eye for a bargain and think you can resell items for more on this app, then you could earn a lot of money and even turn using Mercari into a side hustle.
Cons
As with any online marketplace, there are a few things to watch out for as well.
10% charge. Mercari takes 10% of the selling price of your item. While this may be nominal for some items, it can eat into your profit.
Low-end items don't sell well. If you are selling an item for a small amount, you will be required to pay Mercari's 10% fee as well as shipping. Even if the buyer pays for shipping, selling low-end items can be tedious and not worth the return on your time investment.
The payment process is long. When you sell an item, you must wait for the buyer to receive the item, then rate the transaction. While this process helps to prevent scams and is advantageous for the buyers, it can be frustrating for sellers.
Bottom Line
Mercari is a legitimate way to buy and sell items. While you should take the same precautions as you would buying and selling on any other platform, Mercari is unique in its payment process and that it connects buyers and sellers from around the country. Make sure that you do your due diligence and enjoy browsing all the great deals!
What do you think? Do you think Mercari might work for you?
More reviews:
Pin it for later!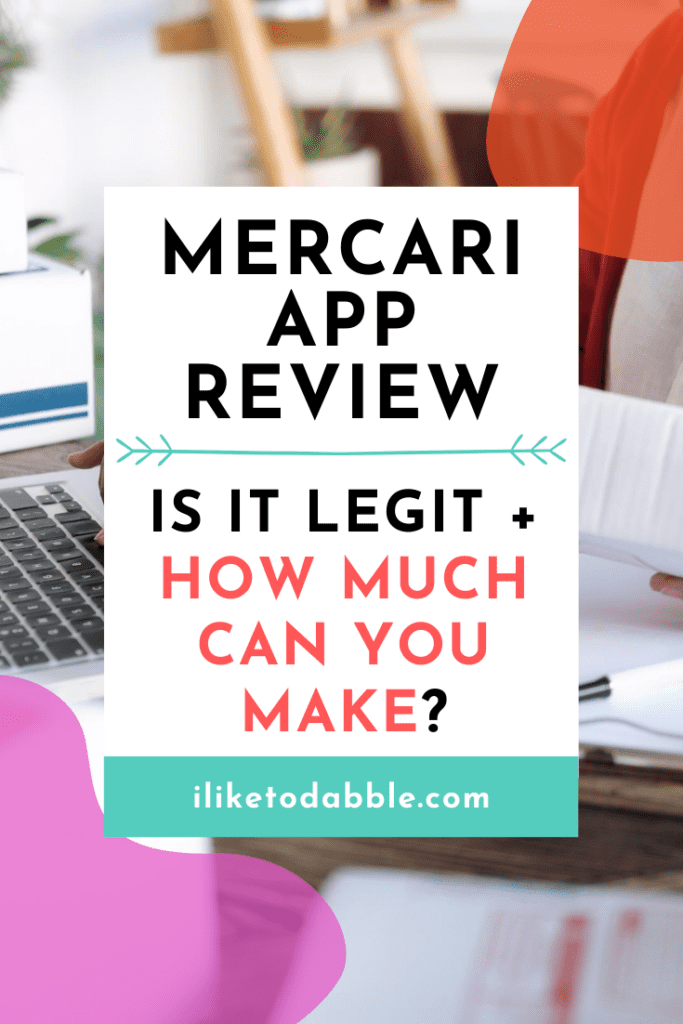 Ashley is a personal finance writer and content creator. In addition to being a contributing writer at I Like to Dabble, she writes for solo entrepreneurs as well as for Fortune 500 companies. When she's not calculating her net worth or reading the hot new finance book, you might find Ashley cage diving with great white sharks in South Africa.