Our website is supported by our users and contains affiliate links. We get paid when you purchase or sign up for anything through those links. Read the full disclaimer for more information.
Last Updated on December 1, 2020 by Yovana
You might remember Nate and Alysha from this interview I did with them last year. They quit their jobs to sell full time on Amazon and made over a million dollars in sales from their Amazon business.
Then something no one saw coming happened and here we are.
Since so many of you enjoyed the interview I did with them and even some of you are in their Facebook group, I thought we should catch up with them to see how they're doing.
Today, I have Alysha on the blog to talk about how they're coping.
Take it away Alysha.
When COVID-19 hit the country, many watched to see how it would affect businesses and jobs. Those who sell on Amazon paid close attention, watching for the e-commerce giant's next move in regards to the virus. Over 60% of all Amazon products come from third-party sellers, like us.
My husband and I have been third-party FBA (fulfilled by Amazon) sellers on Amazon for 3 years, which means we source the product from wholesalers and retail stores, then send them in to Amazon warehouses. Our focus is mainly on clothing (we've literally paid for our house selling bras from Kohls), but we sell a little bit of everything.
Our Source of Income Came to a Halt
Without notice, Amazon informed all third party sellers in March that they would no longer be accepting shipments of "nonessential goods", effective immediately. This included pretty much everything we sell, and just like many other Americans, our source of income came to an immediate halt.
We had to regroup, pivot, and get a new game plan in place.
From FBA (Fulfillment by Amazon) to FBM (Fulfillment by Merchant) & Other Pivots
With sending in clothing to Amazon warehouses no longer being an option, we decided it was time to send things directly to customers so that we could continue sustaining our business. This is called FBM, or Fulfilled by Merchant. Instead of sending things to a warehouse, we now send things directly to those who order from us.
We've also had to pivot into grocery and topical items. With everyone staying home, the demand for these items has increased and people just aren't buying pants and bras right now. Electronics is also another category we've been able to pivot into, as many people are learning and working from home.
Shipping to customers is a great option, however it does take quite a bit more work than shipping to warehouses, and with us not being able to have our usual employees, or a babysitter for our two toddlers, it means longer work days. However, we're so very thankful to be able to keep our heads above water during this crisis.
Adapt & Thrive
Those who are successful in any business are those who know how to adapt and thrive. This is especially true for e-commerce, where the markets and rules change constantly.
By pivoting our business from FBA clothing to FBM grocery, health, and electronics, we've been able to not only "get by" but we've actually shattered some of our sales records with the number of orders coming in. The sales on Amazon are basically Black Friday level sales… except it's been every day for the past month and a half. This sales velocity across the board hasn't ever been seen and likely won't be seen again.
If you've ever thought about trying Amazon… right now is quite literally the best time in history to jump in.
We look forward to things returning to "business as usual" where we can have employees come back, and we can go back to sending 1 massive shipment per week instead of hundreds of individual orders.
For now, we are incredibly thankful for our health and the ability to continue sustaining our business and family. We encourage all business owners to look at these issues from the outside, and find creative solutions if at all possible.
For those folks curious to learn more about selling on Amazon, check out our uplifting and supportive Facebook group. It's a great place for beginners to start and it has about 14,000 other people who are all either in the same boat, or who were beginners at one time.
For those who really want a jump start and who want to dive in deep right from the getgo, we do offer courses and coaching calls on our website. Our most popular being our grocery course which lays out all the specifics from A-Z including a tutorial on how to become ungated in grocery.
What sort of issues have you run into?
If you are self-employed or an entrepreneur during this time, how has COVID-19 affected your business? Were you able to pivot and want to share your unique experience?
Then send me an email to daniella@iliketodabble.com. I'd love to feature you!
You can make money during a pandemic, you just shouldn't make money from a pandemic. Those are two very different things.
Pivoting to make sure you find a way to survive and thrive during an especially difficult time doesn't make you evil, it makes you a person doing your job, staying afloat, and fighting through the hard times to get to the better times.
Are you also an Amazon seller? How has COVID-19 affected you and your business or side hustle? Let us know in the comments below!
Sign up to get your FREE list of items to flip and resell!
Get your list of over 30 ideas for items to flip and resell for a profit!
Related:
Pin it for later!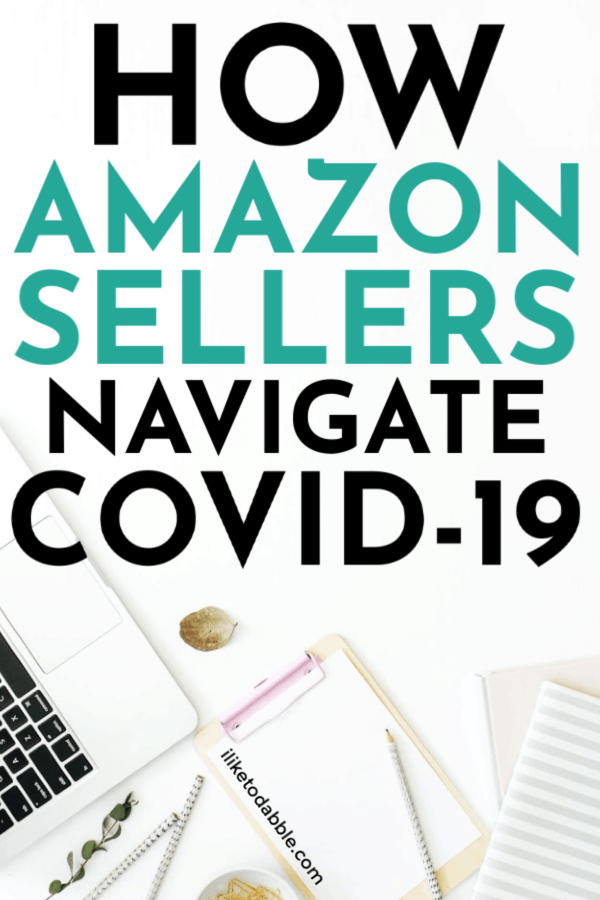 Nate and Alysha Jackson are former teachers turned Amazon sellers based in Orlando, FL. They are foster and adoptive parents that are passionate about creating a life where they can spend time as a family and become financially independent.