Our website is supported by our users and contains affiliate links. We get paid when you purchase or sign up for anything through those links. Read the full disclaimer for more information.
Last Updated on December 2, 2020 by Yovana
Are you a musician? Have you learned guitar well enough that family, friends, and even fans hint at the possibility of wanting lessons from you?
If so, you have some decisions to make about your lesson format, pricing, lesson location, and how seriously you want to take this money-making opportunity.
I personally never set out to be a guitar teacher, but I found myself doing it for ten years. Since I was a full-time musician and then teacher during this time, my schedule often matched my students. Giving lessons was a surprising and enjoyable way to make some decent cash on the side!
Decide if You'll Teach How to Read Music or How to Play By Ear
Some students thrive while working step by step in a formatted book geared towards the skill of reading music. Other students, however, only thrive when they can learn songs on the radio they are passionate about. It's a good idea to ask parents' (and older students') about their expectations in this realm as soon as possible in order to make sure you are a good fit for what they are trying to achieve musically.
If you are a relaxed-style "campfire song" teacher, you will focus on teaching people of all ages pop songs they love, and depending on your expertise, you can sprinkle in music theory and songwriting skills along the way.
With this lesson format you:
Encourage students to make a list of songs they love.
Decipher which songs may be easiest for a beginner.
Teach students how to read tablature (different than sheet music).
Stretch your own abilities along the way by preemptively learning songs your students want to learn. (Don't be afraid to use online tools and other teachers on Youtube)!
Request students bring a notebook to each lesson.
Create a rough outline of the selected songs in the notebook (verse, chorus, bridge), focusing on rhythm during your time in person and sending the student home with a specific skill to practice for 15+ minutes a day. Also, use the notebook to keep track of dates and payment information.
Teach students how to switch between 20 basic chords found in most popular songs.
Teach students mini-lessons on the basics of music theory (such as how to transpose, chord theory, and the role of a capo).
Maybe you have the capability of teaching both sheet music and tablature? Great! Either way, encourage students to have a recording device on them (a phone app will do) for each lesson so they can catch onto any rhythmic work you may send home with them.
Since tablature does little to communicate rhythm, this can be really important for the "campfire song" teacher. Also, encourage students who are serious about learning entire songs to print out the tablature and keep it in a binder.
Pricing: Things to Consider
After years of teaching lessons, I learned it's easiest to have students pay one month at a time (four to five lessons). As with anything, it can be awkward to remind people to pay, so going month by month and getting it out of the way at a routine time (like the first lesson of the month) is a good idea.
Of course, I was flexible about this if someone was going through a hard time, or if they wanted to try a few lessons first before committing. These people would pay lesson by lesson.
As a new teacher, I charged what my guitar teacher charged me! I had no other reference point!
As time went on, I felt confident as a great teacher with plenty of references, and I upped my rate for incoming new students. (People I taught for 7+ years were locked in at their starting rate. Some of them got a pretty good deal!) Of course, it's up to you if you want to slowly raise your rates for everybody over time. If so, that's a conversation you will have to navigate.
Also, consider offering lessons in half hour or hour long sessions. For example, $20 for half an hour, but $35 for an hour. This is an option if you have the time (and if you know you have plenty of space for motivated students happy to work for an hour straight). Some people see it as a deal and jump at the opportunity to learn more than they would have otherwise.
Put Serious Thought Into Your Lesson Location
Depending on the size of your town, the type of students you attract, the location of your residence, and your knowledge of taxes, you may choose to teach out of a space in your home or rent a lesson space.
I moved my guitar teaching business from a downtown apartment (prime location!) to a small home to a larger home over the course of ten years. Each location had its pros and cons considering I usually gave lessons from 3:30 – 7:00pm a few nights of the week.
In the apartment, my lesson space was in the back, so I always felt like I had to have the entire place clean before people came in. Stressful!
In the smaller home, it was obvious when my husband would get home from work, and my dog would bark at each incoming student. Lastly, in our larger home, we have a sunroom right off the front entrance. When remodeling the space, we designed it with students in mind and how we wouldn't want them to see our kitchen (which, like anybody, can become a mess).
Of course, you can dodge all of this by simply renting a space, possibly at a prime location like a music shop. You will have to pay a premium for this, however, and it will probably drive up the cost of your lessons. Also, it will feel more like showing up for a job versus the convenience of people showing up at your home.
Do You Want to Give Lessons Full-time?
If you want to give guitar lessons full-time, you'll want to do some math about what you expect to make annually and how many students it will take. For example, 40 students a week doing half hour lessons at $20 each adds up to $800 a week, totally $41,600 per year. (Not bad for 20 hours of work and around 2 hours of administrative tasks – but you have to take into account 15% self-employment tax.)
If you are relying on this money, you will want to be strict about attendance and create a lesson policy (think of those daycare contracts if you've ever encountered them)! Have a plan for how you will receive payment if you need to cancel because you are sick. How many times will people tolerate that? Also, have a plan for how many times you will let people cancel on you before you still charge.
Keep practicing and taking lessons yourself!
It's important to keep your passion for music alive by learning more yourself and staying ahead of your most precocious students. Also, learn to play other instruments like the banjo and mandolin – people will ask for lessons with those too.
Get to know fellow teacher's in your area.
Music as a discipline is broad. People specialize in different areas. I'm asked if I know voice teachers and piano teachers. Likewise, piano teachers refer their students to me. As with any career, networking is important.
Have a long catalog of songs to offer students who don't have a taste in music (yet).
During my decade of teaching, I exposed students to Bob Dylan, Johnny Cash, Rosanne Cash, Neil Young, John Denver, Ani DiFranco, 90s grunge, boy bands – you name it! I can't tell you how fun it was to play this role in their lives while exposing them to the history of music, different musical movements, genres, and philosophies. It was inspiring to see their responses and what music resonated with them.
Closing Thoughts
Unlike a regular school teacher, as a committed guitar teacher, you may have students for years on end and watch them grow up. Long after the lessons are over, they may reach out to say you had an enormous impact on them (and you didn't even know it)! Keep the lessons fun for yourself and the students. And never forget how important music was to you growing up.
Related:
Pin it for later!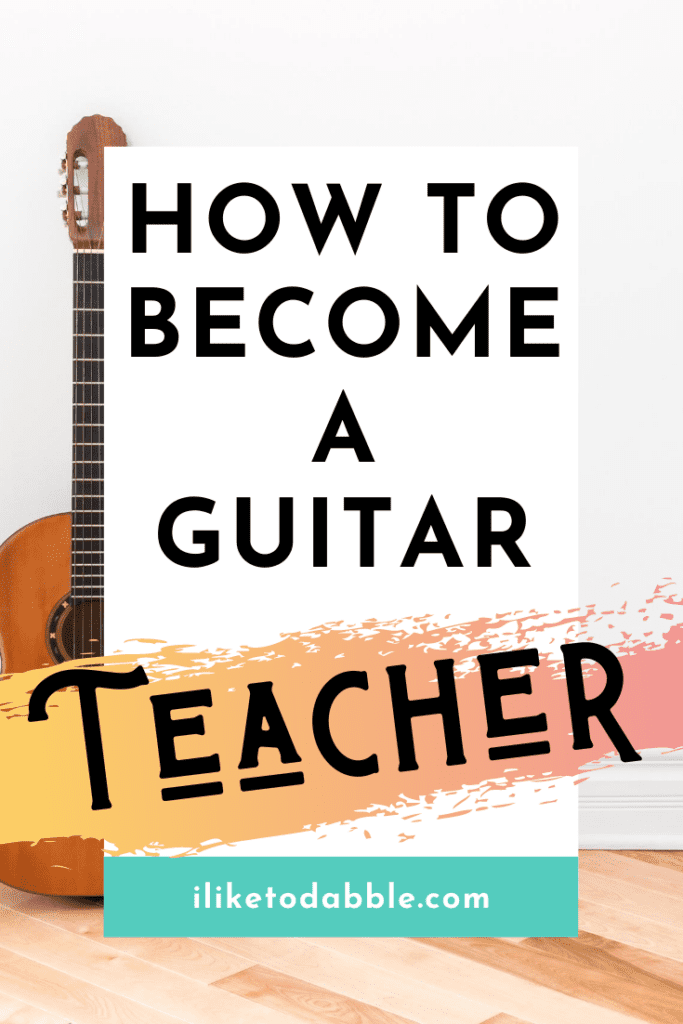 Musician Michelle VanCura writes about the odd intersection of creativity and money from a historical perspective. She has formally and informally studied the creative process along with the mental health needs of individuals with high potential. She believes independent musicians, content creators, and small business owners can be empowered by such knowledge and discusses creative psychology frequently on her blog Savvy History.