Our website is supported by our users and contains affiliate links. We get paid when you purchase or sign up for anything through those links. Read the full disclaimer for more information.
Last Updated on March 1, 2022 by Daniella
I feel like actual gifts were more associated with being a kid. Most adults rarely get each other physical gifts unless it is a damn good idea that we can't pass up or a specific gift someone asked for. We all know we rather have cash than a new pair of mocassins or a glove/hat/scarf set.
Or gift cards. Everyone loves a good gift card to their favorite place. But it kind of gets boring after a while of giving cash or gift cards in plain old cards.
Let's shake it up with a little creativity and put a little more oomph in our gift-giving.
In this post, we will go over:
26 Money Gift Ideas and Ways to Give Cash and Gift Cards
1. A Bouquet of Money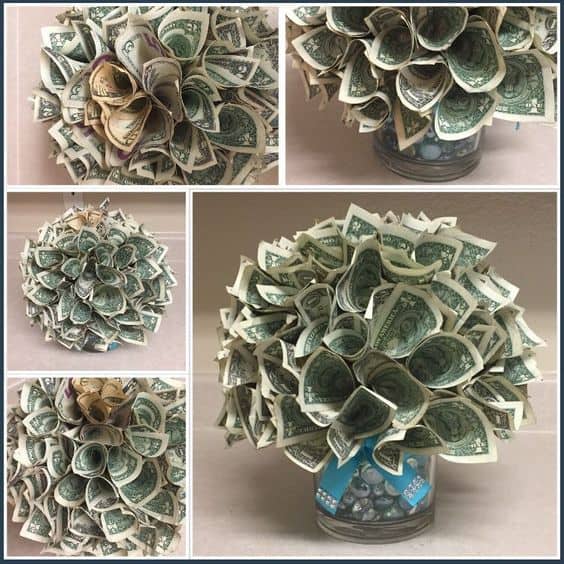 This DIY money gift idea is not only easy to make but it will floor whoever you are giving it to. You can even sprinkle some coins on it for humor or added detail (use this hack for where to get coins).
Idea credit: Party Ideas
2. Fill a Box of Chocolates with Money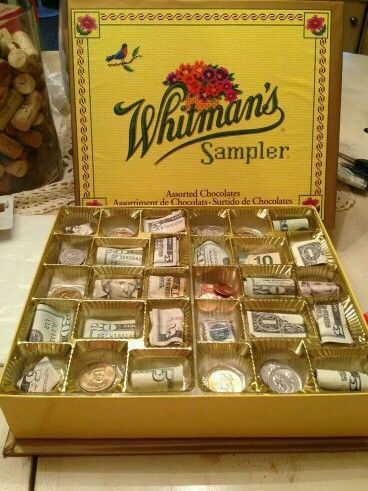 Surprise a friend or family member with a simple-looking box of chocolates full of cash. You just might have to eat all the chocolates so you can fill up the box.
Idea credit: Smart Fun DIY
3. Money Box Disguised as a Wrapped Present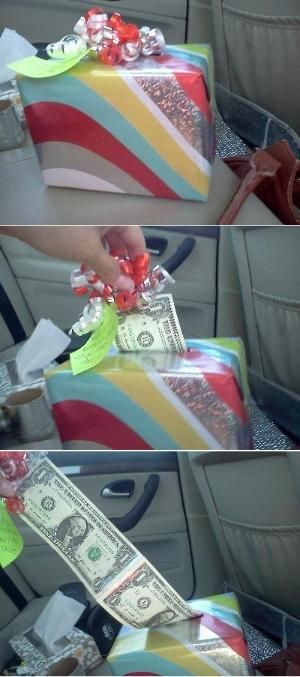 Tape a string of dollar bills together, roll them up and place them in a gift box using a slot. Attach the top dollar bill to a gift bow or something to get them to start pulling the trail of bills. I can't believe I didn't think of this before.
Idea credit: Indulgy
4. Money Ornament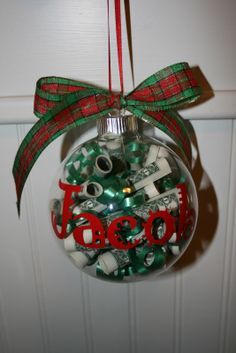 You can go to your local hobby or craft shop and buy fillable ornaments like the one shown above. Then fill it with money or gift cards.
Idea credit: Family Mementos
5. Money Gift Basket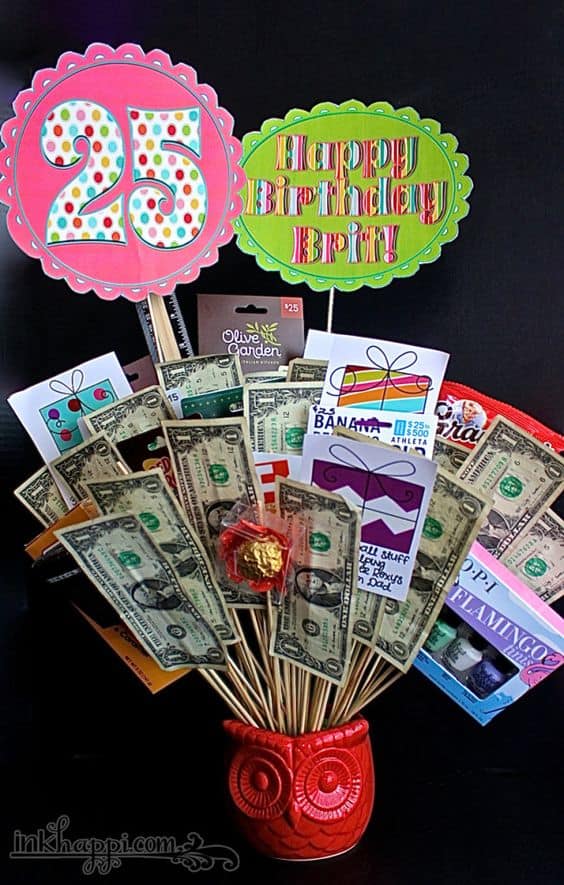 You can do this for a graduation, birthday or holiday. Money gift baskets are perfect for any occasion really.
Fill the basket with different kinds of bills, gift cards, lottery tickets, and even throw in some wine or candy. Get creative with it!
Idea credit: inkhappi
6. Money Fries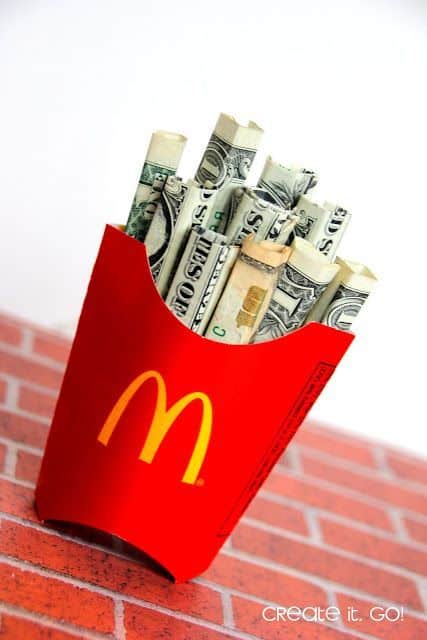 Giving money doesn't have to be awkward, that is why I went searching for these ideas. This one has to be my favorite.
It is perfect for both kids and adults!
Idea credit: Yahoo
7. Money Bread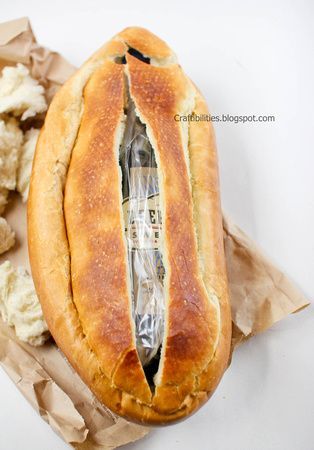 I am not joking. Or maybe I am?
Bake some bread and then stuff it with some "bread" (bread being money).
Idea credit: How Does She
8. Money Balloon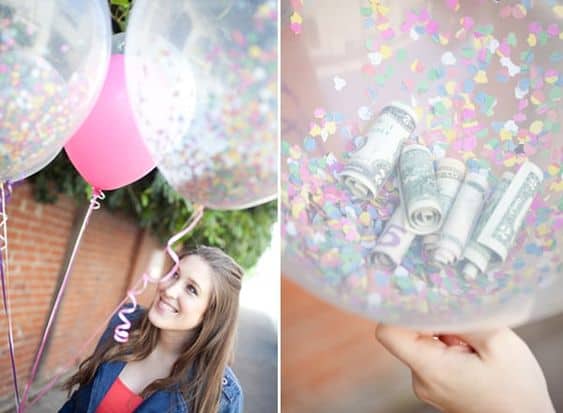 Fill a balloon with money, gift cards, glitter and anything else you can think of. Give one or many!
Idea credit: U Create
9. Money Tree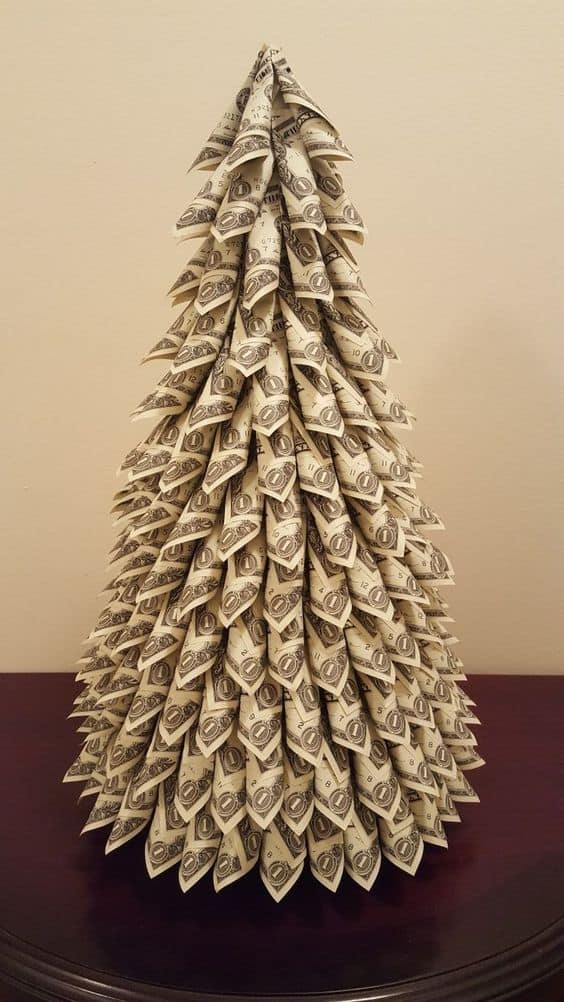 There is an actual house plant called a "money tree". Or instead, you could create your own with actual money!
Either way, I know I'd appreciate it.
Idea credit: Simply Showers
10. Pop-Out Gift Card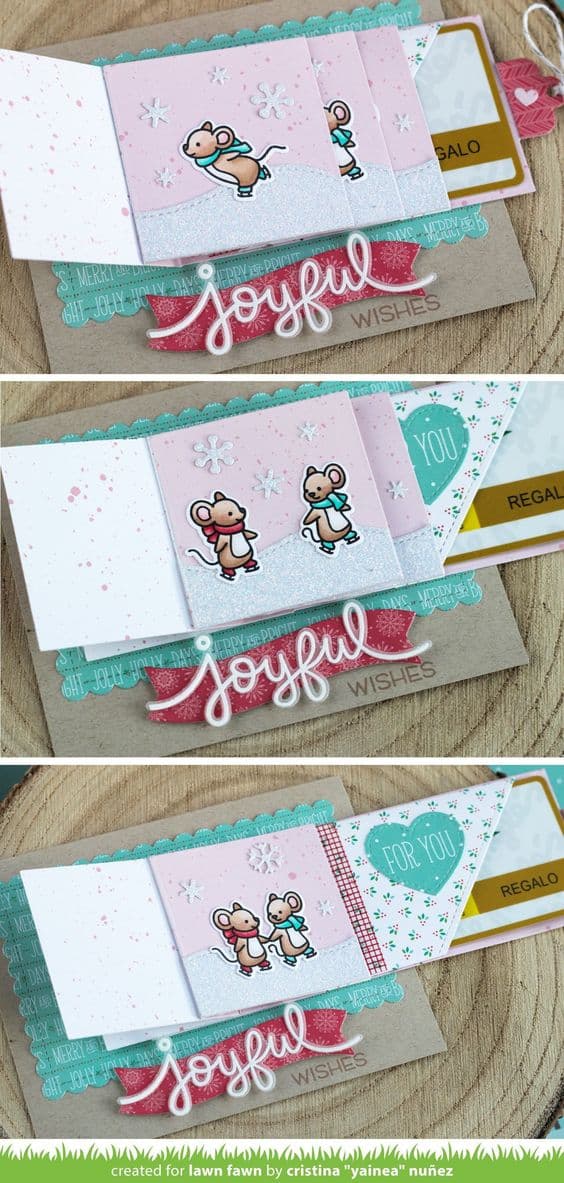 If you love getting crafty and creating your own creative cards, you can create a "pop-out" card with a gift card inside like the one shown above.
Idea credit: Lawn Fawn
11. A Deck of Gift Cards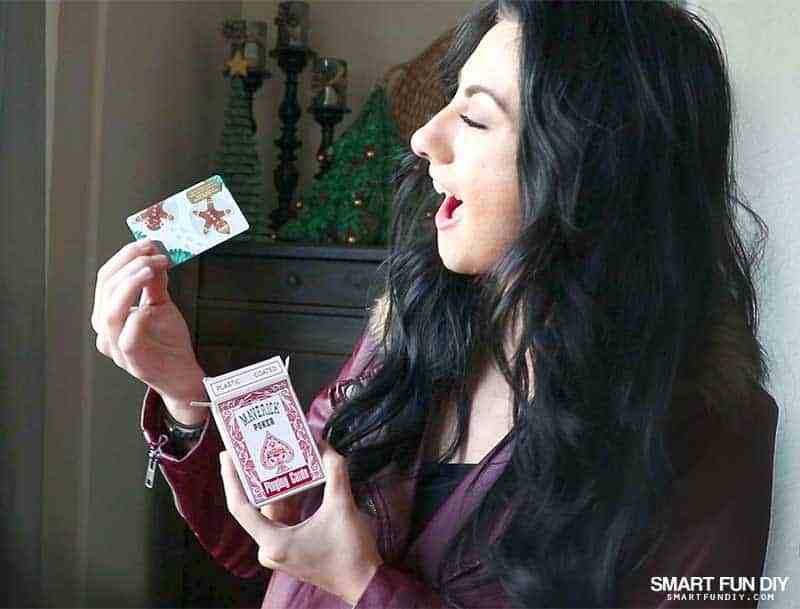 Take a deck of cards and replace either some of the cards with gift cards or fill the whole box with gift cards and money!
Idea credit: Smart Fun DIY
12. Money Pizza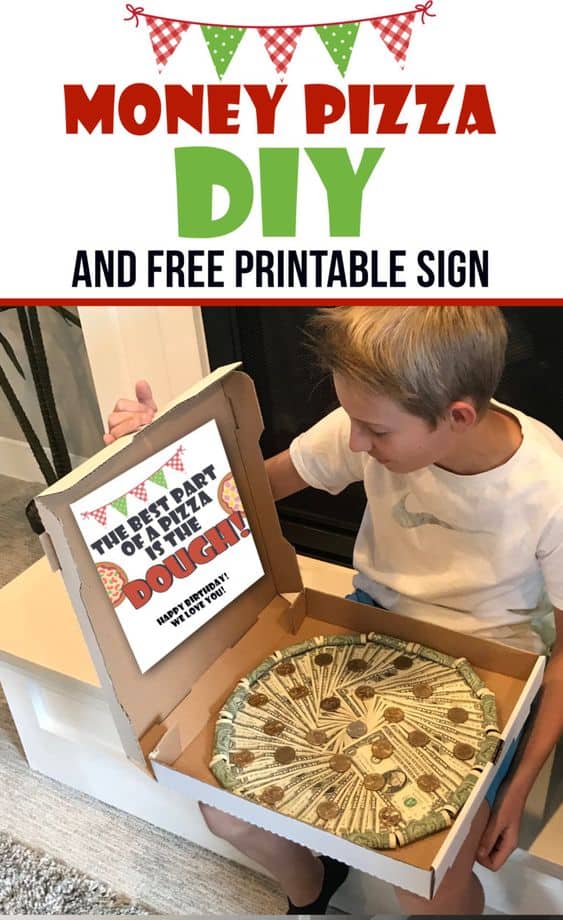 Everyone loves pizza, especially money pizza. All this idea requires is a pizza box and some cash.
If you click the idea credit link below, you can even get the free printable that goes with this.
Idea credit: Mckinlay Design
13. Money Umbrella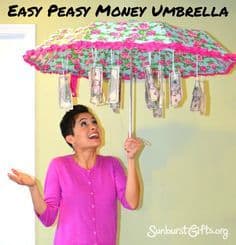 Who says it can't rain money when you can literally create your own money umbrella!
Photo credit: Sunburst Gifts
14. Money Shirt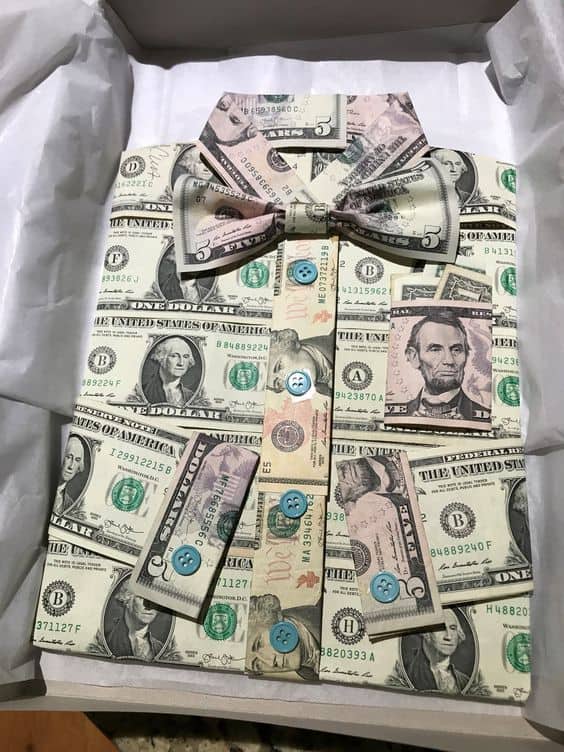 You can get a t-shirt gift box and fill it with money folded to look exactly like a shirt. If you want, you can also include actual t-shirts in addition to the money.
It's up to you.
Idea credit: Snowman Crafts
15. Money Gag Gift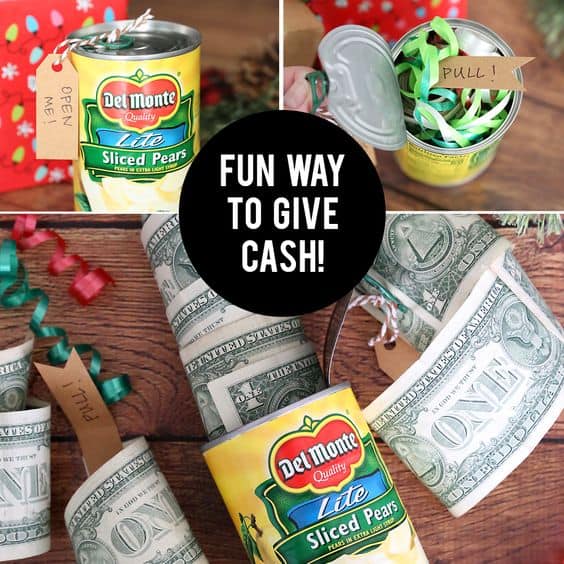 Fill a can of pears or peaches with money (or gift cards..or both) and wrap it up nicely for a loved one. They will get a kick out of that gag gift but make sure they don't wait until they get home to realize it really isn't canned food.
Idea credit: Its Always Autumn
16. Gift Card Mug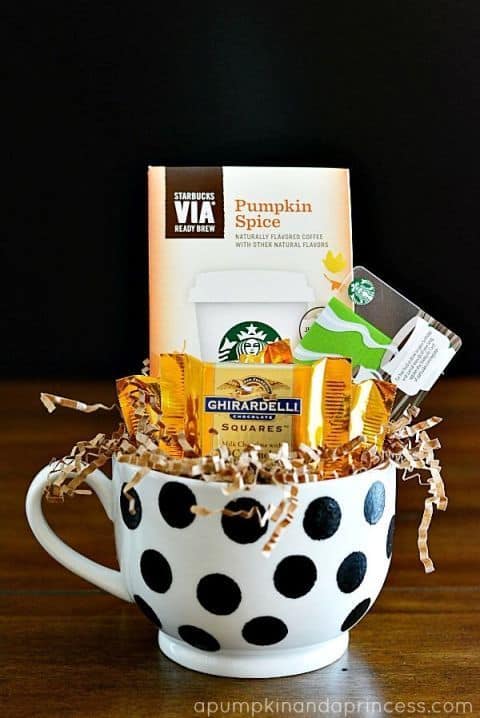 Instead of a gift card gift basket, you can scale it down and fill a mug with a gift card and some other goodies.
Idea credit: Womans Day
17. Money Wreath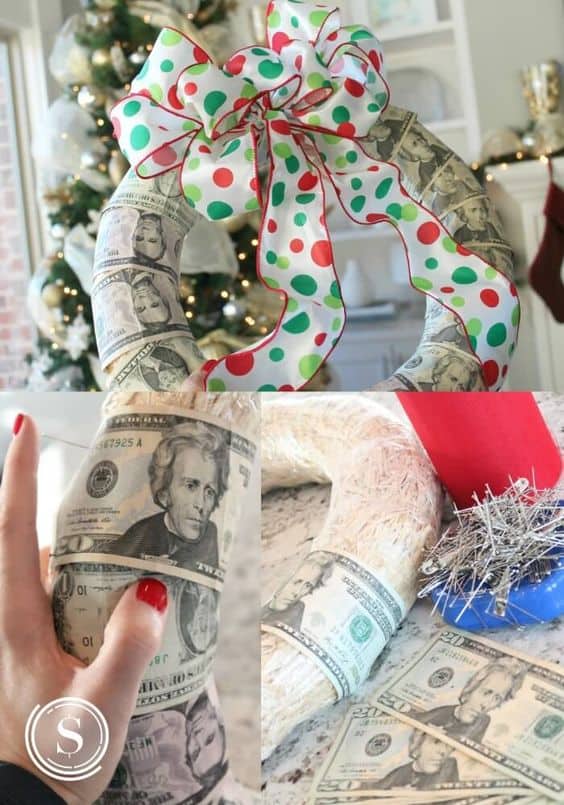 If you like going all out and being the star of the Christmas party, roll in with a full out Christmas wreath made of money..
Idea credit: Smart Fun DIY
18. Zip Tie Gift Box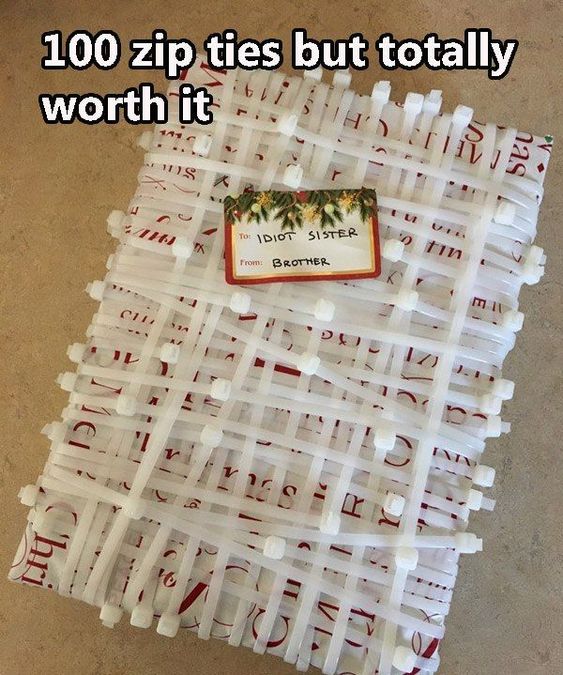 If you want to be a little cruel to someone this holiday season, give them cash or a gift card in a small gift box. Then wrap 100 zip ties around the packaging.
It will make for a laugh once they finally cut through all 100 and open the box!
Idea credit: Smart Fun DIY
19. In Case of Emergency, Break Glass Money Frame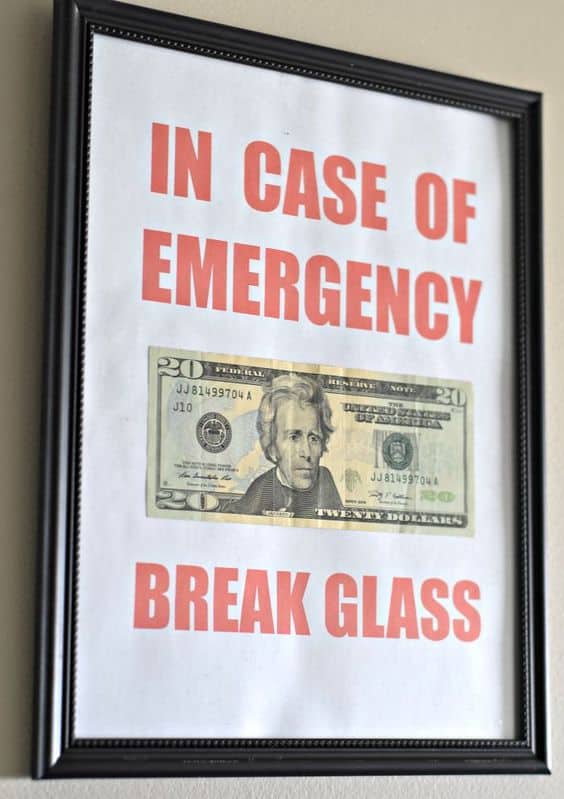 All this money gift idea needs is a picture frame and money gift of your choice whether that be cash or a gift card.
Idea credit: Mothers Niche
20. Money Crayons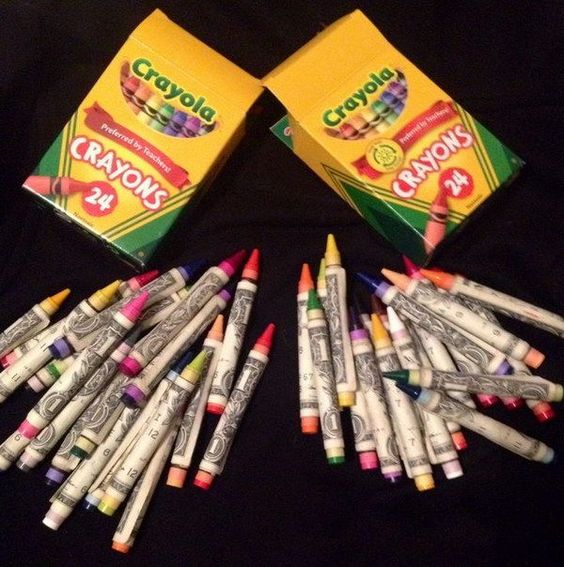 Money crayons are a genius money gift idea for kids! Wrap each crayon with a dollar bill and it will make a kid's day!
Idea credit: Foliver
21. Photo Album Full of Money or Gift Cards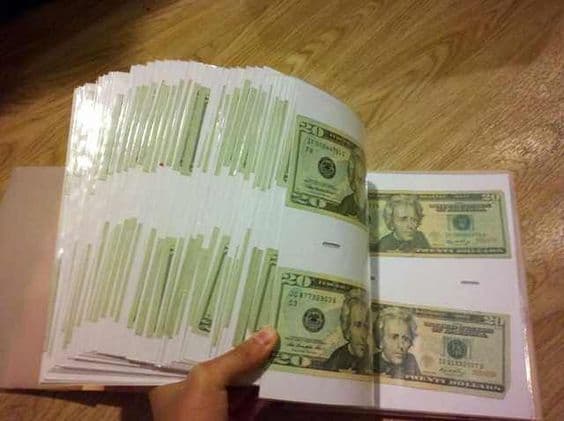 Gift a photo album full of photos and money. Or just fill it with money like this girl's grandma did in the photo above.
Talk about one cool grandma!
Idea credit: Imgur
22. Gift Card in a Jar of Candy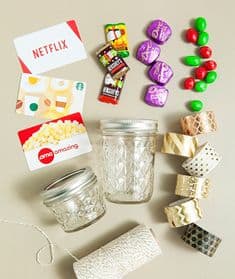 Fill a jar with candy and put a few gift cards or money in the middle of the candy. Put the finishing touches with a ribbon or whatever you like and surprise someone special.
Idea credit: Something Turquoise
23. Cold Hard Cash (A Frozen Jar of Cash)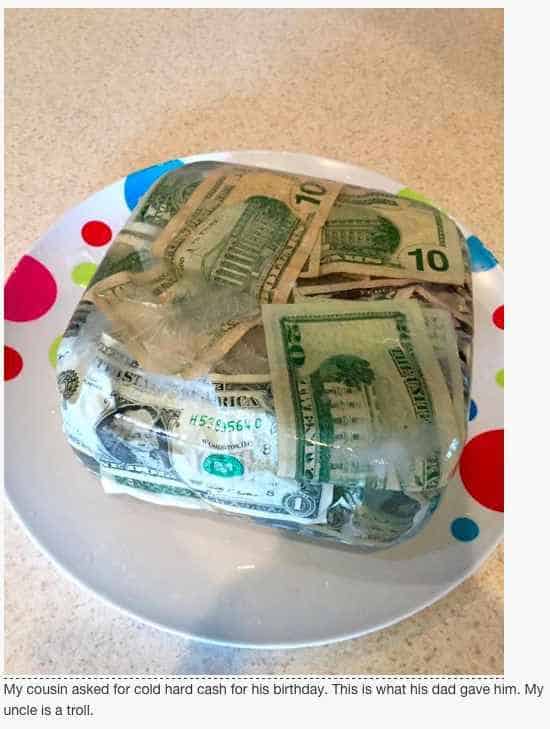 Want to create the ultimate money gag gift? All you have to do is freeze a pile of cash in water in either a tupperware container or a bowl, then serve frozen.
Idea credit: Buzzfeed
24. Gift Card or Money in Socks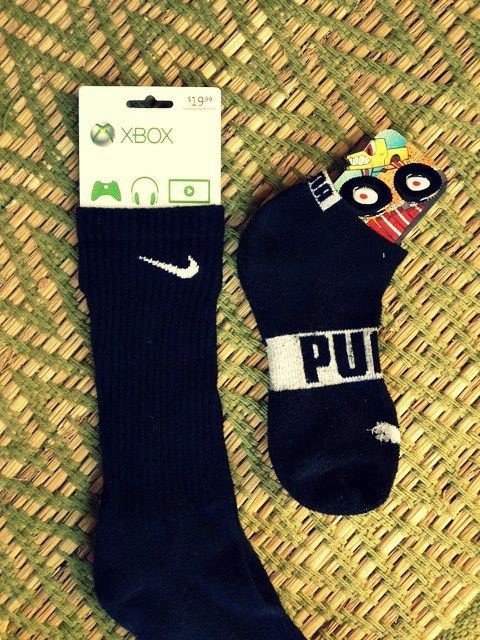 You could also keep it simple and fill a couple of pairs of socks with a gift card or money.
Idea credit: Mommy Savers
25. Origami Cash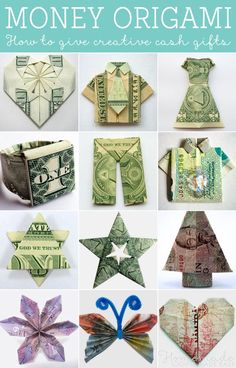 This one I actually did for my dad's birthday gift this year. I made a couple of origami t-shirts out of some 20 dollar bills. He didn't complain.
Idea credit: Homemade Gifts Made Easy
26. Virtual eGift Card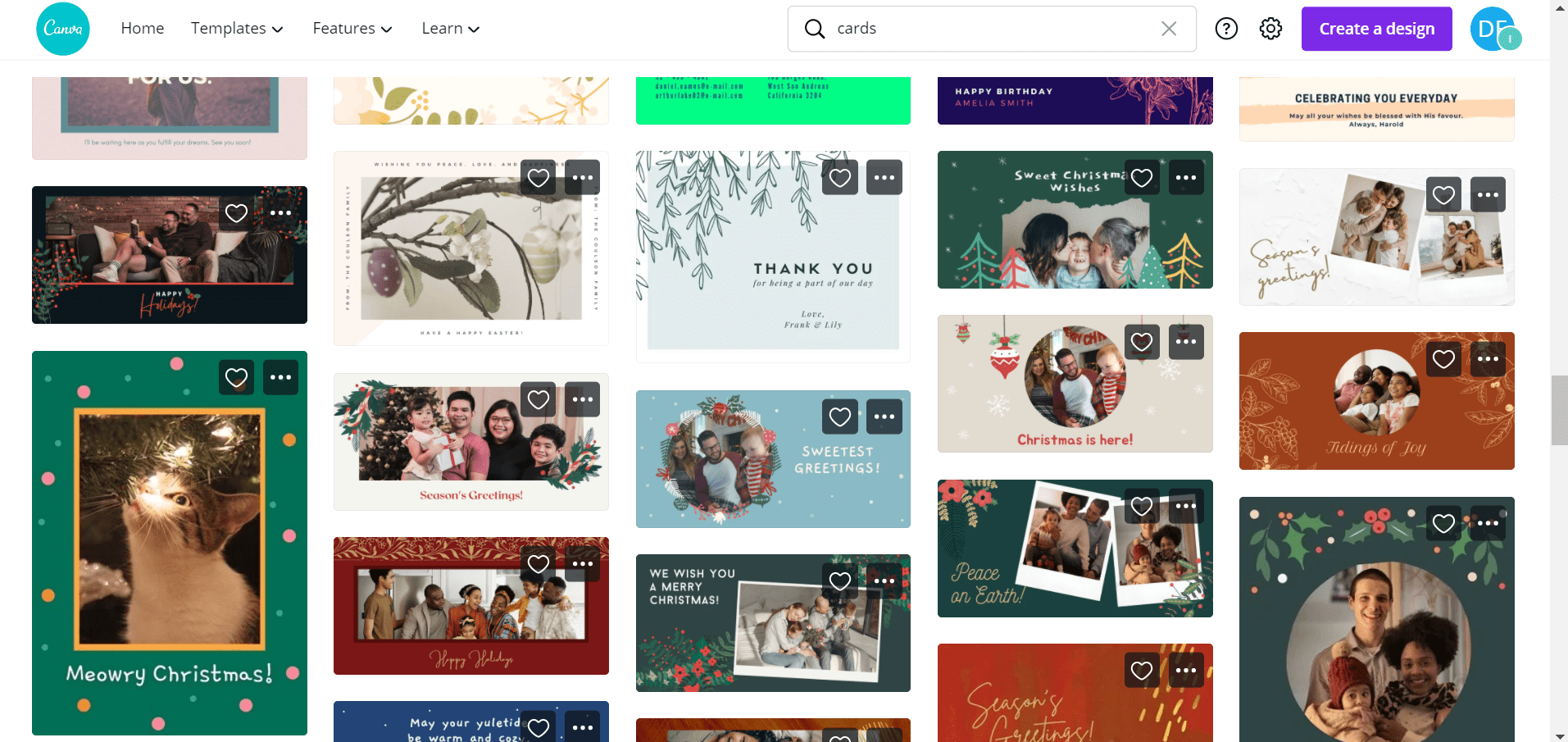 This next gift idea is perfect for the kind of world we are currently living in. Many families may not have the option to spend this holiday season together, nor birthdays and other occasions.
Purchase an eGift card to your place of choice for whoever you are going to gift it to, Then, use a software like Canva to create virtual card to go along with it.
Canva is completely free to use and has tons of existing free templates to choose from and work off of.
Take the info from the email and add to the Canva graphic with a creative quote, meaningful photo, or anything that will have some sort of meaning (I always go with comedy).
Then email with both the Canva graphic and the eGift card confirmation email to whoever is receiving the gift.
Where to Find Discounted or Free Gift Cards
You can either pay full price for gift cards to gift to your friends and family. Or you can get them discounted.
Even better, you can even earn rewards when purchasing gift cards online.
I know people, it's a new time where we aren't limited to have to go to a physical store to purchase gift cards.
My favorite ways to get discounted gift cards:
How to get free gift cards:
How to Save More on Shopping and Gift-Giving
There is one thing you absolutely need to avoid when gift-giving and that is going into debt. This is especially hard for people around the holidays as there are many people we need to get gifts for.
Avoid Going Into Debt
You should steer away from putting anything on layaway or purchasing anything that requires that you make payments when getting a gift for someone special. As much as it is nice, that person probably doesn't want you to go into debt over it!
Or if you want to charge your purchase to a credit card, make sure it is an amount you can pay in full at the end of the month and get some added rewards or bonuses from it (like with a travel reward credit card.) However, if you have a bad track record with credit cards or think you can't keep up with paying them off each month in full, don't get a credit card. Just don't.
Some things that helped me stay focused and within budget when I was strapped for cash:
Planning a few months ahead for the holidays and putting money into a holiday fund (like an emergency fund but separate savings for the holidays)
Writing down exactly how much I can spend on gifts
Make a list for each person I need to get a gift for (and how much I can spend on each)
Jotting down DIY ideas for wrapping and giving the gift.
Cheap and Fun Party Ideas
Throwing parties go hand in hand with gift-giving whether it be the holidays, your birthday, graduation, etc. The thing is though, parties are freaking expensive.
You have to get booze, food, some decor, make sure you have enough options for dietary needs, and other requirements for your guests. If gift-giving is also involved, that is a whole other thing to worry about.
How about instead of getting super anxious about all of it, make it easier for everyone? Forget about cooking everything yourself, ask everyone to bring a side dish and make the main dish (or order from your favorite place and save the effort and stress on your part).
You can also discuss with your guests about maybe doing a gift exchange instead of bringing a gift for each person (like people feel pressured to do during Christmas).
Apps, Websites and Ways to Get Gifts Cheaper
I love a good deal or cashback app to help me save more on gifts for my friends and family.
My favorite ways to shop and save:
Target is just as good for deals and getting things shipped quickly.
Use a browser extension like Rakuten or Honey and get even more cash back and savings for the gifts you buy online.
Download Ibotta and get cash back for your shopping as well as referral bonuses when you tell your friends about the app.
Don't wait until the last minute and pay attention to sale dates and times.
Look up store closing sales in your area to get stuff really cheap.
Compare prices in store to prices online with ShopSavvy.
Shop at the outlet store instead of the regular store (their prices are better most of the time).
Wrapping It Up
Don't buy something for someone just to buy it. It isn't fun for you nor them. Plus, people can sense this.
I know a bullshit gift when I see one and I know you do too. Instead, put real thought into it. Is it something they will use and enjoy? Is it something they actually told you they wanted (this way they will also know you were listening)?
When all else fails, cash is the way to go because honestly, who couldn't use a bit of cash?
More ways to save money on the holidays and other occasions:
Sign up to get the free Monthly Budget Planner
Pin it for later!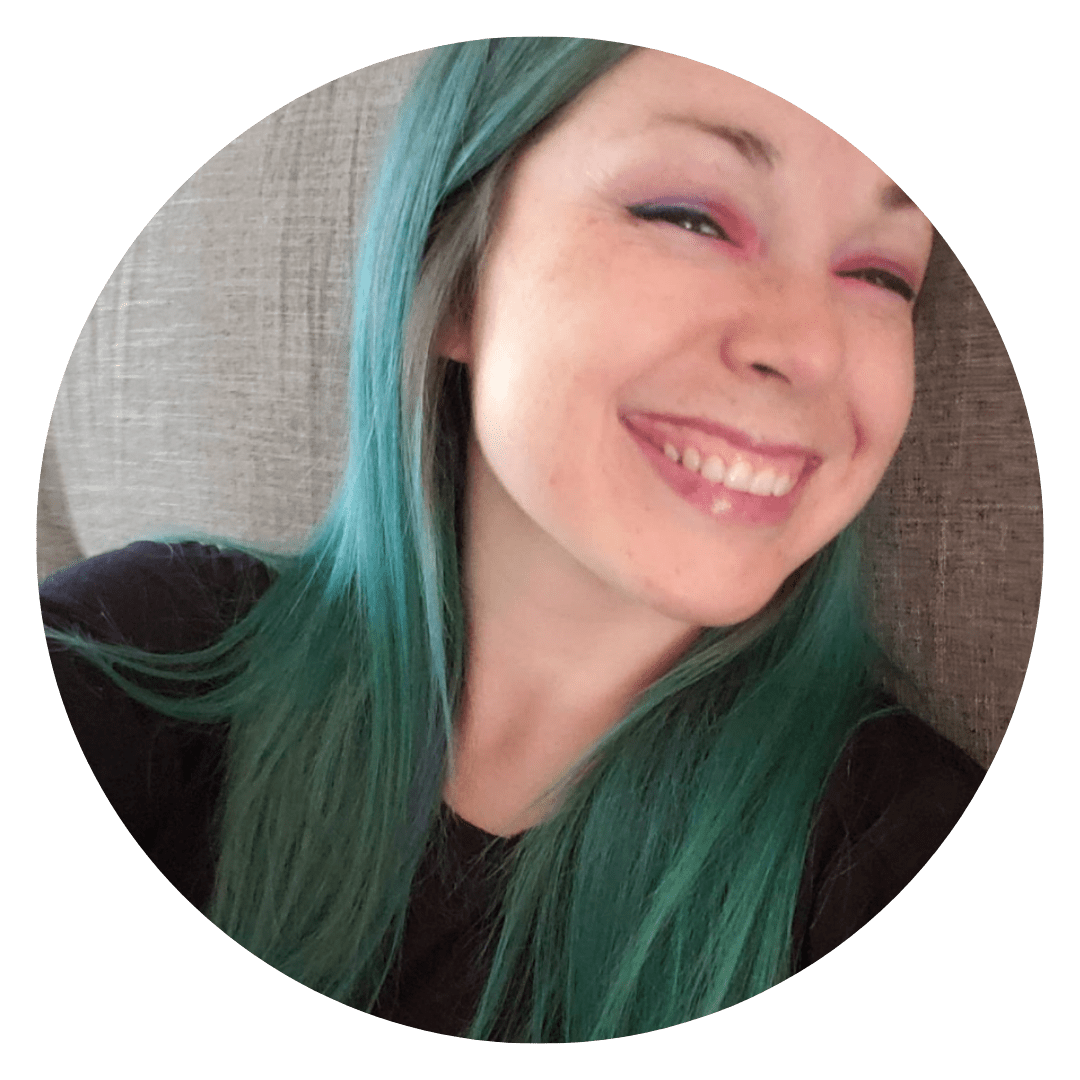 Daniella is the creator and author of iliketodabble.com. When their wife Alexandra and them aren't globetrotting or playing with their 7+ animals, they are dabbling and working towards a future of financial freedom.