Our website is supported by our users and contains affiliate links. We get paid when you purchase or sign up for anything through those links. Read the full disclaimer for more information.
Last Updated on February 14, 2023 by Daniella
If you're starting a remote side-hustle or looking for work as a professional, you're going to need a place to showcase your skills.
The best way to do this is with an online portfolio. A portfolio is a collection of your past work in a certain craft to show off your expertise to potential clients or employers.
Here's how to create a portfolio that really shows what you're capable of doing—even if you don't have any clients yet.
If you're here to start a freelance side hustle, first start with the side hustle quiz to get tons of free resources to help you get started.
Who Needs a Portfolio?
A portfolio is just a single location that displays the type and quality of work you provide. They're usually used by freelancers and business owners to market to clients, but they're also great for job seekers to send with their resume to help stand out.
Since creative work is highly subjective, a portfolio is a chance for you to show off your skills to the world. Done well, they can land you more clients or seal the deal on a job application.
Unlike a business website that's sales or information-driven, a portfolio page focuses on highlighting your creative or technical accomplishments. If you sell a creative service that relies on your unique style and talent then you need a portfolio to give new clients an idea of what to expect from your work.
Industries That Can Benefit From Creating a Portfolio
There are so many businesses that benefit from a portfolio, especially creative ones.
Here's some of the most common, especially for freelancers:
Photographer or videographer
Coder
Graphic designer
UI/UX designer
Architect
Interior decorator
Costume designer
Video game designer
Data analyst/modeler
How to Create a Portfolio That Sells
Now that you're sold on the idea of a portfolio to showcase your personal brand, it's time to start building it. You'll need to buy a domain name, choose a platform to build your portfolio on, and fill it with your best work.
Buy a Domain
I always recommend buying your own domain name rather than relying on 3rd party services. Not only does it look more professional, you'll be able to keep the same website address even if your needs change later.
Many freelancers don't have a business name which makes choosing a domain name tricky. In that case, consider using your full name or part of your name, with or without the services you offer. For example, Jane Smith the photographer might choose jsmithphotography.com.
Choose a Portfolio Platform
This is probably the most confusing step to create a portfolio, mostly because it's tough to choose between so many different options. The best option will depend on your needs, industry, and web design skills.
You'll also need to consider what features you want from your portfolio: is it just to show off what you can do, or do you want to sell products through your website too? Are there other features that you need, like online appointments or a blog? If you're not sure, choose a platform that can grow with your business.
Here's some of the most popular options to set up an online portfolio. Pricing varies, but some do have free or budget-friendly options.
Website Builder Service
Companies like Bluehost offer website builders with their hosting and also include a free domain with your purchase. These are usually easy to use and have templates that make it simple to get your portfolio set up quickly, even for creatives that aren't super tech-savvy.
The downside to these services is you're limited to what you can do in terms of design and additional functionality. On top of that, using a generic template may not look as professional as something custom made.
WordPress Website
There are two ways to use WordPress: one is through their .com blog services, and the other is building the website yourself. I recommend the latter; it will give you a fully customizable website that you can add on to later.
To get started, find a web host that offers WordPress hosting like Bluehost, then install a template. There are plenty of free options to choose from, or design your own with a page builder.
There's also virtually unlimited plugins for everything from online bookings to selling art prints that you can install later without changing the design.
Custom Website
If you're a graphic designer or a web developer you might want to create your own website. Design it from scratch, use a no-code tool like Webflow, or use a CMS like WordPress to make something that truly reflects your personal style and brand.
Professionals looking to take their portfolio to the next level should also consider this option, even if you have to hire a web designer to make it happen.
Contra
Contra is a website that freelancers use to find gig work, similar to Upwork but without all the saturation.
Contra also happens to have a portfolio feature which is a great tool for freelancers to showcase their work and build their personal brand. Contra allows users to create a custom portfolio with a variety of sections, including an about section, work samples, testimonials, links, and contact information.
Freelancers can easily upload and organize their best work. They can add project details, client feedback, and even create custom URLs to share their portfolio with potential clients. The portfolio feature is also integrated with Contra's freelance marketplace, so freelancers can apply for jobs directly from their portfolio.
Muck Rack
Muck Rack is perfect for freelancers in the journalism and PR industries to create portfolios. Freelancers can easily upload their past work, including articles, blog posts, essays, and press releases. Then they can use Muck Rack to help organize them into sections to create a cohesive portfolio.
Muck Rack's portfolio feature also offers custom branding options. Users can add their logo and choose custom colors to match their personal brand. Additionally, users can also connect with other journalists and media professionals, providing opportunities for networking and collaboration.
Leadpages
Leadpages is a tool that allows anyone, tach-savvy or not, to create high converting websites and landing pages. It's popular among its users for creating stunning sales pages in only a matter of hours but can also be used to create portfolio websites. Its drag-and-drop interface makes it easy to create a customized website without any coding skills.
What's special about Leadpages is that it isn't just a no-code website builder. Freelancers can also use the tool for other benefits to help build their business such as lead capture forms, analytics, and SEO optimization to help them attract and convert potential clients.
GitHub
Many coders and developers already use GitHub, but if you're in that industry and haven't signed up for the platform I strongly recommend it. Not only is it a great way to show off some of your coding projects, you can also use it to share your open source work with other devs.
Showcase Your Best Work and Experience
You have your portfolio all set up, now it's time to fill it with everything you want prospective clients or employers to see. Go through your past work and collect everything that you believe stands out or shows what you're capable of.
Tips for organizing the information in your portfolio:

Find the sweet spot for how much you display; too much is overwhelming, too little looks like you're inexperienced.
Choose a variety of projects and styles to show your range.
If you want to include a lot of examples, use categories or sections to organize your work.
Make sure you include other information about your business, like your rates or how to contact you.
What if You Don't Have Anything to Add to Your Portfolio?
It's the oldest problem for freelancers: you can't find clients without a portfolio, how can you create a portfolio without clients?
Here's some ways to build your portfolio early on.
Unpaid Demo Projects
There's nothing wrong with creating demos of your services to populate your initial portfolio. In fact, this is a great way to practise and get a feel for the work you plan on doing.
If you're having trouble coming up with demo project ideas, use sites like FakeClients and Goodbrief to get instant access to project briefs for some guidance. Keep in mind that you can also ask ChatGPT for demo project ideas in your specific niche freelance area.
Track the time spent on these demos and use that to help set your rates.
Pro-Bono Work for Clients
Another common trick of the trade, pro-bono work is a great way to add real client work to your portfolio. Choose clients that will recommend you, like friends or non-profits, and offer your services for free.
They'll be thrilled to get a deal, and you'll have something real to add to your portfolio. Having real clients (especially if you can get reviews) also makes it look like your services are in demand.
Swap Services
If you don't want to give away your skills for free, try finding another freelancer or small business owner to trade services with. It's a great way to network too!
How to Create a Portfolio: TL;DR
A portfolio is the best way for a professional to showcase their style and experience, especially in creative industries. It also helps you look more reputable, even if you're just starting out.
To create a portfolio, choose a domain name that you can keep with you throughout your professional career, then point it to the portfolio website service of your choice. Once you're happy with your design, add a mix of your best past projects to show off your abilities.
If you don't have anything to add right now, consider creating some demo projects or doing pro-bono work.
Now that you know how to create a portfolio it's time to go make one of your own!
Related:
Pin it for later!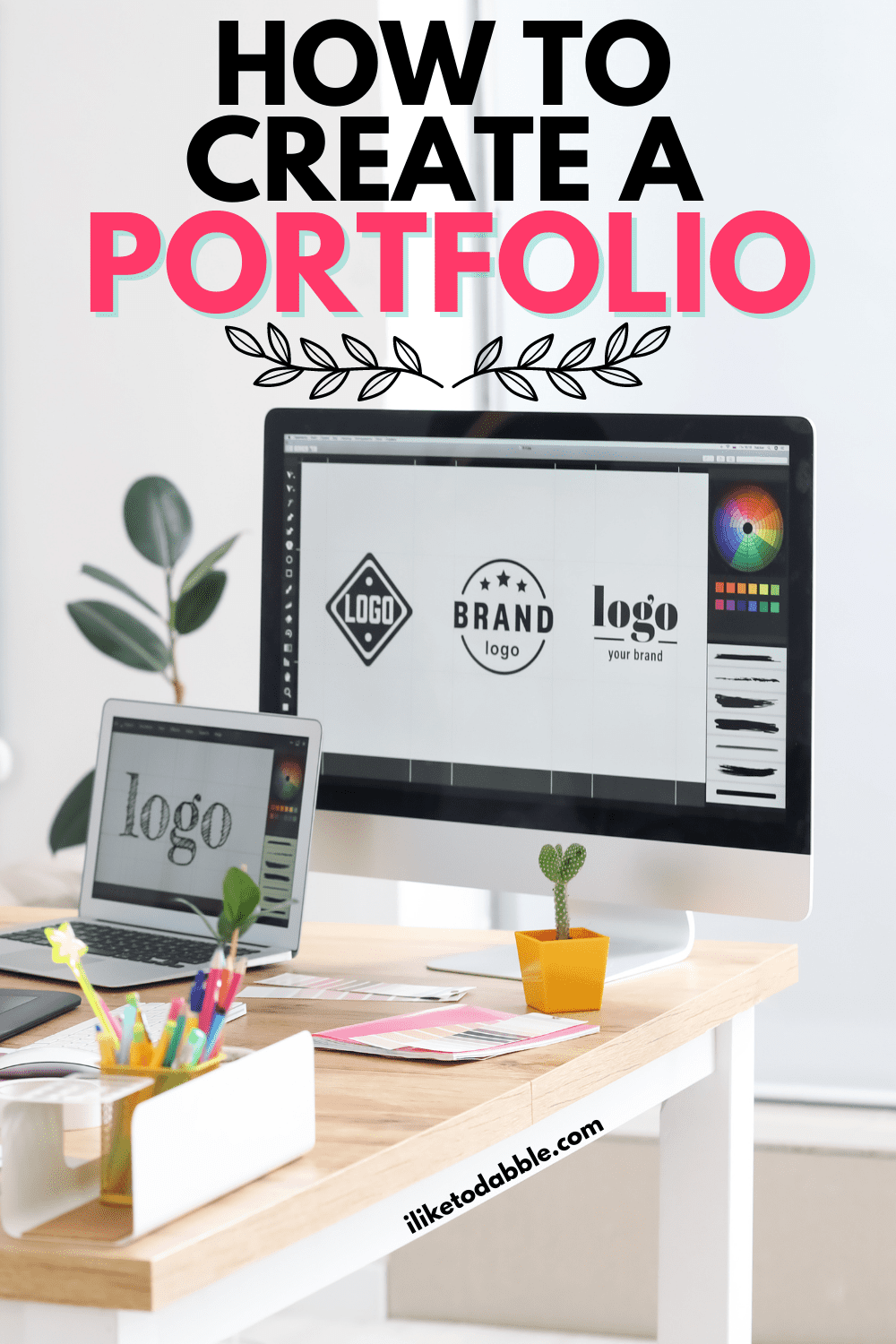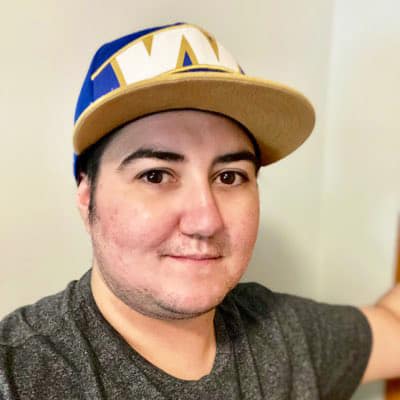 Everett is a professional content creator and marketer with a serious passion for writing. When not juggling their business or raising five kids, you'll likely find them playing video games, blogging, or exploring.