This page contains affiliate links and we have advertising relationships with the stores and companies in this post.

I first got acquainted with WordPress at the beginning of my career in web development. I have quite a bit of experience working with WordPress custom development and plugin development. A large number of web design and development firms use WordPress to create their websites. They take advantage of the content management system that WordPress is, and yield it's ability for customization to make some stunning projects. I quickly realized the potential a blog can have with self hosted WordPress so have never thought twice about switching to anything else.
However, for a majority of beginner bloggers beg the question of what to use to host their blog. It can be a tough one if you do not do your research. I see bloggers on a number of threads and forums lately, confused about how to choose between the free WordPress.com option and the self hosted WordPress.org option. It is always a matter of what you want to get out of your blogging experience. Plan it out and ask yourself these questions. Is this a personal blog or a professional blog? How far do you want the functionality and user experience to go for your readers? Are you expecting to monetize your blog?
The Ultimate Freebie Master List
This master list is composed of the top freebies; free stock photos, checklists, courses, guides, planners, etc.
Which one is better?
The best choice to go with is the self hosted WordPress.org option for the blog that you want to create. This way you own your own data and are in full control of your blog.
Here is my step-by-step guide to setting up a self hosted WordPress blog.
In this guide I will include hosting options and pricing for SiteGround, Go Daddy AND Blue Host.
Get a host.
A web host is where your website exists. You 100% own your blog if you host it. Nothing in life is ever free though, remember that. I have included the hosting plan options for SiteGround, GoDaddy and BlueHost. All of whom offer a free domain and 24/7 support with their hosting packages. Just click either image to go to each company's site for any further hosting information you are looking for.
The best thing about SiteGround is they will include your SSL certificate FREE with your hosting package. SSL stands for Secure Socket Layer. The Secure Socket Layer (SSL) ensures secure data transfer between user browsers and the server, making hackers live's much harder and protecting you from brute force attacks. They offer 3 levels of hosting. You will see a trend that most providers offer 3 different levels, each being for a different level of need that the buyer may have.
GoDaddy has 3 levels of hosting including Basic, Deluxe and Ultimate. Each level covers more hosting services than the last.
BlueHost also offers 3 seperate types of hosting package options including Basic, Plus and Prime. The hosting packages at BlueHost do appear cheaper than GoDaddy but keep in mind that your overall hosting costs may add up to be higher once you complete purchasing everything required such as storage, security, privacy, etc. It all depends on the type of blog you have in your vision and how you want to utilize that blog.
Choose and register a domain. 
Most hosting companies will offer your first domain for free with whatever hosting package you purchase. And with your newly purchased hosting, you will host your new domain. Make sure you chose as simple as a domain name that you can think of and that is available. Long domain names can be a turn off sometimes. iliketodabble.com sounds better than iliketodabbleinitall.com.
Install WordPress.
SiteGround, Go Daddy and Blue Host will prompt you to install WordPress shortly after confirming the purchase of your hosting and your domain. Most hosting providers have the hosting you purchased tailored to running a website powered by WordPress and the installation is free. Once your domain is ready to be set up, the hosting provider will let you know and prompt you for installing WordPress. Then you just follow the prompts. The prompts are easy to follow along with and if you run into trouble, you can use the 24/7 hosting support or contact me for a Virtual Assistance service charge.
Choose a theme. 
Once you start to set up your WordPress blog's look and feel, you need a theme to work with. With WordPress installed, you get access to a wide variety of blog designs called themes. In WordPress on the left-hand side of the screen you will see a sidebar of options. Select 'Appearance', then select 'Themes' to view and search through all of the free themes from the WordPress feed of available themes.
You can also purchase premium themes for additional cost from sites such as Elegant Themes or iThemes.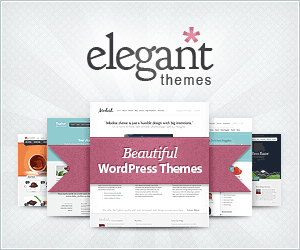 Log in.
Enter the URL for your blog's dashboard will prompt you to login if you are not already logged in or if you don't set your browser to save login information. The URL of your dashboard will be website.com/wp-admin 9 times out of 10.
Stop right there. You need to be careful with this one. It is VERY important to keep your site secure for both yourself and your visitors. Read this before moving on: How To Secure Your WordPress Blog From Hackers.
Start blogging.
Once logged in, click 'Posts' on the left-hand sidebar, and then select 'Add New' to create a blog post. Write a title and create some content for your new blog, maybe an introductory post about your blog's purpose or 'niche'. Or select 'Pages' and then 'Add New' to create an About page to give your readers some information about you, your background and your vision. From there the potential of where you can go and what you can do with your blog is endless!
Related posts to help you along the way:
How To Secure Your WordPress Blog From Hackers
How To Create Stunning Images For Your Blog In 5 Minutes
The Top 11 Resources For Free Stock Photos
The Best Social Plugins For WordPress 2017
How To Monetize Your Blog Using WordPress Plugins
21 Top Tools To Help Boost Your Blog
The Ultimate Freebie Master List
This master list is composed of the top freebies; free stock photos, checklists, courses, guides, planners, etc.