Our website is supported by our users and contains affiliate links. We get paid when you purchase or sign up for anything through those links. Read the full disclaimer for more information.
Last Updated on October 26, 2020 by Yovana
If you were anything like me starting out, you probably don't know exactly how to go about creating the close-to-perfect blog post. A big help for me was reading through online resources from other bloggers out there that also went through the same confusion on what to write and how to write it. Reading their experiences and recommendation taught me how to go from being a poor writer with little focus and no motivation to being straight-up addicted to cranking out original content daily! I want to share with you what I have learned about how to create killer blog posts. Who wants to read a lame blog post? No one.
If you have not yet started a blog and want to, or are having trouble with where to start, check out How To Create A Self Hosted WordPress Blog. If you sign up for Bluehost with my link you get a free domain, free site builders, free 1-click WordPress install, 24/7 support and all for only $2.95 a month! You really can't beat that deal. I have already made $3000 from affiliate marketing alone after only 6 months of blogging, thanks to the Making Sense Of Affiliate Marketing course.
Here are some free blogging resources that have helped me on my blogging journey. Maybe they can help you too?
The Ultimate Blogger Freebie Master List
Sign up to get this master list of the top freebies for bloggers; free stock photos, checklists, courses, guides, planners, etc.
Along with interesting content, you need a clean design for your blog and a theme that works beautifully. Check out themes at Creative Market, Elegant Themes, StudioPress or iThemes.
Related:
How To Create A Beautiful Blog Using Free WordPress Themes
The Best Social Plugins For WordPress
How To Secure Your WordPress Blog From Hackers
If you are all good to go with your blog setup and need help getting some content going, I got you. Luckily there are some simple steps and tips that can help you along the way to get to writing some killer content. You aren't in this blogging journey alone, there are thousands others out there like you in a similar journey, learning new things daily and implementing those new things into their journey. I think that is what helps me most in creating ILIKETODABBLE is all the help I get from the several groups I belong to and the many new blogging buddies I have made. That is what I love most about the blogging world, we are all here to help each other out. It is a whole new way for connection on the internet. It is also what I enjoy most, helping others and creating that circle of paying it forward.
Well let's get to the point, shall we? We aren't getting any younger, that's for sure.
These are 10 simple steps to creating the most killer blog post.
Your readers are going to love what you come up with after using this guide.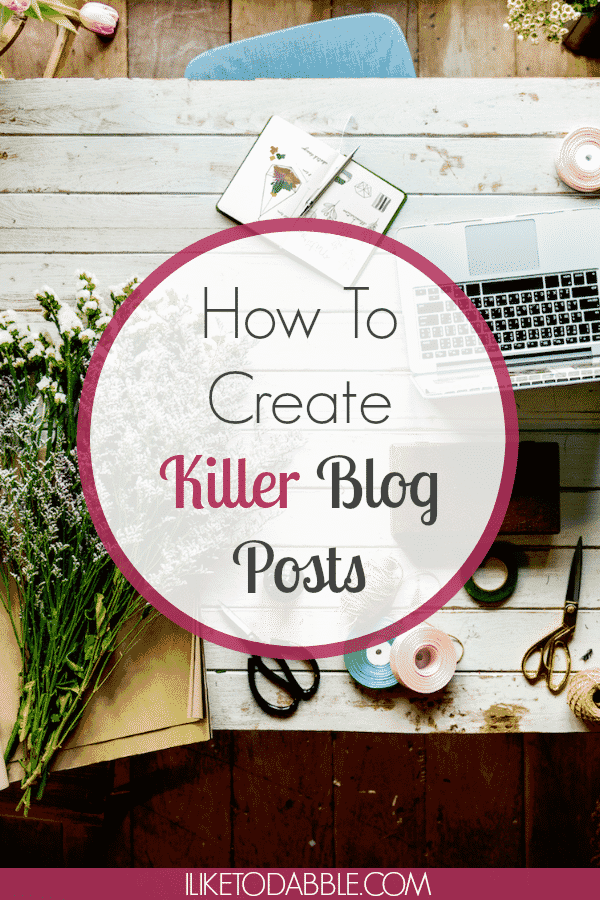 Plan out your blog post.
First off, if you want to write great content, you are going to need a plan. Maybe start with an outline of your post and go from there. You need understand your audience, do your research, and check your facts.
Understand your audience.
Understand the type of audience you are writing for. You want to give your readers what they want. What do your readers want to know about? Is there a problem maybe you can solve for them? You will need to think about this as you choose a topic and plan out your blog post.
Pick a topic for your blog post.
You need a topic to write about. For instance, if your a travel blogger you might pick a recent trip for a topic such as 'Top Restaurants In Venice' or 'Traveling On A Budget'. However, I have many categories I blog about but mainly write in the thrifty niche or the web niche (and today I am writing on the topic of web content).
Focus on strong headlines. You need your reader to latch on.
After you decide a topic to write about, you need to create a strong title. Strong headlines will grab the attention of your reader and get them to 'latch on' to your content. This will incline them to want to read through, click, pin, etc. Strong title's consist of 'How To', including numbers like '5 Ways To Lose 5 Pounds', or including words like 'Top', 'Best', 'Most', 'Effective', etc.
The Ultimate Blogger Freebie Master List
Sign up to get this master list of the top freebies for bloggers; free stock photos, checklists, courses, guides, planners, etc.
Create original content and find your 'voice'.
Every one writes in their own 'voice'. It is easier than you may think, just let the words flow out of you.
Original content has a deeper meaning these days than just original posts. This can be in a number of ways that are not just words on a post. Original content should go farther than just an original post, it should include original photography, videos or podcasts, tools, plugins, code, or themes.
The best kind of content is original content from experiences that will help others solve problems or avoid the problems you may have run into. This is my favorite thing to write about because as a former WordPress developer I have run into WAY too many problems to count. I love helping others not run into those same problems and get the most out of WordPress.
To check your content for any plagarism or grammar errors, check out Grammarly. Grammarly is a popular tool among bloggers due to how useful it is for improving the quality of your content.
Make each blog post at least 500 words or more.
Well this is a touchy subject. Every blogger will tell you a different length you should make your blog posts. Truth is, if you want more social shares and comments then you want to keep it short, 300-600 words is the average for maximum engagement. Professional journalists operate at a length of 750 words or more. Since this post is more of a round up it is pretty long and well over 1000 words. And that is because that is the length I have gotten use to. You get fewer comments on posts that have 1000+ words but more social shares. Lastly, I found that some of the highest ranking posts on Google are about 2000 words. If you want to rank high on Google in the long run, go for longer posts about topics people regularly search for.
Keep your sentences and paragraphs short.
If you use the YoastSEO plugin, it will constantly call you out on your readability score. In order to gain a higher readability score with Yoast, it constantly reminds you to shorten up your sentences and paragraphs. 'They' say that the best written and easiest to read content is at about a 6th grade reading level.
Use images and optimize them for social media and SEO.
Alright so here is the deal, you need images to break up your content and keep your reader's interest. We are visual learners…at least I am. Google searches for images with 'alt' text since search engines cannot see images the way human's can. Add your keywords into your image's 'alt' text for a minor SEO boost. It will not boost your SEO like some of the other things on this list, but it will at least help a little as the search engines will be able to 'see' the images this way.
Optimize your images for social media as well as for SEO with PicMonkey for free!
If you are more of a seasoned designer, I recommend using Adobe Creative Cloud. The opportunities there are endless and you get a free trial with this link.
Related:
The Top 11 Resources For Free Stock Photos
How To Create Stunning Images For Your Blog In 5 Minutes
Idiot Proof SEO: How To Improve Your Google Rank
Proofread your post.
Read over your post before you publish it. Check your SEO and readability score in YoastSEO under your post, if you have it installed. Read your post out loud. Have a friend read it also to see if they catch anything that you could not. Run it through Grammarly to check for errors and plagiarism.
Optimize your post for SEO.
Utilize your YoastSEO plugin to help your post's SEO score. You always want to write for the 'green score' meaning 'good'. During your proofreading, check the recommendations YoastSEO has for your SEO score. This will include adding keywords, editing your meta description, adding images with your keyword in the 'alt' attribute, placing your keywords wisely throughout your post, etc. For the full details on how to boost your blog's SEO and improve your Google rank today, check out this post: Idiot Proof SEO: How To Improve Your Google Rank.
Related:
Idiot Proof SEO: How To Improve Your Google Rank
If you don't have time to do all this and you are really starting to gear your blog towards being a business, out source your work on Fiverr! The amazing thing is with Fiverr, you don't have to pay much for a little content management.
The Ultimate Blogger Freebie Master List
Sign up to get this master list of the top freebies for bloggers; free stock photos, checklists, courses, guides, planners, etc.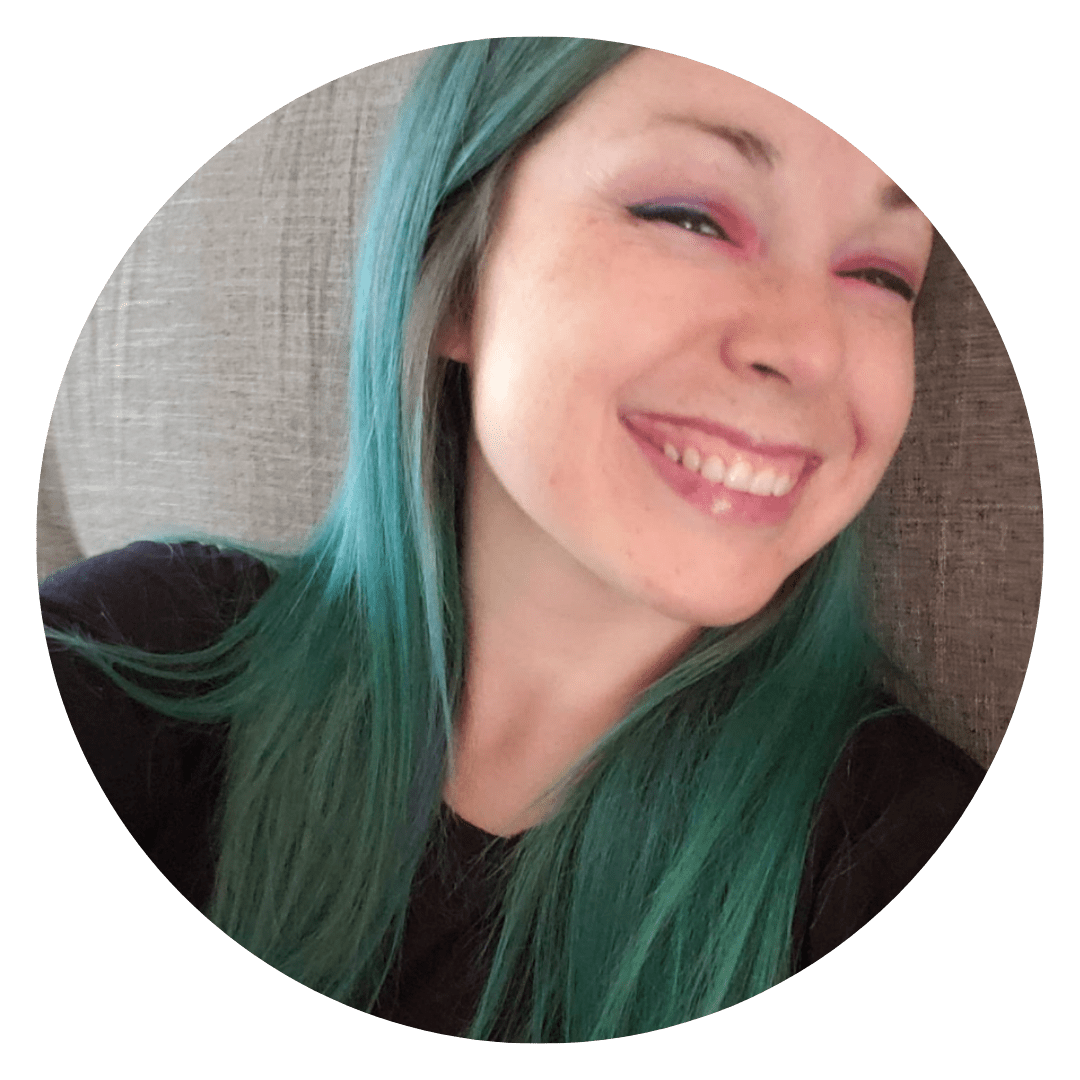 Daniella is the creator and author of iliketodabble.com. When their wife Alexandra and them aren't globetrotting or playing with their 7+ animals, they are dabbling and working towards a future of financial freedom.