Our website is supported by our users and contains affiliate links. We get paid when you purchase or sign up for anything through those links. Read the full disclaimer for more information.
Last Updated on November 30, 2020 by Yovana
This is an interview with Marc from VitalDollar.com. Marc has been able to create and sell more then 4 different sites and blogs, some for as much as $500,000. Read on for his story.
Marc, tell us a little about yourself.
I live in Pennsylvania with my wife and our two kids (6-year-old daughter and 3-year-old son). I've been blogging since 2007, and I've been doing it full-time since 2008. My blogs have been in a variety of different niches like web design, photography, and finance.
One of the reasons I've had blogs in a few different industries is because I've sold several of the blogs, and then I've moved on to start other blogs.
My first photography blog that I started was originally a side hustle that I hoped would make a few thousand dollars so I could justify buying a nicer camera and some lenses. I loved blogging about photography because I could spend my time learning more about something I enjoy. I was fortunate to be able to turn my photography hobby into more than $1 million, without being a professional photographer.
Currently, I run VitalDollar.com, which is a personal finance blog where I write about managing money, ways to save money, and ways to make money.
Why and how did you get started blogging?
I started my first blog in 2007 because I was trying to find clients for web design services. I had a full-time job as an auditor, but I had created a few websites for friends and family and I wanted to see if I could pick up some other clients. I used the blog to publish articles with the hopes of converting some of those visitors into paying clients.
My strategy actually started to work, and I did get some clients through the blog traffic. However, I realized pretty quickly that I didn't really like the client work. I liked working on the blog a lot more, so I decided to focus on that instead.
I did continue to take clients here and there, but I never did a significant amount of web design work. As the blog's traffic grew I montized it with display ads, affiliate links, and by selling some of my own digital products.
Did you have any experience prior to blogging such as web development and design experience or are you self taught?
I had taken one course in college on web design. We didn't have enough time to learn much more than basic HTML, but by the end of the semester I could create a very simple website. I really liked the course and after that I continued to read books, follow tutorials online, and experiment with coding.
By the time I started the blog I was fairly comfortable with HTML and CSS, and I learned to customize WordPress themes.
I continued to learn more for a while, but eventually running the blog kept me busy and I didn't have enough time to continue working on my skills or to stay up-to-date with changes in technology.
I haven't designed or coded any custom sites in several years. There are plenty of good WordPress themes that can be customized pretty easily, so these days I always use an existing theme. The most I do is a little CSS coding to customize the style or look.
Start a Money Making Blog Free Email Course
In this free 5 day email course, I show you everything from creating your blog from scratch, to SEO keyword research strategies, basic branding, creating an email list, social media strategies and monetization strategies to start building a profitable blog.
Sign up for the newsletter to receive regular updates and get instant access to the free course.

Related posts: Blogging for Beginners: 30+ Blogging Resources to Create and Maintain a Profitable Blog
How to Build a Blog with The Goal of Selling It
How to Create a Self Hosted WordPress Blog
How many different blogs have you had over the last 12 years?
I've probably had 20-30 in total, but only about 6 of them have been significant. There are several that I started, but then got busy with other things and didn't really put time into them.
How many of them were you able to sell?
Here is a summary of the blogs I've sold:
In 2007 I started a web design blog, and I sold it in 2013 for $500,000.
In 2008 I started another web design blog and sold it in 2010 for $50,000.
In 2012 I started a photography blog, and In 2014 I started another photography blog. I sold these two together in 2016 for $500,000.
In 2015 I started a third photography blog, and in 2018 I sold it for $216,000.
I also had two smaller sales, one was $1,000 and the other was $6,500, but those were basically sites that I just got rid of because I didn't have time to manage them.
My wife and I also ran an Amazon FBA business from 2015 – 2017. We sold that in 2017 for $225,000.
Related posts: What is Dropshipping and How to Create a Dropshipping Store
How to Make $10,000 a Month Using Skills You Already Have
Can you kind of walk us through how one creates a blog to sell and what elements make the price of a blog go up or down?
There are a lot of factors that can influence the value of an online business, but profit is by far the biggest factor. With that in mind, the best way to have success in selling a blog is to focus on maximizing the profitability.
It helps if you have a few different streams of income, because that gives more stability and means less risk for the buyer. For example, if your only source of revenue is AdSense and Google decides to suspend your AdSense account, or if they change the terms of service, it could be devastating to the business. But if you also make money from affiliate links and other ad networks, the risk is not as great.
It also helps if you have some history of earnings to show long-term stability. For example, if your blog has been earning a good profit for 2 years you'll be in better shape than you would be if you tried to sell when you've only been making money for 3 months.
To get the best price for your site you want to keep it long enough to build up and maximize the income/profit. Ideally, you will wait to sell it until you feel like you've taken it about as far as you can. If you sell too soon you'll be missing out on potential income, and the buyer will be benefiting from your hard work.
Do you have any advice for others trying to build their blogs up to possibly sell?
The number one thing is to focus on maximizing your profit. Look at different possible revenue streams like display ads, affiliate programs, creating and selling your own products, publishing sponsored content, and maybe even premium content or membership.
I'm not saying you should do all of those things, but consider which ones are the best fit for your blog, and make sure you're not missing any big opportunities. Ideally, you'll use 2 or 3 different strategies to get the most profit. If you stick with one monetization method (like selling your own digital products or affiliate marketing) you can still diversify a little by selling several different products or promoting a wide variety of products and services as an affiliate. Don't put all your eggs in one basket.
As you get closer to the point where you're thinking about selling, here are a few things to keep in mind:
Evaluate the time that you're spending working on the blog to make sure that everything you're doing serves a valuable purpose. Every potential buyer is going to ask you how much time you spend working on the blog. The buyer is likely to outsource most or all of the work, and the more work that is needed, the higher their expenses will be. Higher expenses means lower profit, and lower profit means lower purchase price. So make sure all of the time that you're spending on the blog is for things that are important, otherwise stop doing it and spend less time on the blog.
De-personalize your blog before trying to sell it. You don't need to remove yourself completely from the blog, but make the branding about the blog, not about you personally. If a potential buyer thinks that the blog's success is because of your personal branding, they are going to be concerned about what happens when you're no longer involved with the blog. (This advice is only intended if you're thinking of selling your blog. Personal branding can be extremely effective, and if you plan to continue running the blog there is no reason not to do it.)
Consider outsourcing some of the work. Since most buyers will be outsourcing the writing and other tasks related to the blog, having some freelancers in place is usually a good thing. It makes the transition a little easier for the buyer if they can continue using the same freelancers who already know what they're doing.
How long did you have the blog that sold for $500,000 and what are some of the biggest 'movers' you would say attributed to being able to sell a blog for that much?
The web design blog that I sold for $500,000 started in 2007 and I sold it in 2013. The biggest factor in the success was high traffic, especially from Google searches. At its peak it was getting over 1 million visitors per month. I think it was around 800,000 visitors per month when I sold it. With high traffic, making money with display ads and affiliate links wasn't very hard.
I also sold two photography blogs together for $500,000. One of them was started in 2012 and the other in 2014. I sold them the first week of 2016. The biggest factor in their success was the creation of digital products. Almost all of the revenue came from selling digital products. I created most of the products, but I also hired some freelancers to create some products for me. The traffic on those blogs was not very high, but the products sold well and each site had an email list of 40,000+ subscribers.
Related posts: How I Make Money Blogging
How to Create a Beautiful Blog Using Free WordPress Themes
Tell us about your current blog, Vital Dollar and why you wanted to start Vital Dollar.
I've had an interest in finance for a long time. I've always tried to save money and manage money well, and I've always wanted to learn more about money. Over the years, I've found that running a blog is a great way to learn about something because you spend so much time writing and reading about that topic.
I also wanted to be able to share some of the things I've learned about side hustles, making money from hobbies, and making money online.
Even though I wanted to start the blog for a few years, I just hadn't had the time to do it until about a year ago. In 2018, I sold a photography blog that had been taking up a good bit of my time, so right now I have most of my time to focus on Vital Dollar and it's been a lot of fun.
What is the worst decision you ever made in your online business and what was your best?
I consider my worst decision to be waiting too long to start my side hustle. Through most of my 20's I was unsatisfied with the jobs that I had, but my solution was always to find a better job. It could have been another job with the same employer, or going to a different employer.
It wasn't until I was 28 that I start my blogging and web design side hustle. I left my full-time job the same week that I turned 30, and since then my financial life has been drastically better. I wish I had started a few years earlier.
I think my best decision was leaving my job when I did and focusing on my business full-time. I was only making about $2,500 per month, and I thought I was probably about a year away from getting to the point where I could safely quit my job. I was doing some freelance writing at the time, and one of my clients asked me if I could do more work for him. I almost said no, because with a full-time job I really didn't have the time. But then after doing some math I thought that I might be able to make it work by leaving my job and taking the extra freelance work. So I quit, took that extra freelance work from the existing client, and quickly found a couple other clients, and immediately I was making over $4,000 per month, which was enough to justify doing it full-time. It was a bit of a risk at the time because I still didn't really know what I was doing, but it all worked out.
Subscribe to get your free list of side hustles you can start this week!
Claim your free list of side hustles + tons of helpful resources to get started!
Any parting thoughts?
Since we talked a lot about selling websites I think it's important to point out that this isn't something you should be worried about or overwhelmed with if you're just getting started. Just focus on growing your blog and making progress from whatever point you're at now. If you stick with it and keep moving forward, you'll be at the point where you can consider selling your blog, if that's something that you want to do, in the future when the time is right.
Related posts: 35 Best Side Hustle Ideas
28 Ways to Make an Extra $100 a Day
50 Ways to Make an Extra $500 a Month
Top 28 Sites That Pay You to Blog
The Fail Proof Guide to Affiliate Marketing
How to Boost Your Traffic With Pinterest
Pin it for later!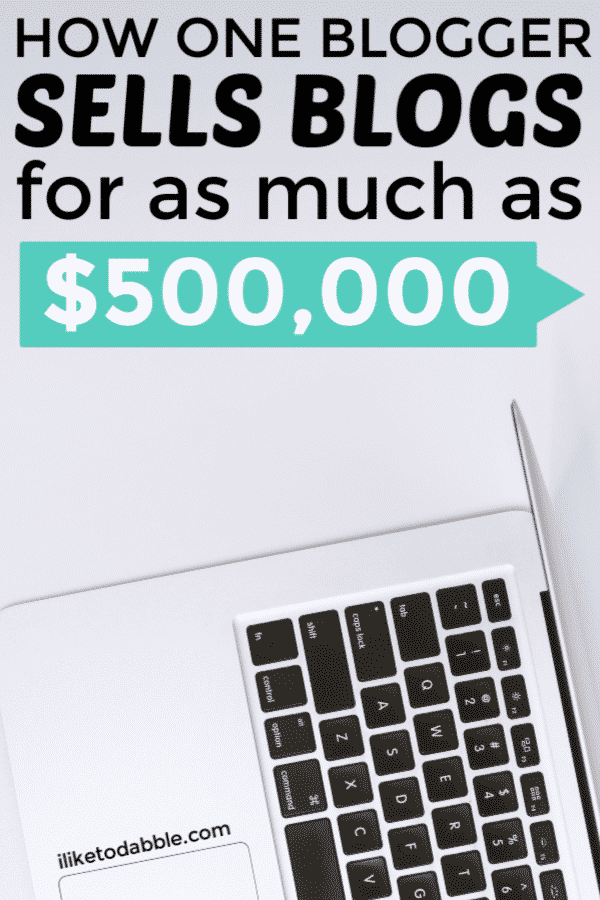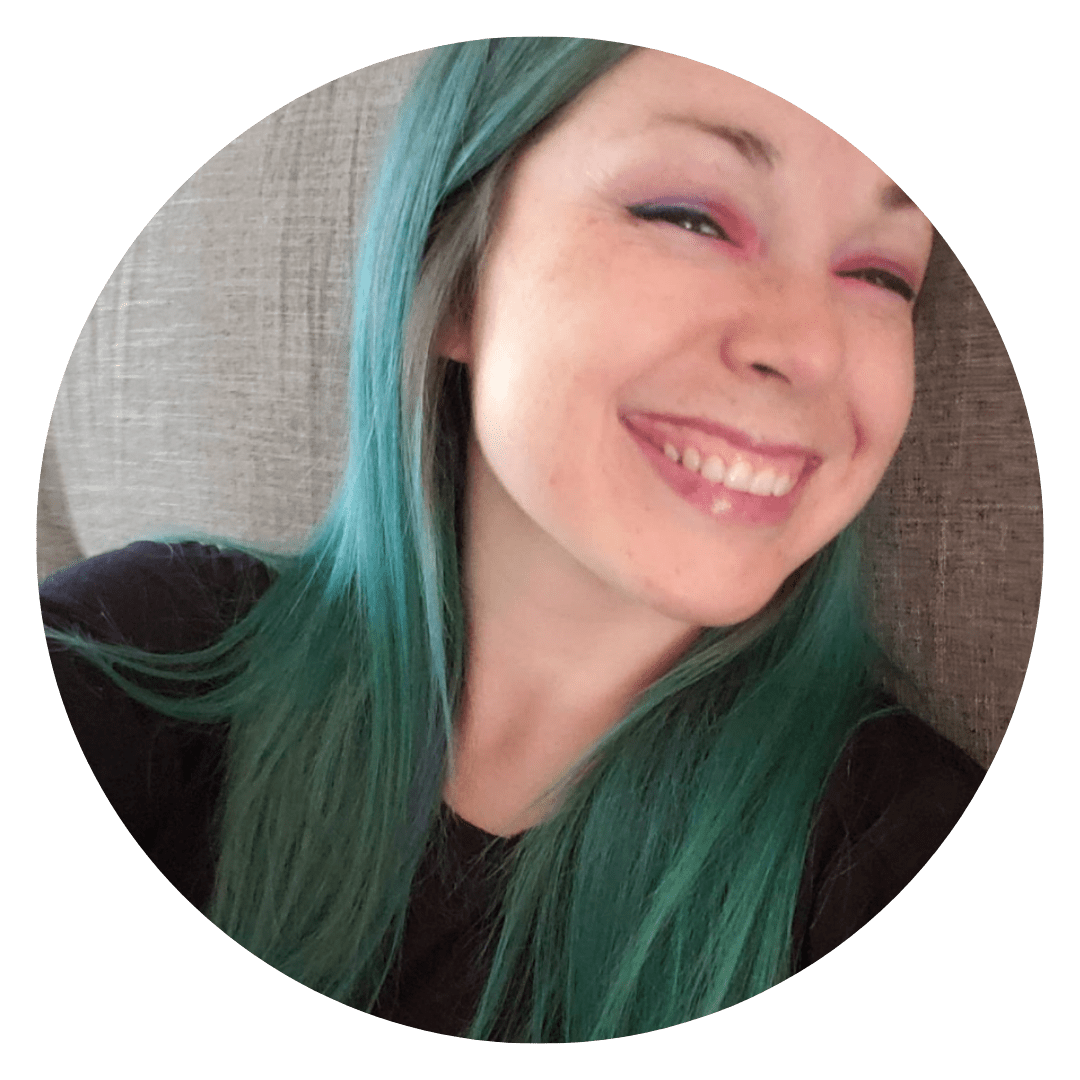 Daniella is the creator and author of iliketodabble.com. When their wife Alexandra and them aren't globetrotting or playing with their 7+ animals, they are dabbling and working towards a future of financial freedom.