Our website is supported by our users and contains affiliate links. We get paid when you purchase or sign up for anything through those links. Read the full disclaimer for more information.
Last Updated on October 27, 2020 by Yovana
There are tons of ways to boost your traffic and engagement on your blog or website. Sometimes it might seem like you've hit a wall with the amount of traffic you are seeing. I know I was hitting a wall for awhile where I could not make it over that hump of an average of 300 views per day until I started to work on my Pinterest strategy. Sure my blog is only 2 months old so building followers and traffic is still sort of a struggle. Once I thought there were no more ways I can boost my traffic until I get more established, Pinterest came through like a knight in shining armor. Now I am easily seeing 1,000 to 3,000 views per day with my Pinterest strategy and that isn't even on the good days! It grows every day with my Pinterest strategy. Want to learn how you can boost your traffic with Pinterest? Well of course, why else would you be here.
If you have not yet started a blog and want to, or are having trouble with where to start, check out How To Create A Self Hosted WordPress Blog. If you sign up for Bluehost with my link you get a free domain, free site builders, free 1-click WordPress install, 24/7 support and all for only $2.95 a month! You really can't beat that deal.
Here are some free blogging resources that have helped me on my blogging journey. Maybe they can help you too?
The Ultimate Blogger Freebie Master List
Sign up to get this master list of the top freebies for bloggers; free stock photos, checklists, courses, guides, planners, etc.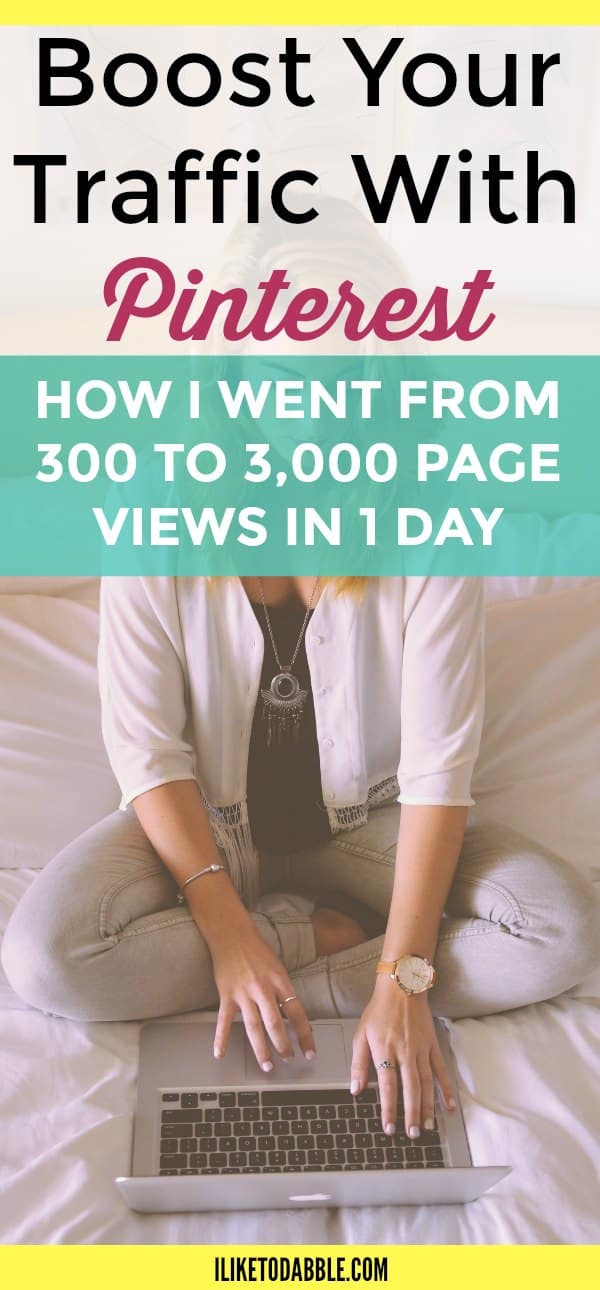 Ready to see how I went from 300 to 3000 page views in 1 day!?
I thought that was almost impossible to accomplish when I started out blogging. But I am a living, breathing example of how it is 100% possible to skyrocket your traffic with Pinterest alone!
Some additional side notes I would like to start off with…
Don't worry this whole post is not an advertisement, I would like to feature some courses that helped me though. Skip over them if you don't care and get to the goods about boosting your traffic through Pinterest. There is only so much you can accomplish with what I have provided here, and will have to look deeper into these courses if you want to learn and accomplish more!
Pinteresting Strategies Course: When I first started out trying to grow my following and increase traffic from Pinterest, I felt lost in the sea of other bloggers. Then I found Amber's Pinterest Pal's Facebook group which then led me to her course Pinteresting Strategies. This course was a breath of fresh air as Amber's lessons are easy to follow and implement with actionable steps that I saw results from in the same week. I went from under 1,000 followers before using Amber's course to now over 6,000 followers (in under 1 year). I get about 60% of my overall traffic from Pinterest. Check out more about this course here.
Making Sense Of Affiliate Marketing Course: When I first started this blog I was confused with how people made money on their blogs, scratching my head wondering why money wasn't piling into my Amazon affiliate account. Then I found this course that is helping me to make almost $2000 a month, and my blog is just over 1 year old. If you invest in any courses for your blog, this is the one to invest in!
Now let's get to the step-by-step process on how to boost your traffic with Pinterest!
Add a pin-it button to your blog.
I use Shareaholic for my 'pin-it' button. It is that clickable Pinterest icon you see when you hover over images on my blog. You can get started with the Shareaholic plugin here.
Create 'pin-worthy' images.
Pin-worthy images are vertical images that are interesting, pertains to the subject of the pin's post, has clear text that is easy to read and a pop of color. Some people like to create branded pins where they all sort of look the same, I sometimes do that as I always use the same color scheme but I never make 2 of my pins look exactly the same. I think that makes it hard for people to tell them apart and they will just skim over pins they think they have already seen or clicked on.
Here are some examples of my recent pins straight from my iliketodabble Pinterest board. These are all high performing pins and had a huge role in me jumping to 3,000 page views in one day last weekend!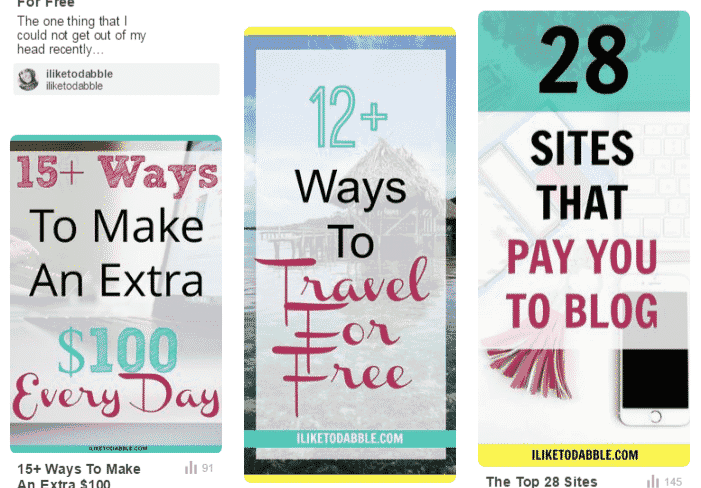 I create all of my pins with PicMonkey. In PicMonkey, you can use any one of their hundreds of Pinterest vertical image templates to customize to your desire. I especially like PicMonkey much more than Canva because I like the fonts available in PicMonkey better, how easy PicMonkey is to use, and I can save all work in the PicMonkey Hub still in their own layers so it is like creating my own little custom templates for future work.
Here is a glimpse at some of the Pinterest templates that PicMonkey has to offer.
Sign up for a free trial of PicMonkey with my link I got just for you!
We are all not photographers but we all need stock images to use in our pins. To get interesting images for your pins, get 10 free images from Adobe Stock or check out this post where I list tons of resources for free stock photos that are legally free to use and share!
Apply for and use Rich Pins.
Check out my step-by-step tutorial on how to apply for and use Rich Pins here. It is the easiest to follow tutorial out there to date! I promise.
Join Pinterest group boards.
If you have no idea where to find these, visit pingroupie.com. You can search for your blog niche and it's corresponding Pinterest group board in pingroupie and then click to navigate to that group board. You will then have to follow the directions indicated on the board on how to join. Each group board is different and they all have different directions on how to join and different rules for membership. They are however all free to join and use.
I have recently created 2 group boards that you can request to join. Just follow the directions on each of these boards to be accepted and start pinning!
Frugal and Thrifty Living Tips – Group board for frugal and thrifty living niches.
Blogging 101– Group board for blogging niches.
Remember, you must be following me on Pinterest in order to be added to these boards. Follow me here!
Join groups on Facebook geared towards Pinterest promotion.
Another way to find Pinterest group boards with a high number of followers, that are in your niche, and that will skyrocket your traffic is to network on Facebook groups first to find out about the best group boards out there. One Facebook group I recommend, that has helped me tremendously is, Bloggers Unite On Pinterest.
Schedule pins with Tailwind.
The best thing about Tailwind is that you can schedule a pin to multiple boards at the same time and even add them to your Tailwind tribes too.
To Sign up for a free trial of Tailwind, click here and get a free $30 to apply to any future paid trial of Tailwind.
Once you sign up for Tailwind, you are prompted to install the browser extension to install the Tailwind 'Schedule' button for any image that you hover over in the future. This 'Schedule' button is a life saver as it makes it possible for you to schedule any image that you want to pin, to multiple boards and your Tailwind tribes at the same time.
Clicking that 'Schedule' button for anything that you want to schedule, will bring you to the following pup p that allows you to type in what boards you want to schedule it to and what tribes you would like to add it to.
You can schedule it and add it to your queue in real time or save it for later!
Tailwind has such a large array of options and uses, I am still getting familiar with it. Here is a glimpse to the Tailwind sidebar so you have a sense of all the features you will be getting with Tailwind when you sign up.
When you want to know how your upcoming schedule of pins looks like, take a look at the schedule that is the widget on the right, on the Publisher Dashboard.
Tailwind tribes are absolutely free. Here is a list of tailwind tribes that I use frequently to refer to for new tribes I want to join. They are listed by niche which is even more helpful – 75+ Tailwind Tribes To Join Today.
Pin at popular times of the day.
The best times to pin are when more people are on Pinterest and actively engaged. The best time to pin is between 8pm and 11pm. Sometimes different days have different topics that are more popular than others. Below is a list of each day and it's corresponding popular topic that people are most likely to click on and repin.
Sunday: Food & Craft
Monday: Fitness
Tuesday: Technology
Wednesday: Quotes
Thursday: Fashion
Friday: Humor
Saturday: Travel
What other methods are you using in your own Pinterest strategy to go viral, boost traffic and achieve success in your blogging life? I would love to hear more!
Related:
How To Apply For And Use Rich Pins
How To Create A Self Hosted WordPress Blog
How To Create Stunning Images For Your Blog In 5 Minutes
The Top 11 Resources For Free Stock Photos
How To Create A Beautiful Blog Using Free WordPress Themes
Boost Your Blog's Traffic With WordPress Plugins
How To Grow Your Email Subscriber List By 100%
The Fail-Proof Guide To Get Started With Affiliate Links
Here are some free blogging resources that have helped me on my blogging journey. Maybe they can help you too?
The Ultimate Blogger Freebie Master List
Sign up to get this master list of the top freebies for bloggers; free stock photos, checklists, courses, guides, planners, etc.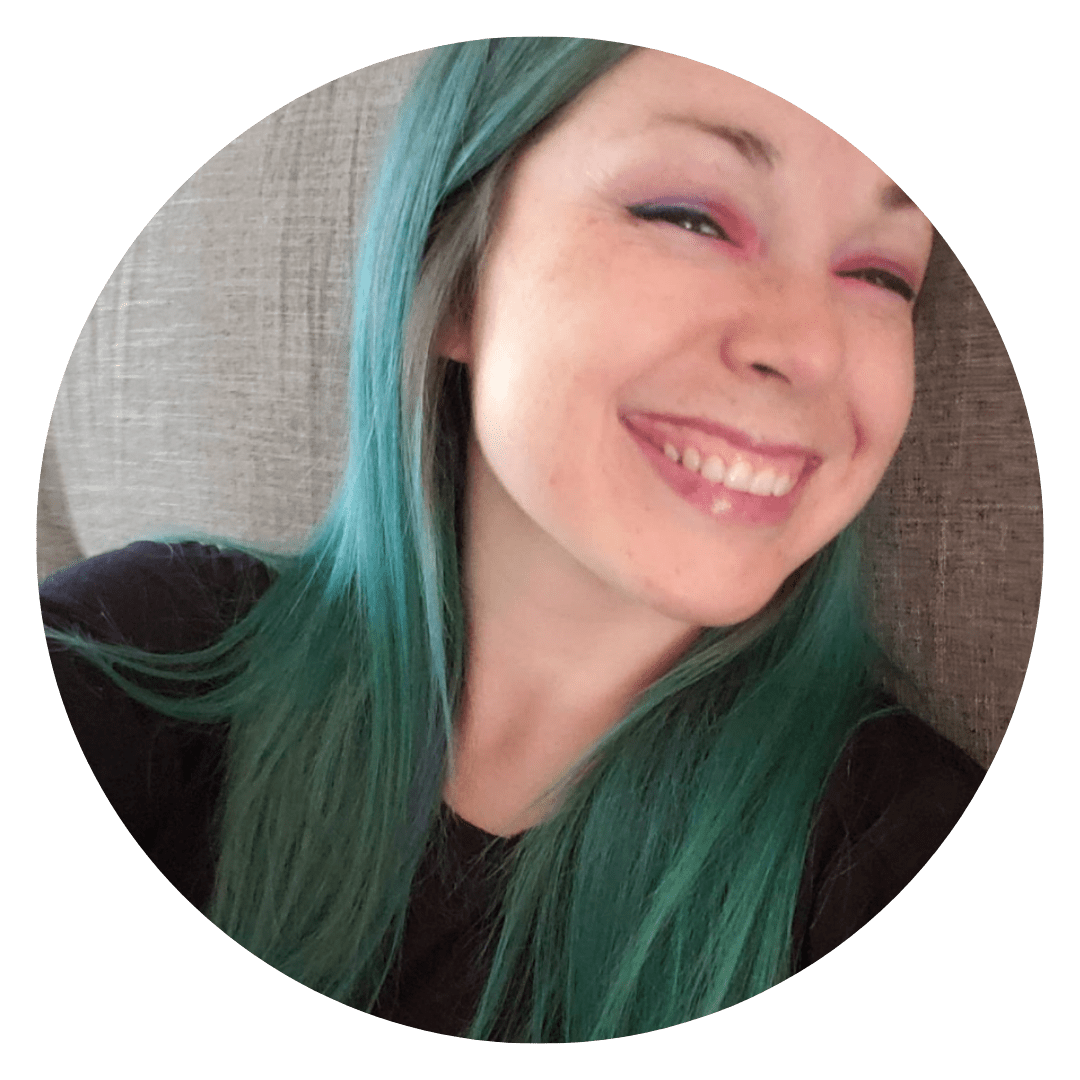 Daniella is the creator and author of iliketodabble.com. When their wife Alexandra and them aren't globetrotting or playing with their 7+ animals, they are dabbling and working towards a future of financial freedom.