Our website is supported by our users and contains affiliate links. We get paid when you purchase or sign up for anything through those links. Read the full disclaimer for more information.
Last Updated on July 1, 2021 by Daniella
This blog was meant to be a hobby until I found out I could monetize it. Then I started caring about the wrong things that hurt this blog's growth more than anything.
A lot has happened in the last 2 and a half years and I never really addressed any of it. At least not in full detail..until now.
Before we get into any of this, I want to start off by saying blogging as a side hustle can be exhausting. No, it's not easy and anyone who says that it is, is trying to sell you something (like this old old post of mine referring to "easy" affiliate programs…I know, I am embarrassed and need to update that post).
If you want to start a blog as a hobby, it will be fun for a while. And it will continue to be if you truly stick to it for fun.
If you want to start a blog as a side hustle, you will also have fun but only if you can manage yourself properly. Life is a full plate as it is and you will be adding more onto that plate.
You have to find time for yourself and make time for yourself.
Or like me, go through cycles of burnout where you are forced to make time for yourself.
I wasn't organized before the blog and weirdly enough, now I am. It's forced me to make a schedule and push me towards my goals.
This could just be me though. If you are a naturally organized person, it may be much easier for you.
Pin it for later!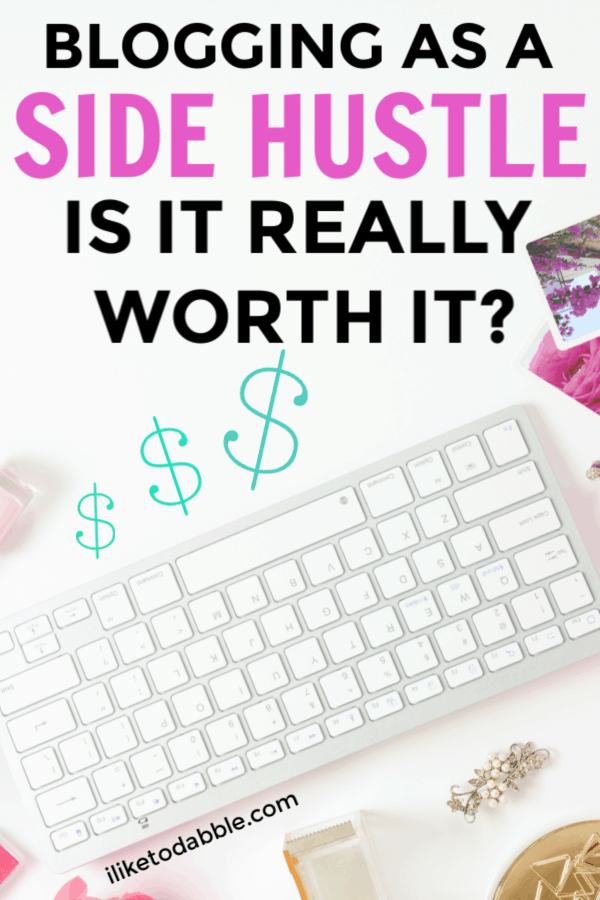 I Almost Sold My Blog
Did you know that someone approached me in November 2018 about purchasing iliketodabble?
Yep. It was strange to me at the time because my blog was so small. I had decent traffic and a little income from it but I never knew it was enough to be "sellable".
The company interested in acquiring it had an interest in buying smaller blogs targeting low hanging keywords for SEO, growing and profiting from them.
After a couple of meetings with them and weighing my options, I decided against it. We talked about potential offers being anywhere from $10,000 to up to $30,000 to buy my blog but we never made it to the actual offer part.
Giving it all away for $30,000 didn't seem right to me. There was still so much I wanted to do with it. So we talked about other options like partnerships.
This was presented to me as the acquiring company running the day to day operations and I could either be somewhat involved in any way I wanted (which would be negotiated) or not at all and still have my face on it.
I would make a certain percentage of course. But I didn't want to lose that type of control.
We didn't get much further after the Thanksgiving holiday and mulling it over. It felt like I would regret it if I sold or partnered at that time so I listened to my gut.
Thank you, gut.
Related post: How to Build a Blog with the Goal of Selling It
Growth
I know this is supposed to be a mid-year check-in on the state of my blog but I am aware it is the beginning of August. I'm about a month late. Bear with me 🙂
It's been a while since I've touched on the progress of my blog as a side hustle (unless you follow me on Twitter, where I often post about projects, launches, ad income, etc)
I would forget to mention the important progress I am making on my #1 side hustle, on my blog that is literally about side hustles (queue the laughter).
Things happen, I got busy and kept putting it off. Procrastination kills…and so does a lack of focus – which I had, badly and am still working on.
I celebrated 2 years of iliketodabble in May 2019 (I purchased the domain in April 2017 but didn't get the site together until May 2017). My first income report on what this blog was bringing in was in March 2018 and as you can see between then and now, my writing and the direction of this blog has somewhat changed and improved.
After that with other projects and posts scheduled, it was hard to get more updates in. I finally touched on the progress again in my March 2019 Side Hustle Income Report where I made a little over $3,000 that month (but after expenses, it came out to $2,874.59 and after taxes, it came out to $2,434.78).
I've continued to hone my focus even more since then, accomplishing a kick-ass redesign with Dabble Media, growing my blog and audience further and am preparing for my first ever FinCon in September.
Traffic
I use to be heavily invested in experimenting as much as possible with Pinterest and trying to get traffic through it. Some of it was wasted effort but sme of it wasn't. Anyway, I've stopped focusing on it so obsessively.
Then I tried to learn as much as I could about SEO. I had some prior experience in my career with SEO but it seemed overwhelming to get my site and content optimized correctly. There was just so much to do and I would self-sabotage by thinking about it all at once.
That's anxiety for ya.
Even though 2019 is the year of SEO for my blog, I've actually stopped caring so much about traffic even though some of the income depends on how high/low the traffic is (such as ad income).
My traffic goes up and down depending on a lot of different elements like Pinterest, engagement via other social media, how my email list is engaging, how the site is ranking for certain keywords, the time of the year, what posts are doing well vs. not so well, etc.
In 2018 iliketodabble had a total traffic of 194K users and 223K sessions. That spike you see at the beginning of 2018 is from some pins going viral on Pinterest and an influx of my site ranking on the 1st page of google for a variety of keywords that ranks have since changed greatly on (Google algorithm changes, blah blah blah).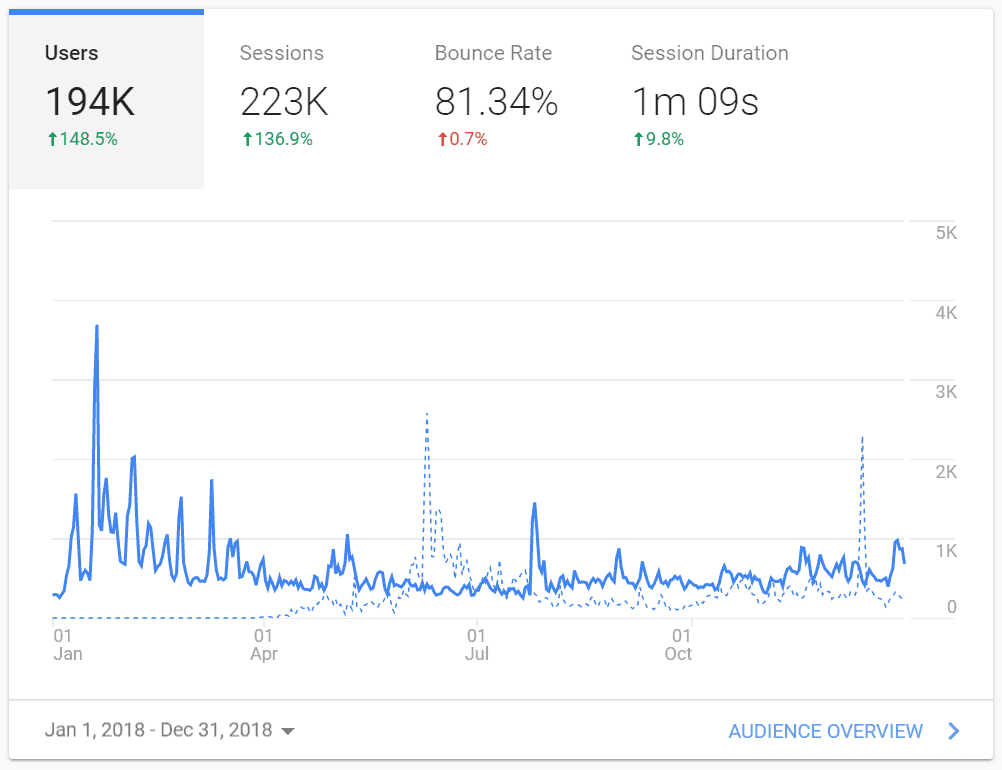 Now being only 7 months into 2019 (and on the 8th month now), my traffic is almost at what it was the entire year of 2018.
As of Aug 1st, 2019 the total number of users are 179K and 202K sessions.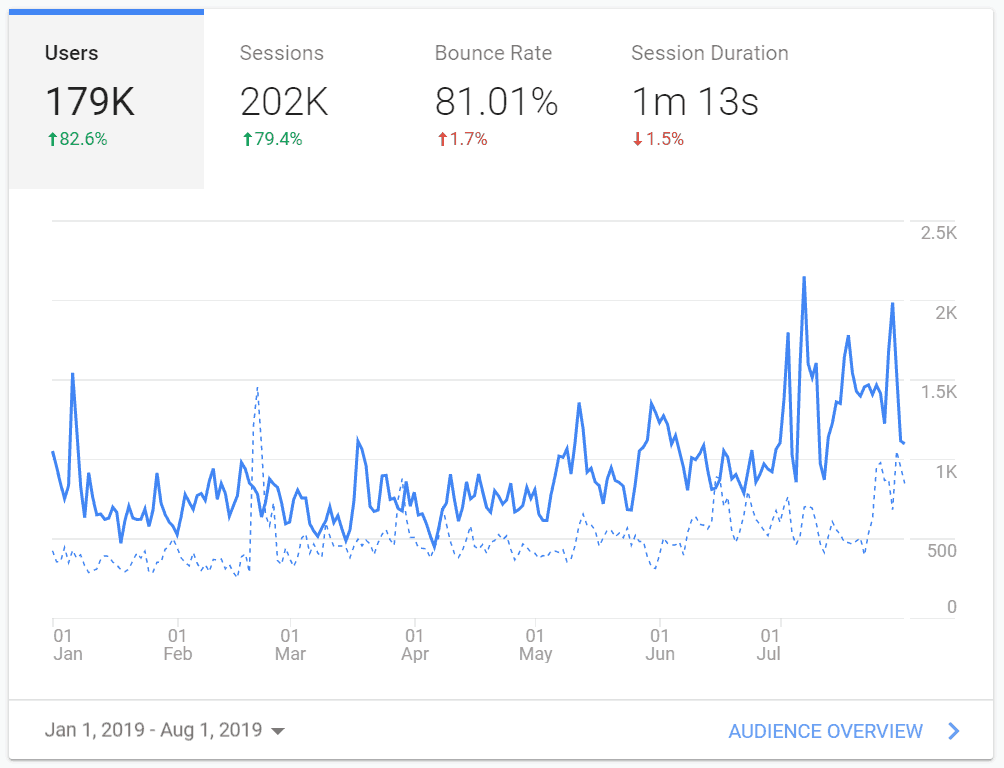 That's a nice increase with getting a better grip on SEO, engaging with my readers and growing the entire blog in general… but the average bounce rate and session duration hardly changed.
That is something I am currently working on. My blog was sort of generic when I first started (and all over the place). I didn't know what I was doing.
Now I know what I am doing and what I want to do.
I kept those old blog posts from the beginning and you will see what I mean if you want to go look back at those.
Income: $13,750.51
The income from my blog this year when compared to last year, is insane. I made roughly $10,000 from iliketodabble in 2018 before expenses and taxes. We are 7 months into 2019 and I've already surpassed that amount at $13,750.51.
Wait a minute though, that isn't the profit. That is only what the blog has brought in so far. You may or may not be surprised by what the actual profit is.
After expenses and estimated taxes, I made $6,287.76 from the blog so far in 2019.
But we will get into that as we go through the income from each source, expenses and what those were and what is left after taxes.
I monetize iliketodabble in a variety of ways including:
Ads
Affiliate partnerships
Referrals
Sponsored partnerships
And I just started working on adding products. As my first product is launching August 13th, there isn't anything to report on that yet (but keep a lookout on a case study post of that launch!)
Start a Money Making Blog Free Email Course
In this free 5 day email course, I show you everything from creating your blog from scratch, to SEO keyword research strategies, basic branding, creating an email list, social media strategies and monetization strategies to start building a profitable blog.
Sign up for the newsletter to receive regular updates and get instant access to the free course.

Tracking
I mostly use PayPal to track these earnings (with moving things over to a spreadsheet) things can get a little confusing and unorganized. My expenses are all through my Southwest Premier Business RR credit card. I actually just recently opened a separate account for my blog income, expenses, etc outside of PayPal and my business credit card (and linked to). I know, I am bad and should have gotten it done sooner but better late than never.
I am also slowly moving to Quickbooks to track my earnings in addition to expenses and taxes. I've had it for a while after I got it for free last year when purchasing TurboTax and started tracking in it but old habits die hard.
So that brings us to what exactly was that income and where did it come from. Let's go over what the blog has brought in since January 1st, 2019 to August 1st 2019.
Ad Income: $4,617.78
When I finally reached 25,000 sessions in February of 2018, I applied to Mediavine and was accepted.
If you are not familiar with Mediavine, it is not an ad network. Instead, it is a group of publishers who joined forces to work directly with ad exchanges and advertisers to get the most money for their ad inventory. This change has more than doubled my ad income since switching from Google Adsense.
Total Mediavine ad income from Jan 1st, 2019 – Aug 1st, 2019: $4,617.78

Since I have an exclusive advertising agreement with Mediavine, they are the only ads I display on my blog. I also love their new ad filtering feature on their internal platform where I can pick and choose what categories of ads to not display at all to my readers (explicit content, etc).
I've currently opted to not show my readers any ads that have the following content:
Affiliate and Referral Income: $6,612.73
I partner with a variety of companies that I promote throughout this blog via affiliate and referral links. This means that if you click through any of those links to either sign up for something or purchase something, I make a small commission.
I actually use most of the products, services and apps that I promote (or have used in the past at one point or another) and there are some I do not but still believe they are viable options to promote to my readers.
Before I go into the full affiliate and referral income for the year so far let me talk about referral credit. I promote Airbnb throughout this blog but using their referral program and not the affiliate program because I automatically use those credits when we travel. This income is also not taxed since it cannot be exchanged for cash. The total earned referral credit for Airbnb so far this year is $892, of which $492 we have yet to use.
The following are all the affiliate networks, platforms and programs I participate in (that I made commissions from during January 1st, 2019 to August 1st, 2019) and the income for each for this year so far:
Here are some screenshots from those networks/platforms for reference: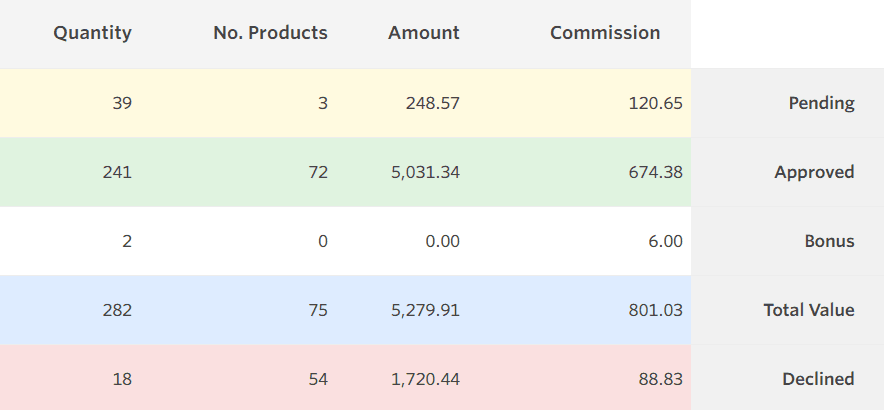 My affiliate income last year did alright and it is a gradual increase as I hone my affiliate strategy. One resource I have to thank with getting my affiliate marketing strategy in place and honing it over time is the Making Sense of Affiliate Marketing course from Michelle at Making Sense of Cents.
This course helped me in tons of ways in the beginning of my blogging hustle including helping me implement some of those very first pieces of monetization. It is also great for a blogger in any stage of their blog – beginner, intermediate, or advanced. If you have trouble monetizing your blog, you have got to check this course out!
There are a couple of affiliates that I promote but haven't made any commission from this year so far. There are reasons for this though. I like promoting free resources for affiliates to my readers first because I also love freebies. I will always promote the free options first but always using my affiliate links in case those people do end up purchasing anything.
Some of these include Transcribe Anywhere and Flipper U (courses that I promote the free resources for which is probably why I haven't made anything). Others include M1 Finance (a new robo-advisor my wife Alexandra and I started using this year and love but only recently started promoting) and a new affiliate network I've recently joined called Aragon.
Side note: Always check the cookie period for your affiliate links. Some only last a day like Amazon but others last as much as 30 to 90 days. So if you use your affiliate links to promote the company's free resources first like I do, if the cookie period isn't longer than 15 days you are likely to never make anything off of those links (unless that person were to click through your link again in that time).
And here is another SUPER useful bit of information: Depending on the terms of the affiliate program, commissions depend on either first-click, last-click or multi-affiliate attribution. But most are last-click meaning if your readers click through your affiliate link for something, then leave and click through another person's affiliate link for that same company/product/service, you won't get the commission. The person's link they most recently clicked through will get the commission. Just a heads up to always check the terms!
Related post: The Fail-Proof Guide To Get Started With Affiliate Links
Sponsorship Income: $2,520
Even though I first started doing sponsored posts in the middle of 2018, I always low balled the amount I charged and was always scared to ask for more.
I finally started to go after them more in 2019 with confidence and believe me when I tell you this: you are probably charging way too little for sponsored posts on your blog.
I once thought $50 for a sponsored post was plenty but after the time some of these companies require you to put into them, $50 might as well be $0.50. The lowest I charged for sponsored posts this year was $450 and now my minimum rate is $750.
Not all my rates for sponsored partnerships are the same though and it all depends on what that company's goals are and how exactly they want to partner. This could include 1 post with social media shares and shares to my email list, a series of posts with shares, an ad campaign on Facebook, only social media posts, a month of content, social media profile takeovers, sponsored twitter chats and parties, etc.
There are tons of ways to partner with companies through your blog and there really is no limit to what you can do with sponsored partnerships (unless those outlined in your contract, of course).
Always discuss terms with the company and draft a contract prior to the start of any sponsored activity. I do my own based on this template from Influencer Marketing Hub with some additions. In the future, as I start doing more and more, I have thought about hiring a lawyer.
What I've made so far from sponsored partnerships in 2019:
Series of posts with CreditRepair.com: $1,550
Sponsored post for TicketFlipping.com: $650
Miscellaneous *other* sponsored content (social media from the beginning of this year, etc): $320
Total sponsored partnership income from Jan 1st, 2019 – Aug 1st, 2019: $2,520
Expenses: $4,768
There are a variety of expenses that come with running this blog. And WAY more than any of the 2 years prior.
As a beginner blogger and even some intermediate bloggers, you wouldn't need to spend nearly as much as I choose to do if you don't care about email marketing, optimizing blog speed and performance, SEO, graphic design resources, etc.
But as I have been working to grow this blog as much as I can to it's fullest potential, I've decided to spend some money on it.
My expenses for iliketodabble from January 1st, 2019 to August 1st, 2019:
Cloudflare: $140 ($20/month)
Semrush: $700 ($100/month)
Adobe: $150 ($30 a month but I have since canceled this and went back to using cheaper and free resources for images/design)
Hosting, Security and SSL: $251.64 (the amount for the whole year since this is billed annually but some of th)
Picmonkey: $99.99 (the amount for the whole year since this is billed annually)
Tailwind: $239.76 (the amount for the whole year since this is billed annually)
Convertkit: $349.93 ($49/month)
Social Warfare: $29.99
Vistaprint for FinCon business cards and some other items: $56.69
Site redesign: $2,500 (this price differs for Dabble Media for each redesign and what that entails, so your price may be much lower or higher if you choose to book a call with them)
Fiverr resource I hired to help with optimization at the beginning of this year: $100
Freelance writer I hired in March for 1 post but didn't end up using her services again: $150
Total expenses from Jan 1st, 2019 – Aug 1st, 2019 (with some of these spanning the entire year): $4,768
I realize these expenses were a little high especially with the redesign that happened in June/July of this year – and MUCH higher than last year. I am looking at more ways to cut back such as removing add ons I may not need in my hosting and in Tailwind.
Now after going through all that, the totals are:
Total income before expenses: $13,750.51
Total profit after expenses: $8,982.51
Total after estimated taxes (8,982.51 * .3 = 2,694.75): 8,982.51 – 2,694.75 = $6,287.76
For how I use these resources to create and maintain a profitable blog:
Taxes: $2,694.75
In the eyes of the United States IRS, working as a blogger and making any sort of income from blogging means you run your own business. As I currently run my blog as a sole proprietor, I am subject to self employment tax.
Being a sole proprietor means I own an unincorporated business. It also means I have to fill out Schedule C (Form 1040) on top of the standard Form 1040. Schedule C is for the profit from my business and the Form 1040 is for my personal income.
Even with my full-time day job, I still have to pay taxes on my blogging income and that includes the self-employment tax (even though I am only self-employed on the side).
The self-employment tax rate is 15.3%. Which when looking at the total profit from 2019 so far, we are looking at $1,374.32 going to self-employment taxes (so far).
What is self-employment tax, you ask? Self-employment tax is the combined Social Security and Medicare taxes paid by an employee and an employer. Since I run my own business, I get to pay the "employer" part and pay both portions.
And yes, you must pay self-employment tax regardless of if you owe federal income tax or not.
Since taxes are not automatically withheld from blogging income like it is on a normal paycheck from a day job, you must pay estimated taxes to the IRS every quarter or you may face a tax penalty. However, this is only if you expect to owe at least $1,000 or more in self-employment tax.
Then using the 30% rule for estimated federal, state and self-employment taxes, we are looking at a total of $2,694.75 going to the good ole IRS from my blog (for this year so far). This number will definitely increase for the year as there are still 5 months left in 2019.
But no fear, if you are feeling overwhelmed by the tax side of this – don't be. It's a lot at first but once you start tracking everything, make your estimated tax payments and use helpful tools like TurboTax, it gets easier I swear.
If you want to learn more on the ins and outs of taxes for bloggers, I recommend the following articles that were a huge help to me starting out:
Redesign
I launched iliketodabble's complete logo and site redesign with the fabulous Dabble Media in July 2019. It was such a fun and eye-opening experience transforming this blog. Kathleen at Dabble Media was amazing to work with and I loved collaborating with her to get both of our creative juices flowing.
The finished result (as you can see) is pretty cool. I love the bright colors and branding that not only fit this site perfectly, but they fit who I am personally. Color is a big part of my life as I have always been very creatively expressive with my painting and design work and just in general in my everyday life.
The main color of this blog – that teal – is the only thing that made it through the redesign. It is the only remaining piece of the original iliketodabble (besides the featured images and pinnable images). Everything else is different.
Kathleen actually wrote this awesome post about the process we went through.
For reference, here is a before picture of the homepage:
And for the after picture, you can go to the homepage here. Yea, it was an amazing transformation. I don't even recognize that old site.
If you are considering a site redesign in the future, I 100% recommend Kathleen and Dabble Media. If you do end up booking a call with her, let her know I sent you!
No, they are not in any way a part of iliketodabble, we just happen to have similar names.
Product Launches
I am working on a launch currently with CrunchyHippieLife on a product that launches on August 13, 2019! This is my first product launch so I am happy I got to partner with someone else on it as we both navigate the weird playing field of launching products for the first time.
We are currently in the soft launch of the product where it is only available for a discount to our Instagram followers and our email lists. It is interesting, to say the least, and I am learning so much!
We are using Sendowl to host the product and payment gateway and so far, I love the tool.
Even though I also have an Etsy shop I link to in the blog on the main menu, I never had an official launch for it. This shop is another experiment of mine that is always a work in progress. I honestly need to figure out what to do with it as it is hard to get consistent sales.
But I'm still learning, having fun and it isn't costing me money yet so that's always a good thing.
What's Worked
I've stopped running around like an anxious experimenter seeing what new noodle sticks to the wall and started to pay attention to the data. I've also been more present in my blog when working on it and interacting with my readers/followers.
Paying attention to what does well and what doesn't is important in running a successful blog. But I also stopped trying to please every type of reader and started focusing more on what I want.
I've been much more active in the personal finance community and on social media than I ever have in the past. I've started to contribute more to other people's articles as well as giving others an opportunity to contribute to mine. I mostly have the FinCon Facebook group to thank for the great networking opportunities presented there.
I started scheduling out more of my content outside of just scheduling for Pinterest via Tailwind. I started using Buffer for Facebook and it's taken a huge load of my mind. And I am not paying anything for it which is awesome that the free version of this tool is good enough to cover my scheduling needs for now.
I have also been more intentionally curating what I share and connecting more with my followers
I created 2 Facebook groups last year for the blog that have a combined total of 500 members in:
Before this year, my Twitter was pretty dead because I thought there wasn't much of a reason to be on Twitter for my blog.
I thought my readers weren't there. But they were!
Not only that, I love Twitter and am on it way too much (just on my personal account). So why wouldn't I use it for my blog?
Some of the brightest and creative thinking minds in the personal finance community were on Twitter and I'd been missing out on them this entire time.
I have been able to find some amazing people in the personal finance community on Twitter since finally getting my Twitter account engaged this year. I've read some of the most amazing, emotional, thought-provoking and educational content on Twitter. I've even made some friends.
And I've learned more about myself, this blog and where I want it to go this year than the last 2 years combined.
Side note: If you have a new blog and thinking of what social networks to engage/not engage on, start with 1 and go from there. For me I set up my Facebook first – focused on that for a while, then my Pinterest not long after, my Instagram and then finally started getting the ball rolling with Twitter. It all depends on what your plan is with your blog (which I didn't have much of a plan when I started and I experimented A LOT).
What Hasn't
Checking analytics and traffic daily and constantly wasted a lot of time and energy. Stressing myself out over 1 day of a little bit of traffic drop and thinking it is something wrong I am doing. Or stressing out over losing followers or not getting as many likes on something.
Those were the wrong things to worry about.
I should have spent more time thinking about the content rather than the reaction to the content and the numbers. Quality content and the connection your readers feel to that content is what matters.
There is one thing I am having a lot of trouble with and that is Instagram. It has been the slowest to grow and its because my activity on it hasn't been consistent and I don't put much effort into it.
I oddly get a lot of views and interaction on my stories but my posts on my profile have been sort of dead the past 2 months.
I use to know what I wanted to do with it and that was to mostly showcase travel pictures and experiences. But as our travel winded down, I wanted to share more money tips, side hustles, and that sort of content. I can see why I get less traction on those posts when compared to posts about our adventures.
People first followed me for those adventures and now they are probably wondering why I am talking so much about money.
It is something I am exploring on how to handle and I'll get there.
Where to Go from Here
As a portion of the blog's income is passive, it isn't fully passive. I still devote a lot of time to it – the content, administrative tasks, emails, etc.
It's freaking exhausting to work 40 hours a week and then try and devote an extra 5-20 hours a week to something else outside of family, friends, and other obligations..unless you really want to. And even then it's still exhausting.
Why do I do it? Because I love it.
I've been able to find more balance in my life but still find myself neglecting other things that matter to me like my wife and family. I've had to take a step back from the blog multiple times over it's life span.
As you might have seen in this past post about financial freedom and what that means, my wife will be getting more involved in the blog. She has helped write past content on the blog about our eBay side hustle but she will start writing full pieces of content that will help form new areas to this blog.
I am very excited about this and what it might become.
After seeing how this first product launch goes and my first FinCon, other things I am working towards the rest of the year and next year are:
Looking into forming an LLC
Creating 2 more products to sell using Sendowl
Creating a course
Implementing more organization into everything I do with the day to day operations of the blog
Get 1 – 2 months ahead on content
Get an SEO audit of the site and outsource some of that work
Do a content audit and update old content
Do an affiliate audit and continue to hone my affiliate marketing strategy
This has been a wild ride and one of the most educational ventures of my life. I can't believe where this blog has already been and couldn't be more excited about where it is going.
Who knew work could be so fun.
What are some questions you have about the blog that I didn't cover in this post? Have you found similar struggles or wins in your own blogging journey or other entrepreneurial journey? Sound off in the comments below!
Related posts: How To Create A Self Hosted WordPress Blog
35 Best Side Hustle Ideas to Start This Year
15 Side Hustle Apps to Make Extra Money
MLM Scams and Horror Stories: The Screwed Up World of Multi-Level Marketing
19 Passive Income Ideas to Stop Trading Time for Money
How One Pennsylvanian Made $500,000+ From Creating and Selling Blogs
How Blogging For $0 is the Best Thing That's Ever Happened to Me
Subscribe to get your free list of side hustles you can start this week!
Claim your free list of side hustles + tons of helpful resources to get started!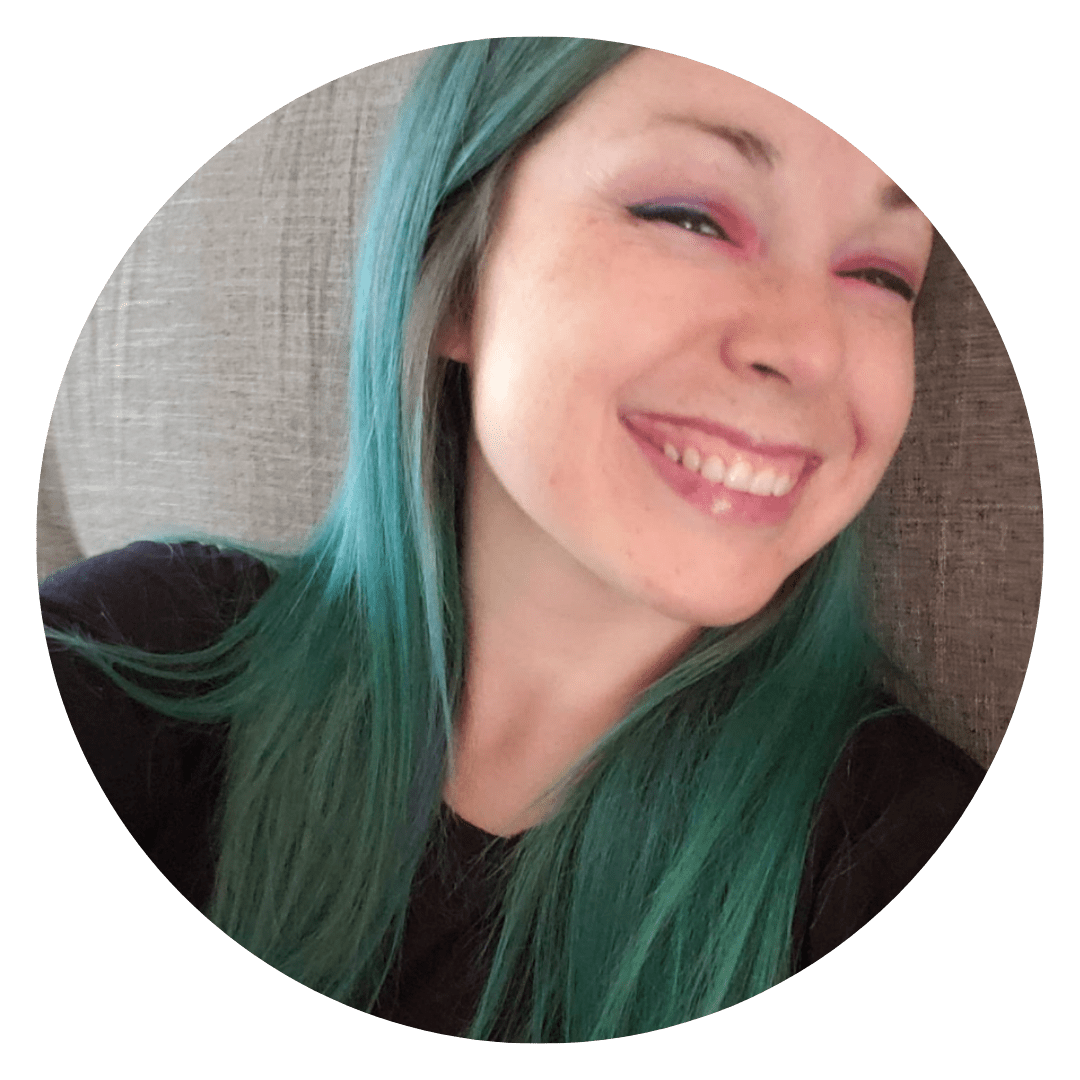 Daniella is the creator and author of iliketodabble.com. When their wife Alexandra and them aren't globetrotting or playing with their 7+ animals, they are dabbling and working towards a future of financial freedom.