Our website is supported by our users and contains affiliate links. We get paid when you purchase or sign up for anything through those links. Read the full disclaimer for more information.
Last Updated on March 23, 2021 by Daniella
OnlyFans is the latest trending money-making side hustle people are pursuing to make money online. We finally decided to dig into the potential of this app a little deeper and do an OnlyFans review.
Remember when Bella Thorne reached $1 million dollars within 24 hours of joining the app?
What people are going nuts about is the money-making potential of OnlyFans.
It's had a raunchy reputation in the past due to the explicit content you can find from some creators (more on this below) but there are plenty of ways to monetize your OnlyFans account with your own custom creative content and we'll be sharing that with you down below, with tons of examples!
In this article, you're going to learn:
What is OnlyFans
How you can make money on OnlyFans
Monetization ideas
How to join OnlyFans
And more
Let's get started.
What is OnlyFans?
OnlyFans is an app and website that puts it in the hands of anyone to earn online by selling their content. They say on their site that if you make content for social media, then you should have an OnlyFans account!
Essentially, it's a place where you can charge for your content.
You can charge in one of two ways, or a combination of both:
Subscription
Pay as you go
You can also earn money through these ways:
Subscriptions
The subscription plan is a recurring membership you'll charge to your fans who follow you on OnlyFans. In exchange for paying a recurring subscription, they get unlimited access to the content you release on your OnlyFans account.
Monthly subscriptions can range from $4.99 to $49.99 per month. If you visit this page, you can use their calculator to plug in your followers and monthly subscription amount to get an estimate of how much you can earn every month.
Pay as you go for premium content
The pay as you go option is a non-subscription based plan but you can make money by charging per piece of content you post on the network.
Tips are available through the tip feature on the platform. This feature is made available once you begin posting consistently on OnlyFans and you have at least 10 posts live.
Then, you can opt to offer a blend of these two payment models. You can offer a subscription with pay as you go for special premium content.
Tips
You can activate this feature with the tip button.
Here's what you need to activate the tip button:
Get verified
Add your bank account to your profile
Verify your bank information
The key to making this feature appear on your account quickly is to be active and post consistently. OnlyFans will add this feature based on your activity.
Paid messages
These are paid private messages and this is a cool feature that lets you upload your content and set a price through messaging your fans. Once they agree to the price and pay, the content will be made available to them.
How You Can Make OnlyFans Work For You
OnlyFans isn't just for the adult entertainment industry.
While you can find that kind of material on OnlyFans, it's not an adult or porn site. It's a platform where creators can monetize their genius, build a community, and make money online.
Regardless of the industry you work in, OnlyFans can be an option to increase your income. I've seen car enthusiasts on OnlyFans, course instructors teaching business and other topics, and more.
When you hear of OnlyFans, it has a connotation of being geared toward the adult community. Many influencers earn a lot of money modeling on the platform but modeling isn't the only way to monetize your OnlyFans account.
If you have expertise or knowledge in a field, you can promote it on OnlyFans, charging a premium for people to access it.
For example, if you are an Amazon FBA seller, instead of teaching a course or writing a book about Amazon FBA, you could create an OnlyFans account, using it as a teaching platform to connect with students.
This is just one way to monetize your OnlyFans account! Here's more on that plus 4 more ways how you can make money on OnlyFans.
5 ways to Make Money on OnlyFans
There are many ways to make money on OnlyFans:
Connecting with an audience and brand building
Teaching courses
Providing video instruction
Selling your photography
Selling digital goods
How to Make Money Brand Building
First, OnlyFans is an opportunity to connect with your audience and build your brand. Brand building is super beneficial for your organization, increasing your exposure and getting your company in front of your target audience.
With this in play, you can start to sell your products and services to prospective customers. You can do this on or off the platform.
There's also the opportunity to build your email list, which puts prospects right in your hands to sell to them in the future.
How to Make Money Teaching Courses
Next, you can teach your courses right on OnlyFans.
I see a few entrepreneurs doing this.
Why does this make sense?
Course platforms can be expensive. Some start at $40+ per month. Instead of pouring money into those platforms to operate your course, you could transition it to OnlyFans, where you post all your lessons and you can charge students to unlock content or offer a subscription.
This can be a money-saving solution, just make sure you compare the two costs to ensure it is truly saving you money, as OnlyFans charges a 20% fee on your payments.
Note from the editor: We love Teachable for building courses and is what we use for all of our courses.
How to Make Money Providing Video Instruction
Video instruction is about teaching your audience outside the restraints of a rigid course curriculum. Think of this more as sharing tips and advice in the form of short or longer video clips that you post right to your OnlyFans account.
Some people learn better this way and this can definitely be an option to monetize your OnlyFans account.
Here are some examples:
Fitness videos
Yoga video instruction
Meditation
Baking
Knitting
Sewing
Gaming
Comedy
And, more!
For example, if you are a fitness enthusiast, it's easy enough to put your fitness videos on OnlyFans, charging fans who access the content to get your fitness routine.
How to Make Money Selling your Photography
I think the bulk of people with an OnlyFans account uses it for modeling and photography. This can include photos of:
Yourself
Scenery and landscapes
Animals
Objects
Tech
And, more!
If you regularly sell your photography elsewhere online, look at using OnlyFans as another venue to build your reputation as a photographer and sell your photos.
How to Make Money Selling Digital Goods
Then, you can sell your digital goods on OnlyFans, like courses, ebooks, planners, and other online goods.
You can put your products on your account behind a paywall, giving instant access once prospects buy.
How to Start Earning on OnlyFans
Whether you're sharing your new OnlyFans account with your current fanbase or you're starting fresh, OnlyFans is an excellent way to make money as a creator.
Here's how you get started:
First, join OnlyFans. It's free to join and you can get set up in less than 5 minutes.
You'll have a username and display name so think about this carefully while you're going through the setup. If you have a social presence on other networks like Instagram, Tik Tok, etc., you may consider using that name, so you have consistency across your brand.
Your display name is the name that appears on your account. It will show up above your username.
Your username is your @ name, appearing below your display name and also visible in your OnlyFans url.
Once you're registered, it's time to make your profile pop.
You'll be able to add a banner on your account and profile pic. Use this prime real estate on the app to your advantage.
Create a bio that's clear and easy to understand. You want people to land on your OnlyFans page and know what your page is about right away. The worst thing that can happen is that your fans are unclear about the content you provide, pay to access it then have a bad experience because expectations were unclear from the beginning.
Keep this in mind as you're crafting your bio.
In your profile settings, you'll be able to add:
Bio
Location
Website URL
Amazon wishlist
You can also set up your subscription price, bundles, and fans and following information.
In your navigation, go to Add bank to add your bank details so you can get paid. Keep in mind that your OnlyFans account has to be approved by the platform.
Until approval happens you might not be able to add your bank details so keep a look out for this. Once available, add your bank information ASAP so you're ready and set up to be paid.
Ideally, before you join the platform you should know what kind of content you want to promote and have that content available.
Get organized and lay out all the content you want to sell and release access to on your OnlyFans account. Add it to your account with pricing and create a content schedule for yourself for releasing new information in the future.
What subscription price should I charge?
You can offer subscriptions from $4.99 up to $49.99 per month. Free subscriptions at $0 per month are also available. Those who offer free subscriptions are usually on OnlyFans to get brand recognition and increase awareness for their company.
But, free subscriptions doesn't have to mean that you give all your content away for free. You could offer paid content put behind a paywall where fans have to pay to access it.
Don't be afraid to experiment with different pricing models or play around with different subscription prices until you find the right price that works for your brand. You want to find that sweet spot where it feels valuable to fans to be a paid subscriber and has them coming back for more, continuing their subscription month after month.
Common questions about OnlyFans
1. Is OnlyFans free to join?
Yes, you can join OnlyFans for free. They make money by charging a commission on earnings you receive on the platform. Creators receive 80% of their earnings on subscriptions, paid messages, and tips.
2. What is the minimum withdrawal?
The minimum withdrawal for most payout methods is $20.
3. Do I have to put adult content on my account?
Not at all! OnlyFans is not an adult site, although there are adult accounts on the platform. It's built for creators, from artists, to instructors, fitness and yoga enthusiasts, sports experts, and more.
4. How can I make money on OnlyFans?
You can make money on OnlyFans in a variety of different industries from sports to fitness, and more. It's a platform built for creators so you can share what you create for a chance to make money online from it.
The two main ways to make money from OnlyFans is by charging a subscription for your content where your fans pay for access on a recurring basis. You can also charge for individual items, where fans can gain access to custom content behind a paywall by paying for it. Other ways to make money from OnlyFans includes earning from paid messages and tips!
Final Thoughts
If you're a creator, consider joining OnlyFans to monetize your content. There are many opportunities to make money online by joining the platform.
Would you open an OnlyFans account? What do you think?
Sign up to get your FREE Side Hustle Idea Mind Map Template
This mind map template will help you decide everything you need to do to get your idea up and running + see if it is the right idea for you.
Pin it for later!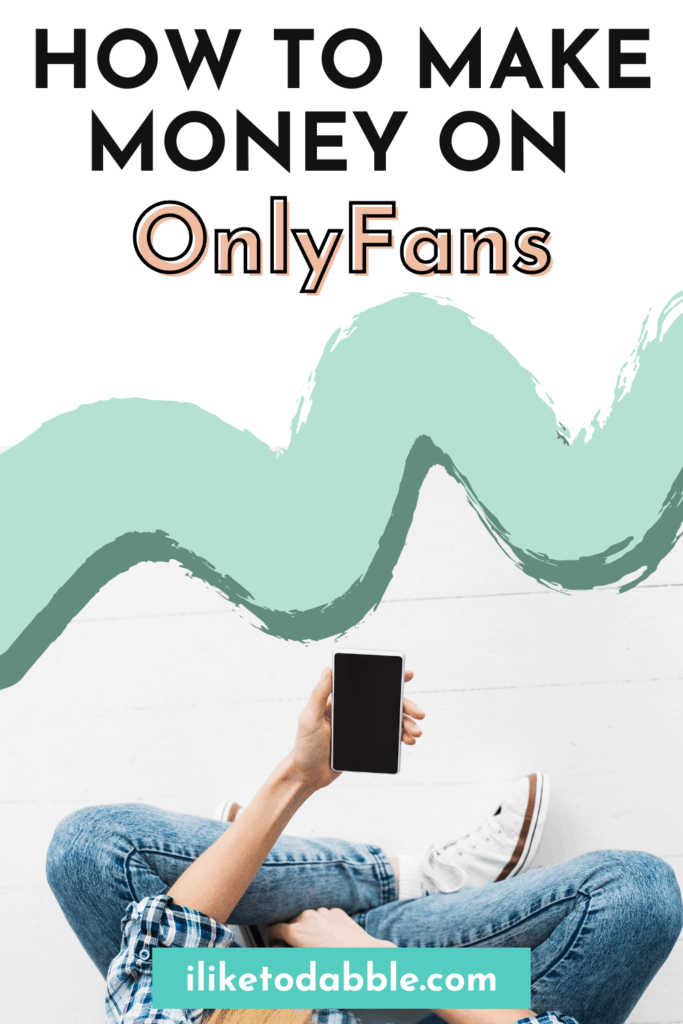 Related:
Jenn Leach is a writer, instructor, entrepreneur, and founder of
Millennial Nextdoor
where she teaches millennials life hacks for easy millennial living like being money smart, investing in yourself, and automating your life. When she is not working, you can catch her binge-watching baking reality TV shows or listening to her favorite podcasts about business, money, and life.