Our website is supported by our users and contains affiliate links. We get paid when you purchase or sign up for anything through those links. Read the full disclaimer for more information.
Last Updated on December 3, 2020 by Yovana
Welcome to the Entrepreneur Stories series where I interview other creative entrepreneurs that inspire me.
This week's feature is Megan Gersch, who did this amazing work of art for me a couple of months back. I can't remember exactly how I found her but I started following her on Instagram when I fell in love with her bright designs.
Let's learn more about her, her journey, and what she's learned along the way.
Tell us a little about yourself and your business.
I help businesses scale their revenue by creating uniquely branded web experiences. My services vary from graphic design to creative direction to web design to marketing.
I am very passionate about what I do, take great pride in my work, and am very detail-oriented. I go to great lengths to make sure that my clients are happy with the work that they commission.
With me, you get a responsive, highly skilled designer that also knows the marketing side of things – which is critical for any business that is trying to increase their revenue and brand awareness.
In addition to my creative services, I also design my own art and merchandise (apparel, accessories, home goods, and art prints). You can check that out at megangersch.com/shop.
What first made you want to get into design and marketing?
I've always had a big passion for both music and art.
I grew up in Richmond, VA, and have been going to shows since I was 12 or 13. Throughout high school, I helped out local bands with creating their flyers and promoting their upcoming events.
I attended James Madison University, where I studied Media Arts and Design, and Music Industry. In school, I learned how to make websites, sharpened my design skills, and started to really dive into the marketing world. During that period, I also formed a concert booking and promotions company with some classmates. We booked a ton of local and mid-sized shows – our biggest (and most fun) act being Andrew W.K.
Out of college, I landed my first real job as a Graphic / Web Designer at Live Nation. Here, I helped create online stores, ticketing sites, and marketing materials for an array of 3000+ entertainment clients. And the rest is history!
What were you doing before you started your own creative business?
At my last job, I served as the Creative Director for Spaceland Presents, a concert promoter who owned/operated several music venues in Los Angeles. In that position, I oversaw the branding and marketing strategy for the company, as well as day-to-day design/promotional initiatives for 1000+ shows per year.
What is your favorite and least favorite thing about running your own creative business?
My favorite thing is definitely the flexibility that I get from running my business. If I have to run an errand or go to the doctor, I just do it. I also get to pick and choose what clients I want to work with. If someone is not a good fit for my business, I don't have to work with them, and that's a beautiful thing. In a typical 9-to-5 job, most people don't have that kind of freedom.
As far as a least favorite thing, that would probably be having to plan for my own taxes. In previous jobs, a tax allotment was automatically taken out of my paycheck, and I very rarely owed the government money around tax time. When you have your own business, you have to set aside a certain amount of everything that you earn, so that a portion of your income can be paid for taxes.
Related:
When working with clients, do you ever get pushback on your pricing, and how do you approach those situations?
Sometimes – yes. My pricing is what it is because of the opportunities that I've been lucky enough to have in the past, as well as my design skill level. I have the work samples to be able to show a client I am worth what I am. I also try to approach client-getting with a sense of outcome independence.
I have conversations with people, show them what value I can bring to the table, and if we don't jive because of pricing or some other reason, that's okay! There's always going to be a cheaper option out there. For me, it's a matter of finding the RIGHT clients who will value the work that I can provide for them.
What inspires you the most in your work and creation?
I'm a big fan of bright, contrasting colors and interesting textures!
Note from the editor: We love using Canva for all of our graphics and creations you see throughout our brand (and we love using it for inspiration too!)
What are some of your favorite tools and systems that help you in your day to day work?
Asana is a project management tool that I like to use for all of my client projects as well as my daily tasks.
I use Later and Tailwind for scheduling out my social media and Pinterest posts.
I create all of my Tiktok content within the Tiktok app. The video editing tools within the app itself are awesome.
Calendly is a calendar scheduling tool that I use to book all of my consultation calls. It integrates directly with Zoom, so that way, a conference line can be automatically generated with each booking.
Can you give us a glimpse into a "day in the life"?
Before I even sit down to work, I go on a long walk with my husband, meditate, and have breakfast. Then, I will sit down with my email inbox for a bit, tee up any marketing initiatives that need to be finalized, have consultation calls with prospective clients, and work on client projects.
I also make sure to take breaks to stretch, and I sneak in some content creation in there too (the most fun part for me!).
Sign up to get your FREE Side Hustle Idea Mind Map Template
This mind map template will help you decide everything you need to do to get your idea up and running + see if it is the right idea for you.
Do you have any tips for someone wanting to get into design and/or marketing and start their own creative business?
Build a portfolio that speaks to your target audience and shows that you can help solve their pain points. Reach out to people or clients that you want to work with. In the beginning, business is not always going to come to you.
Consistency is key with your marketing – especially when you run your own business. Say top of mind with your ideal customers, and even if they don't need your services right now, they may in the future.
Most of all – don't give up! Running a business is tough – it forces you to get really good at everything (client-getting, marketing, sales, executing projects, accounting, etc.). Outsource as soon as you have learned a piece of your business well enough that you can hand it off to somebody else with a system.
Related:
How to Get Started With Marketing Using Pinterest
Did you have a mentor and if so, can you explain that relationship and how it helped you?
Yes, I did. I took an online course with Michael Shreeve, which taught me a bunch of different ways that it is profitable to have your own business.
Mike's philosophy is to always work smarter, not harder in business. Through creating various systems, you can set up your business to work for you round the clock. Productizing your services can also allow you to serve more of the right people.
I see you're on TikTok which I've been debating if I should start making videos.. do you have any tips for those getting started on TikTok?
You should do it! Tiktok is so fun! Pick a niche and start creating content – consistency is key on that platform. As of right now, you're not penalized as a creator for posting multiple times per day.
Some experts even recommend that you post two to four times per day. Provide value-rich content that makes people want to follow you to learn more.
Note from Daniella: I started TikTok lol!
What are your favorite books, other creators, podcasts, movies, art or another sort of inspiration that helped you in the past and continues to help you through your day to day work?
Mike Shreeve (mentioned above) has an amazing, free podcast that is packed with freelancer tips.
This is my go-to "work mode" playlist: Megan's Playlist
I follow so many creators and artists on Tiktok / Instagram – there's really too many to list!
What's next for you?
This year, I have been focusing on scaling my business. I've been doubling down on what's working for me and cutting other processes that haven't. I'm working on a do-it-yourself branding course, and am currently working with a few different branding / website clients.
Thank you so much for sharing today, Megan. Anything else you'd like to talk about?
If you'd like to make more sales from your website, and need help getting there, I encourage you to check out my Free Elevated Web Presence Checklist – It's packed with tips and tricks for making your website look legit – and positioning you for success.
Contact Megan
If you want to contact Megan or learn more about her, check out her portfolio and services on her site: megangersch.com.
You can also follow her on Instagram, Facebook, Tiktok, and Pinterest: @megangerschdesign.
What questions do you have for Megan? Was this helpful to you to see behind the scenes of how other creative entrepreneurs work? Let us know in the comments!
More entrepreneur stories:
Pin it for later!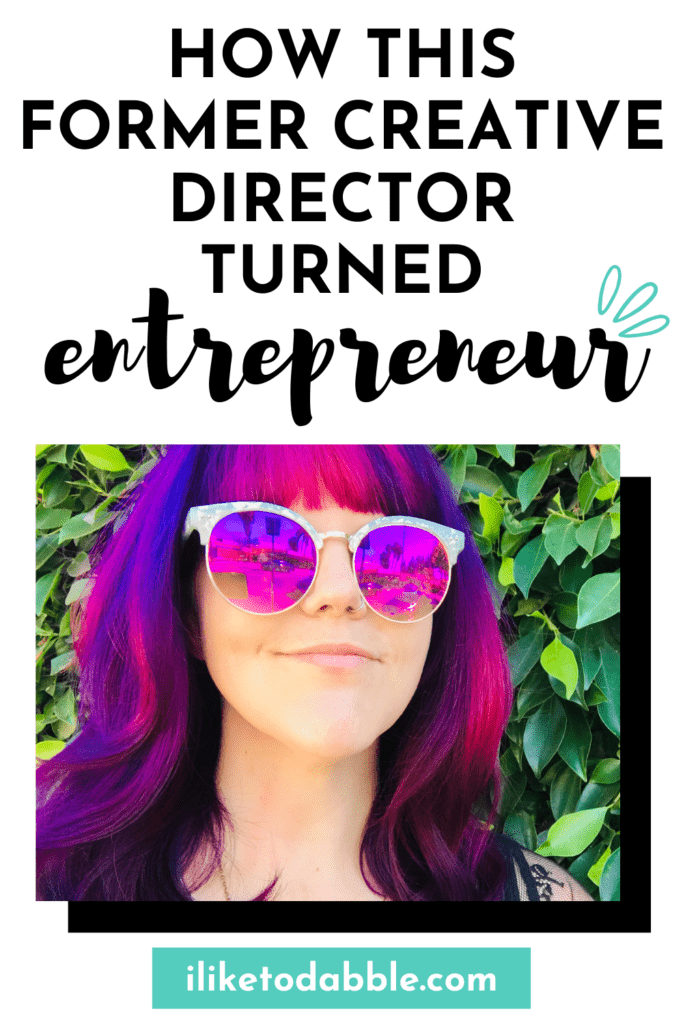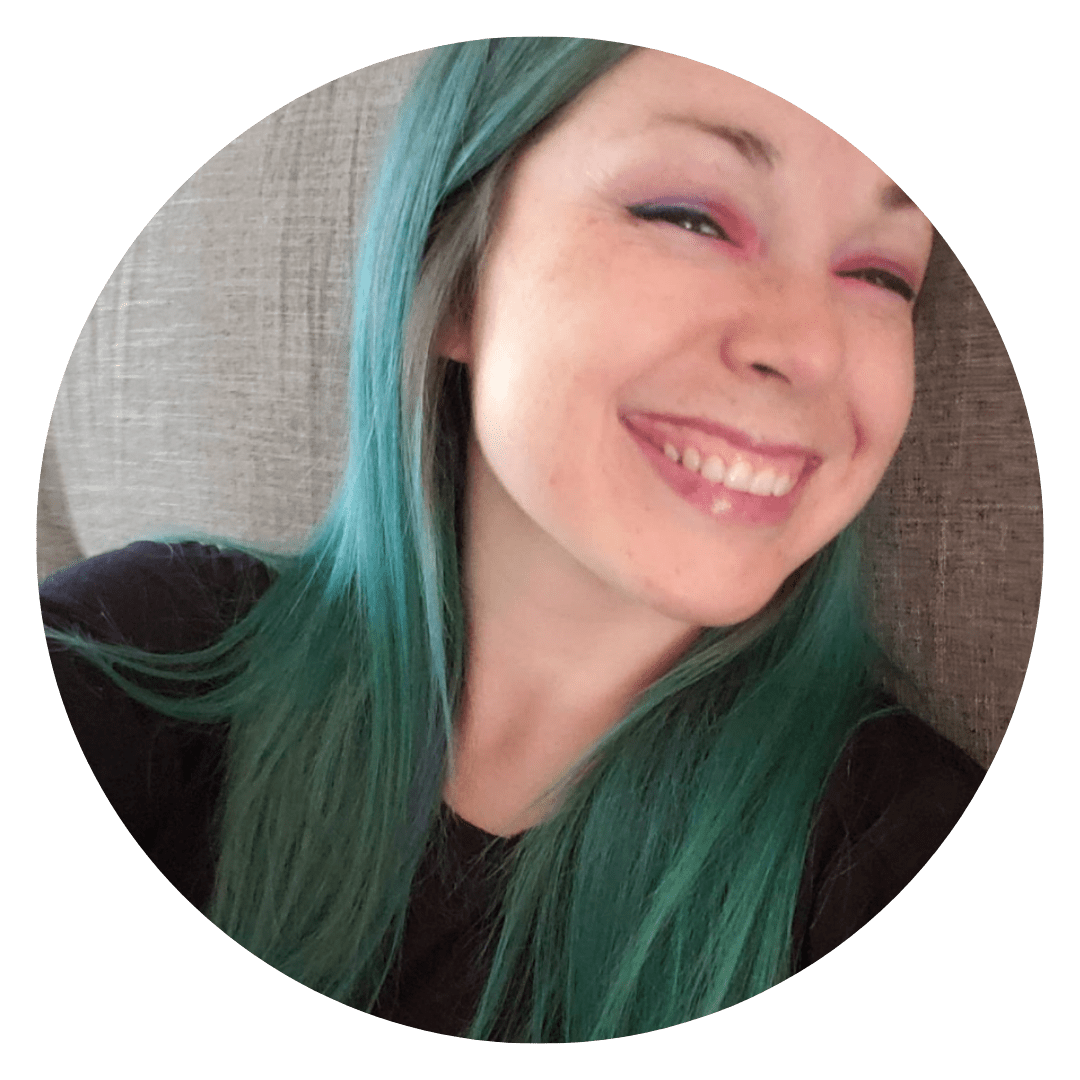 Daniella is the creator and author of iliketodabble.com. When their wife Alexandra and them aren't globetrotting or playing with their 7+ animals, they are dabbling and working towards a future of financial freedom.