Our website is supported by our users and contains affiliate links. We get paid when you purchase or sign up for anything through those links. Read the full disclaimer for more information.
Last Updated on December 1, 2020 by Yovana
If you are known in your circle of family and friends for being a great singer, chances are you will be asked to sing during a wedding at some point. Many couples enjoy the idea of hiring someone they know. Not surprisingly, getting paid as a wedding singer is an unexpected way to make extra money on the side while contributing your talents to people who truly appreciate it.
Being open to this opportunity means you will need to navigate several emotionally packed situations (and some tricky money conversations) in order to contribute your best performance.
While singing at weddings for friends and family, it's likely that people you are unacquainted with will hear you as well. This could give you a chance to gain a great reputation outside of your immediate network and potentially create a lucrative side hustle as a wedding singer.
Two Common Types of Wedding Gigs
When couples seek to add live music to their special day, they are usually looking to book musicians for:
The actual wedding service
A reception after the service
Both
It is important to know if you have the capability to fulfill both musical roles. You need to figure out the couple's expectations as soon as possible in order to allow yourself plenty of time to prepare. Clarify if you will be expected to learn a few songs for the service or if you will be expected to play an evening gig for several hours.
In addition…
Will you be expected to play an instrument? Or will someone accompany you?
Will you be on the line for providing your own sound system? Or will the sound (and someone who knows how to run it) be provided?
Will you need to learn songs chosen by the couple? Or will you be expected to provide several hours of memorized atmospheric music during dinner?
All of these factors could impact the total amount of time it will take to prepare for the gig, along with your upfront costs, the number of hours you will be putting into the wedding rehearsal, and the number of hours you will spend working the wedding day itself.
Related: Why We Didn't Have A Wedding
Pricing Options to Consider
Once you have clarified your role during the wedding, you can consider setting your price in a couple of different ways.
For example, I have played wedding gigs where I have charged a set fee per song. Pricing in this way can be important in last-minute situations (especially if you've never learned the songs before).
Also, if the bride and groom want to add another song last minute, this method will help you feel as if you're being compensated fairly. Pricing per song also gives a budgeting couple more options. For example, if they want to strike a more affordable deal with you, they can simply ask for three songs instead of five.
If you decide to negotiate based on a price per song, keep in mind, there are several other details to factor in. For example, you may want to take into account
the total distance you have to travel for rehearsals (and the day of the performance)
the amount of downtime you will have during moments that don't apply to you (like wedding pictures)
if the bride and groom want you to perform with their relatives (and the extra practice this will require)
If the above variables become too complex, you may want to move into the territory of having an invoice that includes a price per song and a price per hour.
Pricing: Family, Friends, and Strangers
In my experience as a wedding singer, it's kind of unspoken that I charge people I know far less. For example, I will charge $100 per song (and the couple may only choose one song). Or I will charge $150 per hour during a two-hour reception. This is very fair pricing considering the average cost to hire a wedding singer in the US is $500 and the average cost of a wedding reception is $6,000 (with the band accounting for a large portion of this cost).
Furthermore, I have been asked to sing by friends who want to pay me, but then I've performed (and offered the use of my sound system) as a gift.
Why? Because I really like these people!
But when I know the people less (or not at all) I charge more. Far more. I calculate the per hour cost, I factor in my driving time, and I explain it all in an invoice agreed upon before the wedding date.
Believe me, when dealing with a busy family of strangers, you want a well-communicated plan for how to get that check in your hands in the least awkward and most straight forward manner possible. And always always always get your payment before any hard partying starts to happen.
Related: How to Legally Cover Your Side Hustle
Do You Really Want to Take Wedding Singing Seriously?
It would be wise to make three things happen if you want to consistently play wedding gigs and get paid well as a wedding singer.
1. Buy a small sound system with mics, cables, etc.
My current PA system cost $700, but you can easily get started with $350 and a little research. Owning my own PA has provided me with the flexibility to play outside wedding gigs in parks and in several venues at community centers. Couples are typically relieved when they find out I have my own sound system, know how to run it, and can set it up while they tackle other priorities.
2. Learn to play an instrument
If people really love your voice, but they always have to hire separate accompaniment for you, it will drag down the amount you are able to charge.
The guitar is my instrument of choice because it is portable (and I seem to attract people who get married outdoors). Learning to play the piano or guitar (or both) is not easy. However, if you put in the upfront work to learn 20 or so chords, you will be able to play hundreds of songs within a few months.
3. Have a catalog of 20+ common love songs ready to offer
Playing during a wedding service usually involves learning anywhere from one to five songs, depending on how long the wedding is and how formal it is. Learning common wedding songs like The Rose by Bette Midler and In My Life by The Beatles will give you a head start on songs that may be requested and give you options to offer undecided couples.
Final Thoughts
One thing you may not anticipate during a wedding is how emotional your musical performance may make other people. When you sign up for a wedding gig, you are under a lot of pressure to provide a heightened moment that has the ability to stick with people forever.
The power of music to communicate love packs a lot of value. Hopefully, the above tips will assist you in getting paid what you are worth.
What do you think? Would you try to become a wedding singer and were these tips helpful to you? Let us know in the comments below!
Other creative and fun side hustle ideas to start:
Subscribe to get your free list of side hustles you can start this week!
Claim your free list of side hustles + tons of helpful resources to get started!
Pin it for later!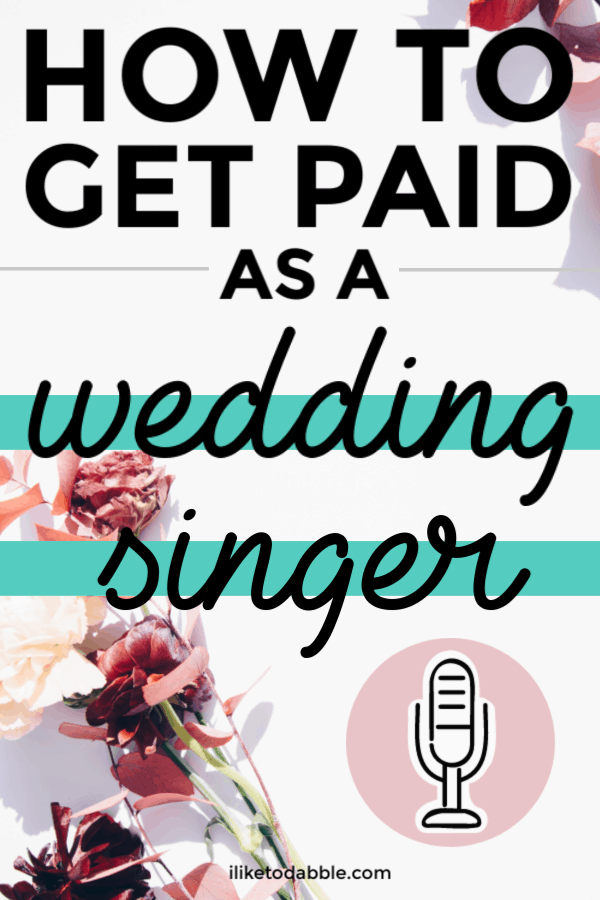 Musician Michelle VanCura writes about the odd intersection of creativity and money from a historical perspective. She has formally and informally studied the creative process along with the mental health needs of individuals with high potential. She believes independent musicians, content creators, and small business owners can be empowered by such knowledge and discusses creative psychology frequently on her blog Savvy History.