Our website is supported by our users and contains affiliate links. We get paid when you purchase or sign up for anything through those links. Read the full disclaimer for more information.
Last Updated on April 26, 2021 by Daniella
Welcome to the Entrepreneur Stories series where I interview inspiring online creators and business owners.
Today's interview is with Cassandra, creator of Brie On A Budget. Cassandra is a personal finance blogger who empowers millennials and gen-Z women to level up their money and build serious wealth for financial independence.
I am so glad to have Cassandra on the blog today. When I originally found Cassandra on Instagram, I fell in love with her content. Let's learn more about her as she side hustles her way to full-time blogger.
Tell us a little about yourself and your business(s).
My name is Cassandra and I'm the creator of the Brie On A Budget, the blog and Instagram platform where I share relatable educational content to help millennial and gen-z women level up their money and build wealth.
I share practical tips on how to budget, save, and invest in bite sized pieces on my Instagram while going deeper and providing more in-depth helpful content on my blog.
I believe money is deeply personal. Money is a touchy subject that people feel guarded about, so I use a personable and judgement-free approach with a little self-deprecating humor to get people to smile, laugh, see that Brie on A Budget is a safe place to open up and learn.
I don't see myself as an 'expert', I am just a girl who once didn't know anything about money besides how to spend it but learned how life changing financial literacy was in my life and now want to share that wealth with as many people as possible.
What made you want to start Brie On A Budget?
Brie On A Budget started organically and out of necessity. I was working full-time in corporate retail at a job that was sucking the life out of me and I was looking for a way to quit so I looked online for side hustles to make money until I could find my next job.
In my findings, I discovered Michelle Schroeder of Making Sense of Cents who is an amazing personal finance blogger. She was the person who showed me it's possible to work as a full-time blogger as a job. I realized it was possible for me to pursue blogging and possibly never work for anyone again!
I've been a writer since I was a little girl, pretending to be like Harriet from the 90's Nickelodeon movie, Harriet the Spy, writing my 8 year old observations in composition notebooks and went on to write for my college magazine and several digital media platforms in my early 20's. My experience in being a writer made for an easy transition to leave my job to pursue blogging full-time.
It just so happened that my interest in personal finance began to bud around this same time.
I quickly learned that after landing my first full-time job that even as my income increased without proper money management I would never be able to afford a home in California, something I've always wanted, where I've grown up all my life. My desire to live the life I wanted was seemingly out of reach. I became interested in personal finance with hope to find the answer on how to have the life I desire.
A deep need to leave my soul-crushing job and have the life I wanted led me to put together my love for writing and interest in personal finance to create Brie On A Budget.
What were some online platforms/resources you used to get started?
Definitely Michelle's Making Sense of Affiliate marketing course to teach me the fundamentals of affiliate marketing as a blogging monetization strategy.
Pinterest as a whole I studied to understand how to create and share content to drive traffic to a website/blog.
And of course Instagram! I credit Instagram for a lot of my knowledge as a personal finance blogger and educator. By interacting with the personal finance community I've learned about the best books to read, discovered the financial independence movement, and was able to build connections with some incredible people in the space, Daniella being one of them!
What inspires you the most in your work and creation?
The fact I get to wake up every day as a creator and decide who I want to show up as, and execute whatever crazy idea comes to mind with the end goal always being to create a positive impact is something I think I'll never get over.
The freedom to create my reality and knowing that whether it's me showing up as my unapologetic self on Instagram stories sharing my life, working hours behind the scenes to build my blog as business from scratch, or creating Tick Toks/Reels that make people laugh, I'm slowly but surely breaking down barriers and impacting people's lives for the better one day at a time by simply showing up as the best me I can.
When people tell me they feel comfortable and empowered to make better decisions with their money because of something I said or shared, it means everything to me. I never thought I could work a job doing what I love that just requires me to be myself.
Anything is possible when you have full creative control, there's no limit to the impact you can have on others.
Is this your main gig or do you also do other work outside of Brie On A Budget?
I'm a big side hustler fan, I currently make ALL my income through side hustles. Pre-pandemic I worked as a freelance personal assistant, event staffer, and Door Dash driver. Since the pandemic hit, I've shifted to working part-time for Door Dash exclusively. That's the beauty of having multiple income streams. When one falls through, you always have another to rely on!
My goal in the coming years is to make Brie On A Budget my main source of income.
Can you give us a glimpse into a "day in the life" of how you juggle your work, stay motivated, and are able to create under stress?
I credit much of my current productivity and well-being to my decision to move back with my parents at 30 to save money while building my business – it's removed a huge stress!
What I have recently started doing to stay focused and motivated on the daily is budgeting my time just like I budget my money. I started by creating a to-do list with my goals, time blocking my days for the upcoming week, and then daily tracking how I spend my time. I'm talking EVERYTHING!
From the exact time I woke up, what time I actually got out of bed, how long it took me to cook breakfast and clean up, every time I took a break from a task, as well as taking note of my energy levels. Then at the end of the week I do a weekly check in to assess how I spent my time against my goals to identify what I did well, what triggers distract me (hello IG DMs!), and when I tend to feel unmotivated. It's really helped me to understand how I'm truly spending my time and my struggle areas. But if I'm really stressed about something, I take care of that first, and if it means taking a mental health day on a Wednesday then so be it. You cannot create and help others to the best of your ability from a place of high stress and anxiety.
What are the main income streams you've built up in your business(s)?
I have built a solid reputation as a personal assistant and event staffer by working hard to earn the trust of some amazing clients that has allowed me to justify a higher rate as a freelancer. Currently my rate on TaskRabbit, where I connect with my clients, is almost double what my hourly rate was at my full-time job when I was a salaried employee.
I've delivered for various food delivery platforms, including Postmates, Grub Hub, and now DoorDash for over 2 years. This is currently my main source of income. It's low stress and unbelievably easy money where I earn on average $20/hr. Working part-time for Door Dash allows me to pay for my expenses and gives me the time to focus on building my blog full-time.
Do you have any tips for someone looking to get started as an online creator and where they should start?
Follow every creator you've been inspired by. Watch them every day. See how they move, how they make decisions, and find exactly what it is you like about them. It's likely something you value, maybe their unique perspective or creative approach, or perhaps they embody the type of person you want to become.
Strive to learn from them and then discover what comes naturally to you. Examine how your life experiences can offer you a unique lens to look through that no one else can see. That is your gift. Tap into that, lean into it, and eventually that will be what sets you apart.
Did you have a mentor and if so, can you explain that relationship and how it helped you in building your business(s)?
I don't have any formal mentors, but I always look to anyone I admire and respect to learn from from a variety of walks of life both in business and in my personal life. But if there's any individual who could be considered a mentor who I've learned the bulk of my business approach it's 100% Gary Vaynerchuk.
He has helped me understand the importance of documentation in one's journey and the power in strong personal branding. His framework is the reason I started my building my personal brand on Instagram in 2020. I've learned to completely shift my mindset to playing the long game in branding myself online as my foundation for success as opposed to creating content for the sake of short-term sales conversion.
People won't always remember what you said, but they never forget how you made them feel. When you build a strong personal brand, you won't have to do much selling (which I hate!) in the long run because people will want to do business with you simply because you've earned their trust and respect by literally consistently showing up being exactly who you are. It leads to a lifetime of wealth and opportunity.
What are your favorite books, other creators, podcasts, movies, or another sort of inspiration that helped you in the past and continues to help you through your day to day work as an entrepreneur/sidepreneur?
What has helped me in my youth and continues to help me to this day is a quote my dad typed up and handed to me at the age of 18 that still hangs on my wall in my bedroom!
It reads, "You must do the things today that others will not do, to have the things tomorrow others will not have."
It helped to shape my understanding that if I wanted anything worth having in life it was going to take hard work, sacrifice and discipline. It gave me permission to dare to think differently.
My favorite creator outside the personal finance space is @paytonsartain on Instagram who is a lifestyle content creator. I'm super into personality types and we are both INTJs/Enneagram type 5. Although we are a lot different, I can really relate to how she approaches her life. Her consistency, intense dedication to her craft, and work ethic inspires me to keep working hard. Payton could open up a business tomorrow. I don't care what it is, and I'd buy from her because everything she creates is gold.
What is one thing you wish you knew when you first started?
If I could go back to tell myself this before I started I would say it's going to take a LOT longer to be successful than you think. Really learn to enjoy the process instead of racing to the 'outcome' of success to manifest in dollars and page views. This is where you're going to build your character and that's far more valuable than quick success. You'll find that embracing the process is actually where the joy and fulfillment is, not in arriving at the destination.
What's next for you?
What's next for me is turning Brie On A Budget into a profitable main source of income for me. Since I've learned to embrace the process, and though I am focused on working on it every day I'm not in a rush to see it happen. But I know that when it does it's gonna be great!
After that, in the next 10 years I see myself running several simple businesses continuing to work for myself. I'm very much a business woman at heart. The goal is never to have to work a corporate job ever again!
One day, I hope to be an investor in several women's small businesses to help provide the capital they need to get their business off the ground.
Thank you so much for sharing today, Cassandra. Anything else you'd like to talk about?
Thank you so much for having me! Yes, for my closing thought I want to encourage anyone who needs to hear it to believe in yourself. Everything we want is typically on the other side of what we fear. When you have the courage to believe in yourself, it's enough to conquer those very fears that hold you back and help to get from where you are to where you want to be. You are capable of amazing things!
Entrepreneur Bio: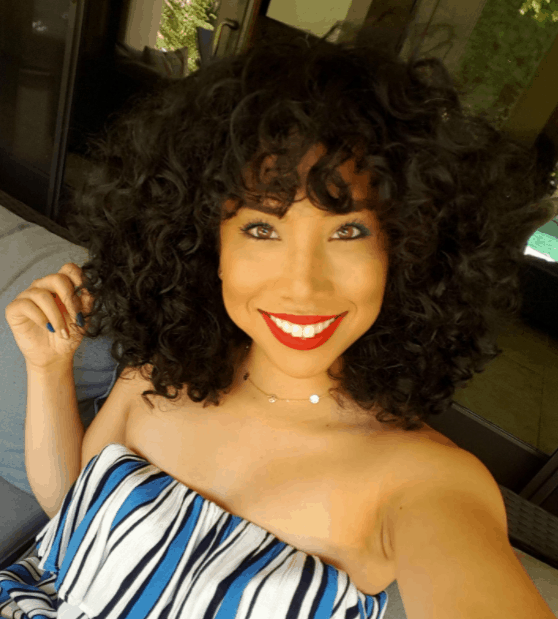 Cassandra is a personal finance blogger who empowers millennials and gen-Z women to level up their money to build wealth for financial independence. She's a red wine lover obsessed with brie cheese who loves to laugh at the latest comedy special or re-runs of her favorite sitcoms she's watched a million times. You can find her on her blog, Brie On A Budget and on Instagram sharing her daily life on stories side hustling her way to become a successful full-time blogger.
More entrepreneur stories:
Pin it for later!