Our website is supported by our users and contains affiliate links. We get paid when you purchase or sign up for anything through those links. Read the full disclaimer for more information.
Last Updated on August 16, 2023 by Victoria
As Halloween nears, so does the question of what to wear to celebrate this ghoulish holiday. However, I am not willing to fork over $150+ dollars at one of the local Halloween shops for a Khaleesi costume (Game of Thrones reference..). Call me cheap, but you probably aren't willing to either. Good thing there are so many fun, cheap and easy Halloween costume ideas for adults I have found.
You don't need to purchase a pre-made costume from Spirit Halloween (or any of those other random shops that pop up around vacant stores and plazas) to have a beautiful or perfectly scary costume.
Most of the time, we find that we already own part of the costume or we can easily put every day items together for the best costume ensemble.
I personally love thrifting around for the best costume. Always check goodwill. If the pickings there are slim, we will have to get more creative.
Pin it for later!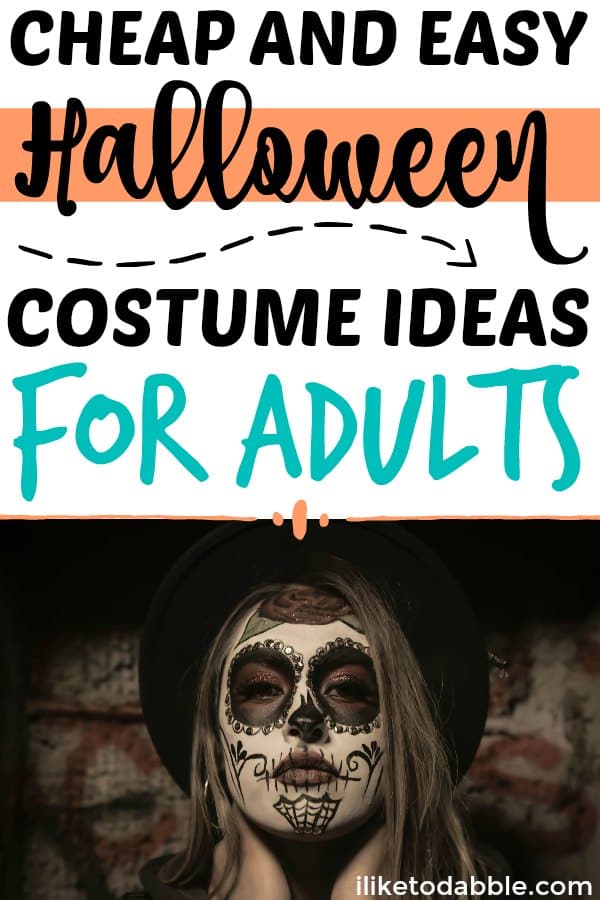 Cheap and Easy Halloween Costume Ideas For Adults
---
Cupcake Costume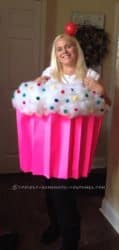 I love this cheap and easy Halloween costume idea for adults. This idea could actually work for both adults and children.
Plus, who doesn't love a cupcake!?
Note: You can substitute any of the below colors and materials for what you prefer.
What you'll need:
Estimated Cost: $20 – $40
Photo credit: coolest-homemade-costumes.com
---
Barbie Costume
Barbie has become a hot topic again because of the insane success of the Barbie movie. She's iconic, she's everything, and she makes for a super cheap Barbie Halloween costume! There are thousands of unique Barbies out there with their own props, which also makes this costume super flexible. Pick one and start putting your look together! This can also be a couple's costume if you can find someone to be your Ken (which isn't hard because he's not that important) or your Midge.
What you'll need:
Estimated Cost: $20 – $40
Photo credit: Criativa Pix Fotografia
---
Medusa Costume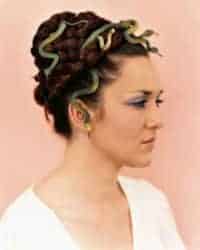 This costume idea is one of the easiest and can also go for both adults and children. You can use a dress you already have, check a local thrift store, or see what's on amazon.
What you'll need:
Estimated Cost: $8 – $30
Photo credit: curbly.com
---
Lumberjack Costume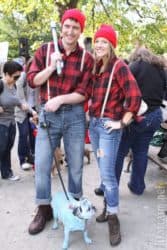 You can easily incorporate this lumberjack costume as a couples costume or if you are going solo. As you can see, it works with dogs too but I wouldn't recommend EVER dying your dog any color than their natural fur color. Just a thought.
What you'll need:
Estimated cost: Based on what you might already have $10-$40
Photo credit: starcasm.net
---
Unicorn Costume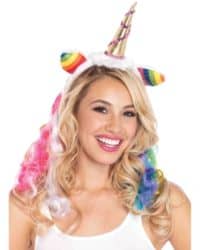 I love this fun and colorful costume idea. It is not only cheap and easy but can be used for adults, pets, kids, you name it. All this really required is a headband and some colorful attire and accessories to go along with it to make it work.
What you'll need:
Estimated cost: $15 – $30
Photo credit: blockbustercostumes.com
---
Witch Costume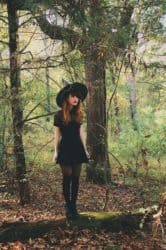 Sorry to be cliche but a witch costume is one of the easiest and most fun costume ideas. It is easy to put together and doesn't cost much. You probably already own a little black dress and some tights so all you might need is the hat. Release the inner witch in you!
What you'll need:
Estimates cost: $20 – $40
Photo credit: flickr.com
For more witch costume ideas, I love this Etsy shop!
---
Bob Ross Costume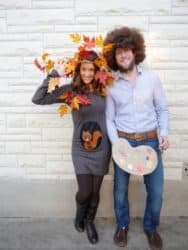 When I found this costume idea, I couldn't help but laugh. But seriously, this is a genius Halloween costume idea. Make it a couple costume by having your partner be the 'happy little tree' or incorporate the kids as little squirrels or paintings. How cute!
What you'll need:
Estimated cost: $20 – $30
Photo credit: C.R.A.F.T.
---
Spider Queen Costume
If you love to embrace the arachnid nature and really don't have time for much fuss, try this spider queen costume idea. It is not only cheap and easy, but it is pretty quick too. All you do is super glue some fake spiders together for a crown, do creepy/beautiful makeup and throw on a black dress with boots. Wa-lah!
What you'll need:
Estimated cost: $5 -$20
Photo credit: deliacreates.com
---
Devil Costume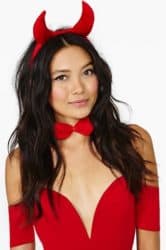 A devil costume may sound like another cliche costume that every other person ends up wearing every year for Halloween. That's because it is so easy to throw together and doesn't cost much. Plus, it is not like all devil costumes are created equal. You will probably never see two devil costumes that look exactly alike.
What you'll need:
Estimated cost: $20
Photo credit: nastygal.com
---
Cat and Mouse Costume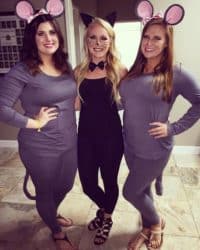 This costume idea is for both couples and singles. You can go either as a cat and mouse if you are a couple or go as a cat, holding a mouse if you are single. What is great about a cat and mouse costume is it fits for all genders and one of the simplest costumes out there.
What you'll need:
Estimated cost: $10 – $20
Photo credit: pinimg.com
---
Skeleton Costume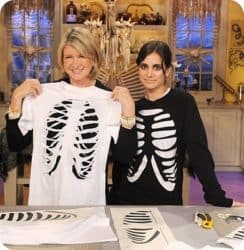 Gotta love Martha Stewart for creating so many fun easy crafts for us, especially during Halloween time. This skeleton costume is so easy to make, you will have it done in minutes. Just cut out a rib cage on either a black or white T-shirt, and then layer it on top of the opposite color.
What you'll need:
Estimated cost: $10
Photo credit: marthastewart.com
---
What other cheap and easy Halloween costume ideas for adults have you used?
We would love to hear from you in the comments below! What has worked and what hasn't? Please let us know!
Related posts: 50 Cheap Or Free Things To Do For The Holidays
10 DIY Crafts To Sell For Extra Money
The Best Holiday Gift Ideas Under $20 For Anyone On Your List
86 Genius Tips To Save Money Every Day
45 Life Hacks That Will Save You A Ton Of Money
---
Sign up to get your free budget planner!
Effectively manage your finances and grow your savings.
Resources That I Can't Live Without
Below are my top recommendations for saving money, making money and living a more frugal and sustainable lifestyle.
Trim: Trim will negotiate lower bills for you without you ever having to do a thing besides entering your bill and bank info when you sign up. Trim negotiated a savings amount of $17.40 a month on our AT&T bill. This will put us on track for a yearly savings of $208.80 just from lowering our cell phone bill with no consequence or loss of quality!
Nielsen: Nielsen will pay you for your internet usage. All you have to do is download their app and register your devices. It is noninvasive, will not impact your device's performance and is 100% secure. Then you get rewarded for using the internet like you do any other day! I currently have it installed on all of my devices and it is nice for a little extra income.
Inbox Dollars: Inbox Dollars will pay you to read emails, take surveys, play games, complete offers and much more. You basically get paid to play around on your phone to pass the time when you are bored. Did I mention they pay you an additional $5 just for signing up? Click here to learn more.
Cashback Research: Get paid up to $75 per survey and $150 per clinical study. Sign up with my link to get $5.
HealthyWage: You can participate in individual weight loss challenges where you set a specific goal using their calculator and get paid when you reach that goal. There are also jackpot challenges where you compete as an individual or as a team and if you win you can split the jackpot, or step challenges where if goals are met you can split the pot of earnings.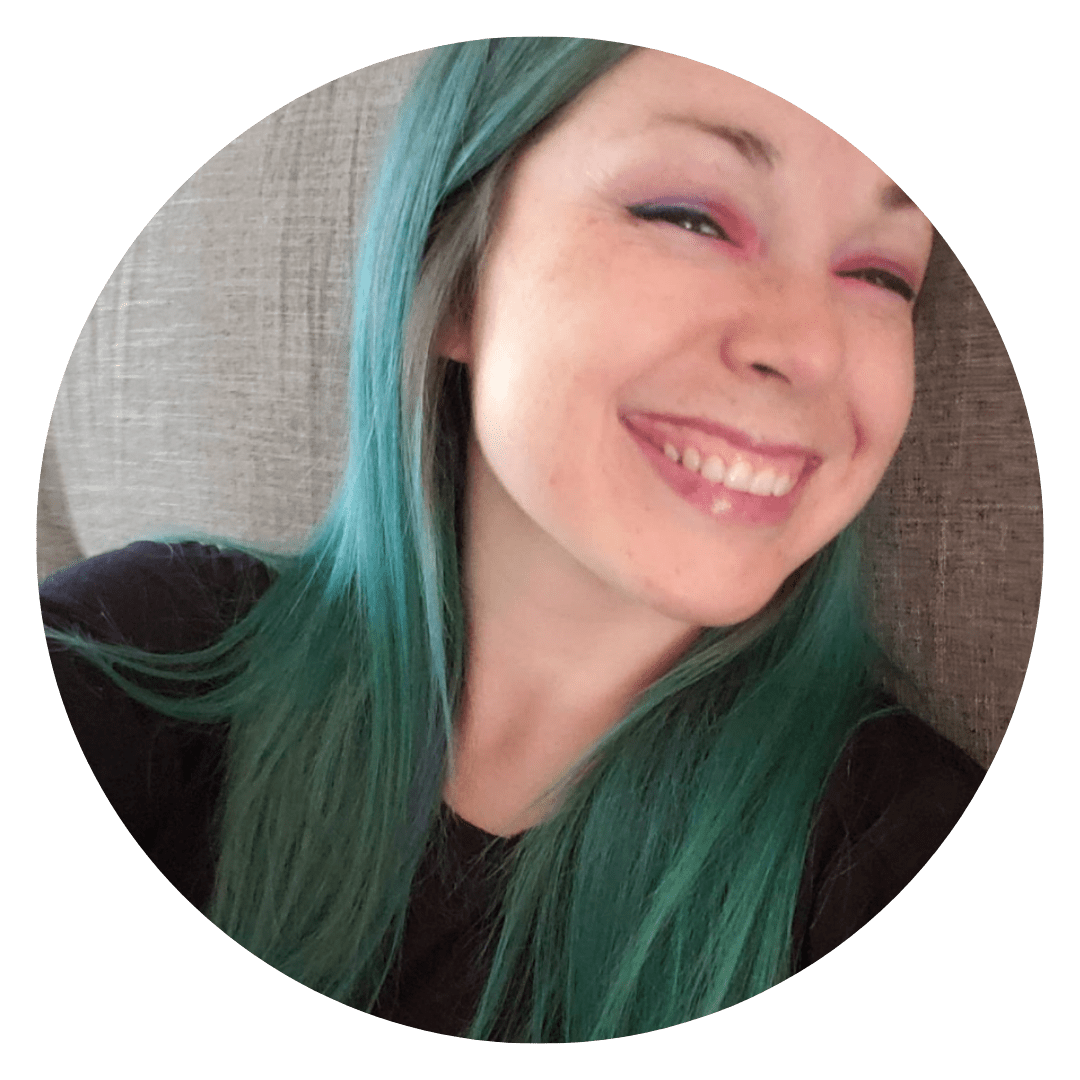 Daniella is the creator and author of iliketodabble.com. When their wife Alexandra and them aren't globetrotting or playing with their 7+ animals, they are dabbling and working towards a future of financial freedom.