Our website is supported by our users and contains affiliate links. We get paid when you purchase or sign up for anything through those links. Read the full disclaimer for more information.
Last Updated on May 9, 2023 by Daniella
Everyone needs a place to store their money.
Make sure you choose a trusted financial institution when considering where to stash your change, either a credit union or a bank. But what's the difference between those 2 and which one is best for you?
Could 1 be cheaper than the other for you in the long run?
Does having a branch location matter to you?
Do you care that your fees are going towards a community of members or for a bank to just make more money?
Whether you're looking around for the first time, or you're a seasoned veteran looking to open another account, you'll want to know the difference between a bank and a credit union before you make your decision.
What is a credit union?
A credit union is a trusted financial institution that is not-for-profit and run by their members. More than 118 million Americans hold 1.4T in assets across 5,700 credit unions in America, according to a 2019 report from the Credit Union National Association.
The average credit union is about half the size of the average bank. They're smaller and more personal because the members run and own the credit union.
Credit Unions vs. Banks: How are banks and credit unions different?
The biggest difference between a bank and a credit union is that banks are for-profit institutions and credit unions are not-for-profit institutions. Banks focus on maximizing profit for their stockholders. A credit union is focused on giving their customers the best experience and gives their profits back through lower fees, better rates, and other perks, like free checking and savings accounts.
Some credit unions have better high yield accounts in both their checking and saving account options which make them usually more appealing than banks but this does depend on the specific credit union. If you can't find a good local credit union with a high yield saving or checking account options, check out Cit Bank's high yield savings account options.
High yield savings accounts can pay you at least 500% more interest than normal banks, allowing you to make more money on the money you're saving such as in your emergency fund.
Pros of Credit Unions
Since credit unions are run by their members, they're committed to having excellent customer service. You'll get a more personalized experience, since you're more than just a customer. Members have ownership of credit unions, and can vote on different things.
Not only are they committed to customer service, but they're committed to giving their customers the best financial offerings available. They offer lower interest rates and higher savings rates for banks, which is particularly great for small businesses. Opening a business bank account for your side hustle at a credit union could save you a ton in fees down the line. This is because they're not-for-profit institutions and they give their profits back to their members.
On top of that, many offer low or no fee accounts and services for their members. You'll definitely get more bang for your buck when you choose a credit union.
Cons of Credit Unions
However, credit unions don't only have upsides. They tend to be smaller than banks, which affects the financial products they can offer. If you're looking for something with robust financial offerings, you might want to consider using a bank as well.
Due to their smaller size, they have less branches open, and they might be inconvenient for you to visit with any regularity.
This is especially problematic since they might also don't have the same user-friendly technology as banks. When you choose to go with a credit union, you might be opting out of mobile banking and they might not have full service banking online, depending on the size of your credit union.
You also need to meet certain criteria when joining a credit union, so there's a possibility you might not be eligible to join the credit union you have your heart set on.
Pros of Banks
Since banks tend to be larger than credit unions, they have a wider offering of services. You'll get full service banking, loan, and retirement products. There won't be as many restrictions due to the size of the financial institution. If you're looking to create a one stop shop for all your financial needs, banks could be what you're looking for.
They also have multiple locations open which is more convenient for you as a patron, since you'll be able to pop into the bank in more places in your city. You'll also have access to more ATMs around the area, which save you money on ATM fees. Online banks are particularly great for location independent side hustlers, remote workers, and entrepreneurs.
Not only does their geographical positioning make them an excellent choice, but banks also have better online and mobile banking technology. If you like checking your balance online or transferring money from your phone, a bank might be a better option than a credit union.
Cons of Banks
While banks have plenty of benefits that draw customers to them, there are some downsides as well. Because banks are for profit institutions, they come with higher fees for their products.
If you choose to take out a loan through a bank, you might be subject to higher interest rates. And the checking and savings accounts at banks tend to come with higher fees as well.
You're also potentially opting into less personalized customer service, since you aren't a member of a bank – but instead a customer. If you're looking for exquisite customer service and a financial institution willing to go above and beyond for you, then you might not want to choose a bank.
FDIC vs. NCUA
The way that credit unions and banks are insured is also different, and you'll want to make note of that before making your final decision. While they work similarly, it's important to know the difference between the two in case the financial institution should fail.
Credit unions are insured by the NCUA and banks are insured through the FDIC. However, they work fairly similarly. Both are regulated. You will get paid out by the NCUA if your credit union should happen to fail, and by the FDIC if your bank should happen to fail.
What to Keep in Mind
There are a couple of things to think about as you're making you're decision for which one to go with so you make the best decision for your personal situation.
Start by asking yourself these questions:
Do I need a branch location?

Do I need a certain amount of features available for an online banking option because I may be location independent?

Am I saving on rates and fees?

Do I want a high yield account option like a high yield savings account? (if you can't find a good credit union option here, use our recommendation)
The Bottom Line
Credit unions and banks are very similar financial institutions. They have great perks that they pass along to their members, as well as some serious drawbacks, depending on which institution you choose. Regardless, it's important that you do research before choosing any financial establishment to ensure that it fits your needs.
What are some hallmarks you look for when picking a bank or a credit union? Let us know your experience with either in the comments!
Related:
Pin it for later!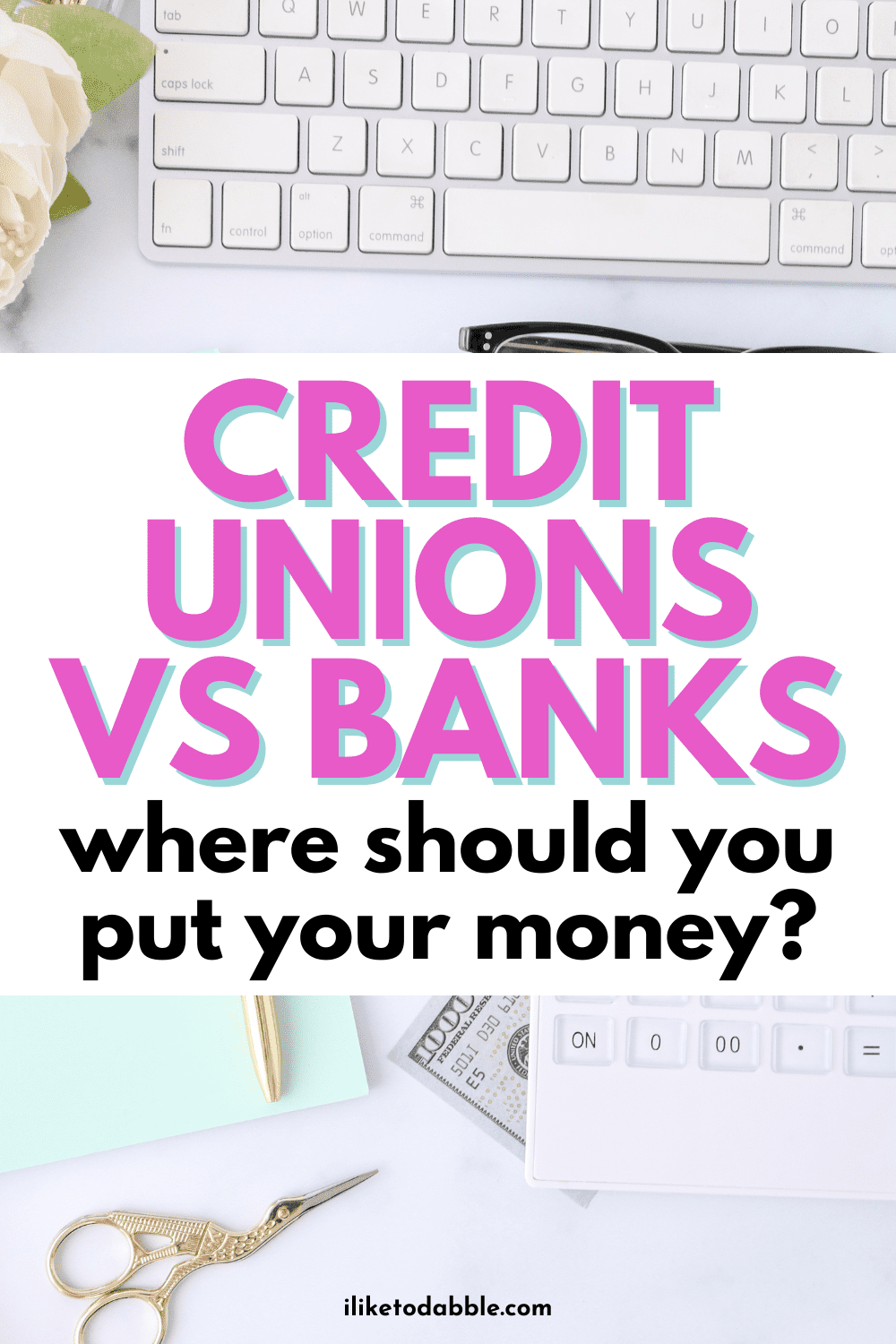 My favorite money tools that help me save more, earn more, and build wealth:
M1 Finance: This is the brokerage we use and recommend to others looking to open a brokerage account, IRA, and more.
CIT High Yield Savings Account: Earn interest on your money in your savings and checking accounts.
Personal Capital: What I use to track my networth and look at my finances all in one place. Plus, it's free!
Trim: This app will negotiate your bills for you, so you save money without ever having to do anything.
FlexJobs: A remote job listing site to help you secure a remote job to get more of your time back.
Rover: Get paid to walk dogs, pet sit, house sit and more. Read our review here.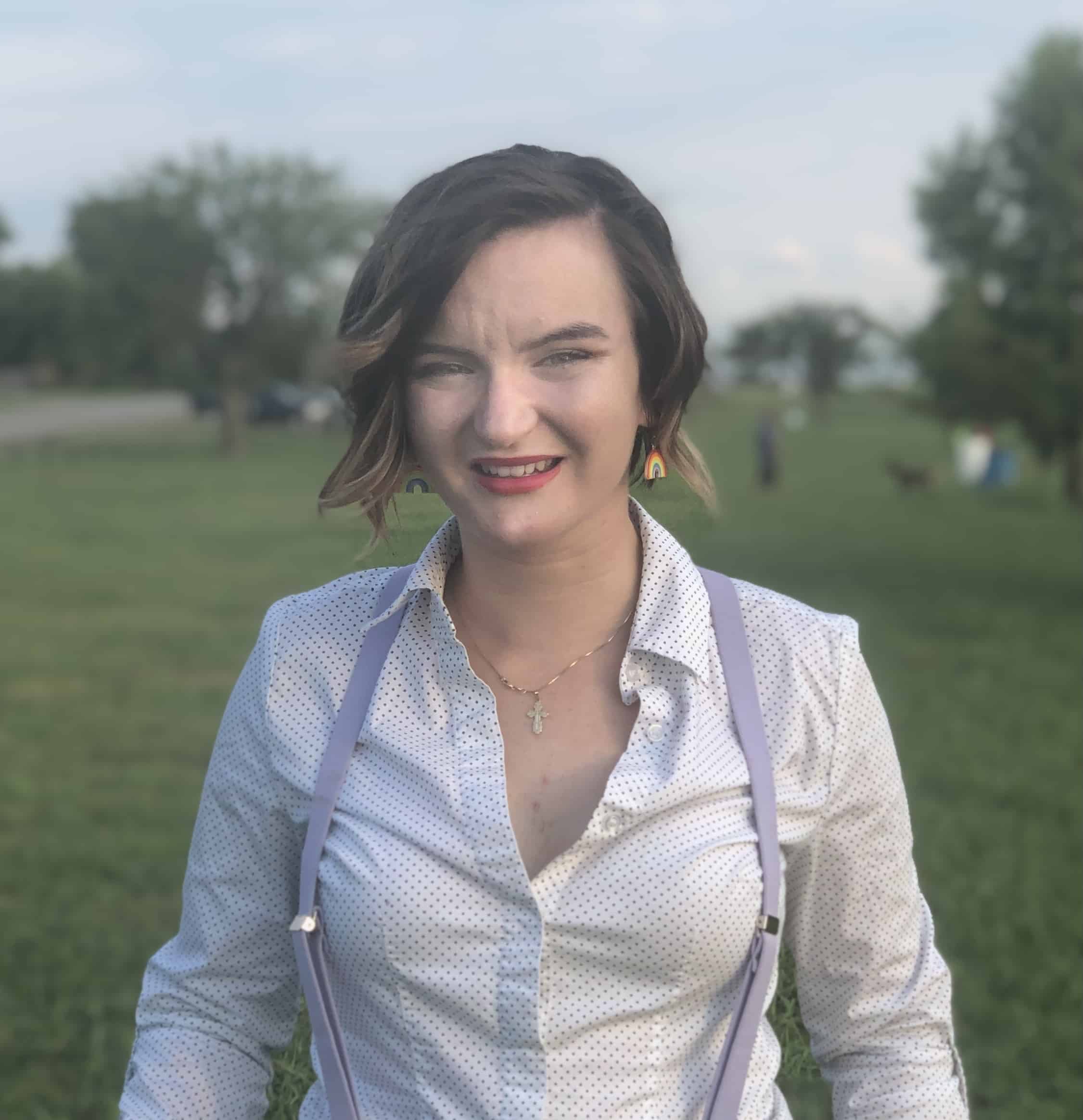 Moriah Chace writes about low-income money and queer culture. Her work has been featured by The Motley Fool and other large media outlets. She has words in Women's Personal Finance, The Deal Taker, and Live Betr. As a part-time barista and full-time coffee addict, she spends her spare time over-caffeinated fixing up her 1978 Winnebago Itasca and plans to travel around the USA with her dog and two cats after she breathes life into the old soul of an RV.