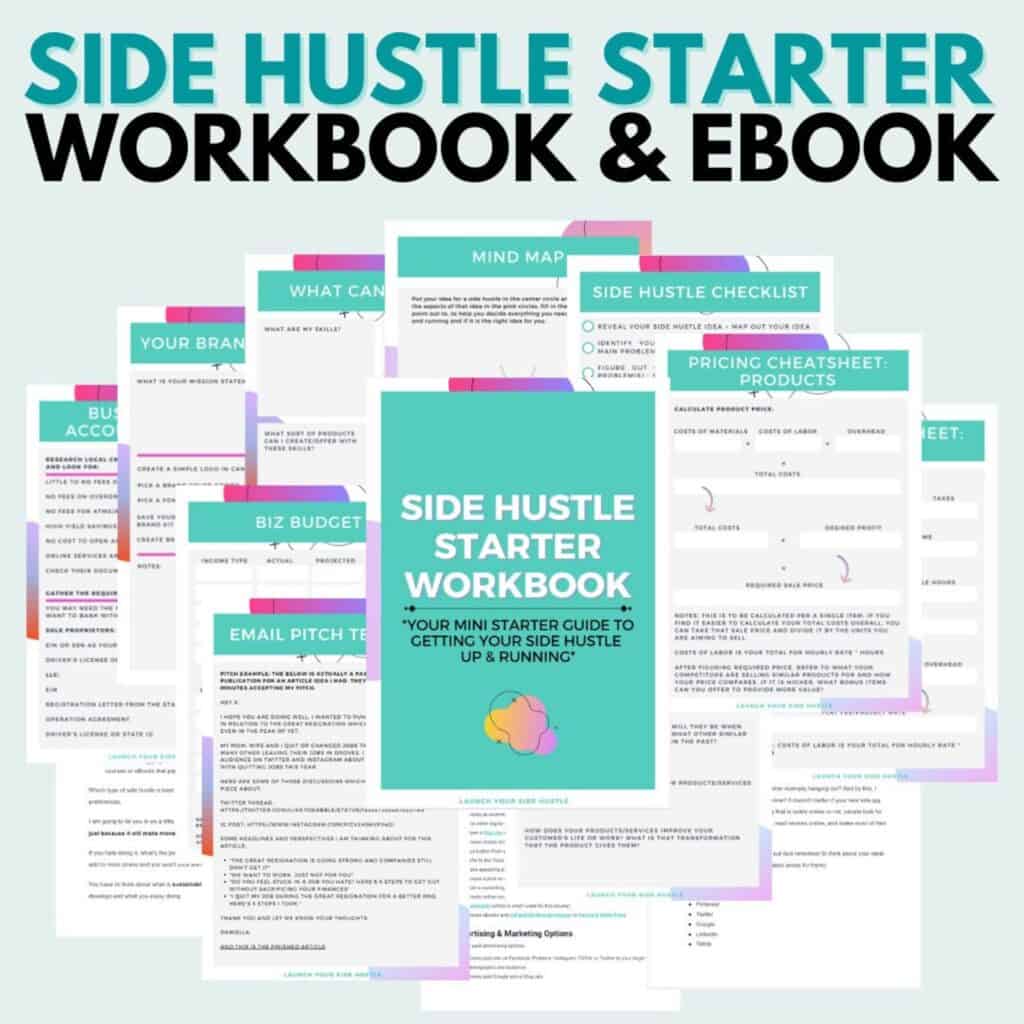 Stop piecing together random info from Google.
"I hated the part in the beginning where I was piecing together articles and info from google to start my side hustle. I was so worried I was going to do something wrong." - Me
With this starter workbook, you will have everything in one spot with simple action items to follow. We start with a clear complete checklist of everything you will accomplish going through the workbook and 15 pages later you will have everything you need to start your small business.
You will be able to brand yourself, find your mission, and who your ideal client/customer is. You'll even figure out what you want to offer, how to price it, and how to find gigs and clients.
You'll learn that you don't need an LLC (limited liability company) to start a business.
Sole proprietorship is perfectly fine to start with and what I did up until this year!
Finally, check off getting your EIN (employer identification number), business bank account, and can start tracking everything that is going in and coming out.
Since I am not a legal or tax professional, I provide you with starting points but always consult a lawyer and accountant before making any official decisions (we don't go into the extensiveness of these subjects in the workbook as those videos are apart of the full Launch Your Side Hustle course.)
Any specifics around LLC vs sole proprietor and taxes in the workbook are specific to the U.S.. Everything else in the workbook can work for anyone from any country.
What the Side Hustle Starter Workbook Includes
The Starter Workbook is just that, the perfect starter. It's the perfect mini version of the full Launch Your Side Hustle course (LYSH) but a much more simplified version.
How does it differ from the Launch Your Side Hustle course?
Well, it is just a small piece of it. This is so you have a clear point of beginning with action items and steps to take. It doesn't include the videos and other in-depth things we go into in the course but it gives you the perfect starting point.
We also wanted to create a smaller, more compact, and direct (but super affordable) version of the course and this workbook just seemed like the perfect resource for that.
All of the worksheets are reusable and are as follows:
Cover page
Intro + how to use it
Side Hustle List with Ideas & Examples
Complete Side Hustle Starter Checklist
Side Hustle Mind Map Template Exercise
Branding Checklist
Ideal Client Worksheet
Products & Services You Can Offer Brainstorm
Budget Sheet
Info Sheet for LLC vs Sole Prop, EIN + Business Bank Account, Business Addresses, and Taxes
Business Bank Account Checklist
Resource Planning Worksheet
Pricing Templates for Products & Services
How to Find Clients & Pitch Them Your Services
Pitching Templates
How & Where to Sell Your Products
Disclaimer: When you click any of the buy now buttons below, you will be directed to Shopify and their secure payment gateway. They host the product for us and handle all of the payments. 
$15. That's it. Get over 15 pages for just $15 🎉
"We are starting our online store and as artists, new in this world of online stores, we were completely lost about how to set the prices of our pieces. The price sheet made our lives much easier, so easy to use and just what we wanted - get fair prices for our pieces without going too high but getting a fair compensation for our time and creativity.. thank you!" - Eve, 

resilience.th
"If you're thinking about side hustling, but aren't sure how to start, this workbook is a great resource! You'll discover how to choose a profitable side hustle that you'll actually love doing. You'll also learn the business side of being your own boss to include legally protecting yourself and filing taxes. Jam-packed with great information, this is an amazing value. I highly recommend it to anyone looking to dip a toe into self-employment!" - Amanda