This page contains affiliate links and we may receive compensation when you click through, purchase or sign up for anything through those links. Read the full disclaimer for more information.
Last Updated on
We are living in crazy times.
Schools are canceled until further notice, the grand canyon closed indefinitely, and over 10 million people filed for unemployment so far in the U.S.
I won't tell you not to panic because you should feel all your emotions. Be aware of your emotions as you feel them (maybe write them down as they come and go to take note), but try and not react too much based on those emotions.
I am all about the feelings…and I myself, am feeling kind of panicky.
This is all so crazy and a lot of you are struggling. I've been trying to think of more fun ways to engage with you all to help you keep your mind off the chaos (and my own mind off of it) and towards the light at the end of this ridiculous tunnel here (like my goofy lives on Instagram, some fellow creators coming onto my Instagram next week to school us all in some hot financial topics like investing and giving away all my printables for free last week).
I wanted to give something away that wasn't just money but also had some educational value that you could use as you move forward through the fire.
Knowledge is power, after all.
That brings us to my $100 + mini financial care package giveaway! (keep scrolling to enter)
Enter to win $100 to either your Venmo, PayPal or gift card of choice + a small financial self-care package to help you get through this time which includes:
Even though I will be sending these physical books to you, I will be sanitizing them and the packaging before sending them off (the printable bundle is a digital download and the $100 will also be sent digitally).
Enter below and sign up to receive our newsletter. Earn bonus entries for every action after that (which are all free).
Check your email to confirm your entry and to receive credit for that entry. (Be sure to check your spam inbox too!)
But we promise not to ever send you any spam (even if it does accidentally go to your spam inbox because of weird auto filtering).
The giveaway ends May 1st which will also be when the winner will be announced.
Stay safe and healthy out there everyone, keep social distancing, spend time with family and friends on zoom or facetime and wash your hands!
Nurses and essential workers, we appreciate you SO MUCH! Nonessential workers, we also appreciate you! The only way to get through this is together (but at a safe distance, preferably virtually).
We WILL get through this, we just don't know exactly when but there IS life after this.
---
Some helpful resources to help you get through this:
Pin this for later!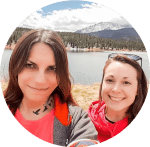 Daniella is the creator and author of iliketodabble.com. When her wife Alexandra and her aren't globetrotting or playing with their 7+ animals, they are hustling and working towards a future of financial freedom.