This page contains affiliate links and we may receive compensation when you click through, purchase or sign up for anything through those links. Read the full disclaimer for more information.
Last Updated on October 27, 2020 by Yovana
With a new year, comes plans for a new you. Everyone is panicking after the holidays, trying to lose weight. They will sign up for all the 'hot' weight loss programs to find out that they paid way too much for the same results they could achieve on their own. Losing weight doesn't have to cost a fortune if you simplify what needs to be done, and take it day by day. Anyone can lose weight fast in 2018, without breaking the bank.
The most important thing about losing weight is that you do it in a safe and healthy way. If you attempt to lose weight in a unhealthy way, you can be at risk for health issues, eating disorders, and a range of other serious bodily issues. You might even get burnt out and gain that weight back.
Before we get into the nitty-gritty of how you can lose weight fast in 2018, I want to tell you I do not have a magical pill to help you out. Losing weight for me was a lifestyle change and it the only true way to lose weight, get healthy and be fit for the long run. If you want to do this, you have to put in the work like everything and everyone else. It took me close to 6 months to lose 50 pounds about 3 years ago, and have stuck to my fitness regimen ever since (and then some).
Need more motivation? Start a blog to track your weight loss journey and success. Blogging helps me stay focused so I am not snacking all day. I know a few people who have had enormous successes with their fitness and weight loss blogs. If this is something you want to look into, check out this post on How To Create A Self Hosted WordPress Blog with Bluehost. If you sign up for Bluehost with my link you get a free domain, free site builders, free 1-click WordPress install, 24/7 support and all for only $2.95 a month! You really can't beat that deal.
Lose Weight Fast in 2018 Without Breaking The Bank
Let's shed those pounds and keep our money!
Pin it for later!

Make time for your workouts.
Make a meekly or monthly schedule where you block time daily to get your workouts in. The easiest way for me to squeeze in my workouts with a busy life is getting my workouts done early in the morning, right as I wake up. I understand not everyone are morning people, and neither am I. But trust me, it is a million times easier and more effective to get your workouts in first thing in the morning. That way you get it out of the way, boost your metabolism for all day fat burning, and don't end up skipping it after a long day.
Need more motivation? I thought so. That is why I created a free weekly workout planner for you to help stay focused and motivated all year long!
Sign up to get your free workout planner!
Organize your weekly workouts, set goals and reach them with this cute, fun and free printable!
Skip the gym membership.
Don't head straight to your local Club Fitness or 24 Hour Fitness and sign up for a gym membership right away. You will end up wasting A LOT of money and never using that membership. Think of how many germs float around at those places anyway…yuck!
Instead, start small with working out at home first. Try workout videos and move up from there. My favorite, heart pumping workouts that I have found burn fat like NO OTHER, are any videos from Jillian Michaels. It is easier to work out when you don't have to drive anywhere nor have to share germ infested machines with 50 other people.
See what kind of activity you like best and if you can make your workout schedule work for you at home. Get some light home workout equipment such as an exercise ball, resistance bands, light hand weights or bars. My personal favorite are these weighted bars that are super easy to store away in a closet or under our bed!
If you can't stand to work out at home, go outside. Nature is the original home gym!
Eat REAL food.
Real food is fresh and healthy food, from the earth or protein sources (animals) that will sustain your mind and body. Real food is rich in vitamins and other essentials that your body actually needs to survive and flourish. This means no refined sugars and nothing processed such as hot dogs, pop tarts, cookies, etc. You get it right? Real food consists of fruit, vegetables (the more colorful, the better), nuts, beans, chicken or fish (keep the protein lean), leafy greens, roots, etc.
Eating real food will also help to balance your hormones for maximum fat burning power!
Plan your meals ahead of time.
Planning your meals every week saves time, money and calories. If you have trouble planning meals out in advance or maybe don't have the time to, try out $5 Meal Plan.
$5 Meal Plan is a weekly meal plan service that can simplify your meal planning beyond belief. For just $5 a month, you will get a delicious meal plan that only costs $2 per person (at the most). Most of the time, it ends up being less per person. The best thing is they have tons of specialty meal plans to chose from so if you have a specific health need that has to be met, no problem! You can try $5 Meal Plan 14 days for absolutely free! Check it out here!
Try out healthy meal delivery services.
With meal delivery services, cooking and eating at home has been easier than ever. I have found with most meal delivery services, they end up being much cheaper than grocery shopping. They are healthier for you too if you know where to look!
Why struggle with the extra trips for grocery shopping when you can order online, and wait for them to deliver it straight to your door? Plus, all of the meal plans listed below contain fresh and healthy ingredients, to help you on your weight loss journey.
Check out some of these amazing meal delivery services that I recommend:
Check out more ways to save on grocery shopping for your healthy meal choices in this post: How To Cut Your Grocery Bill In Half
Track your progress.
The key to weight loss success is to track your progress. Write everything down from the food you are taking in, to the the workouts you finish (don't get psycho about it though).
If 3,500 calories equals 1 pound, you can easily lose 1 pound a week by eating between 1,200 and 1,500 calories a day and working out for 30 minutes, 5 days a week. Those are the numbers I got when searching online at the beginning of my weight loss journey about 3 years ago. That is not the same for everyone. It all depends on your body type, metabolism, hormonal balance, etc. So tweak your weight loss plan to fit your needs.
This is why tracking your progress is important, to find out what is working, what isn't working and to tweak your plan for more efficiency.
Get paid for your progress!
HealthyWage is where you can take wellness challenges and win up to $10,000 for reaching your goals. You can participate in individual weight loss challenge where you set a specific goal using their calculator, jackpot challenges where you compete as an individual or as a team and if you win you can split the jackpot, or step challenges where if goals are met you can split the pot of earnings.
You can host your own challenge maybe with your corporate office for a nice summertime activity to get people motivated, or join a challenge to reach your own weight loss or fitness goals.
How it works is you can calculate your potential prize here, make your bet by adjusting your goal weight, participate in weekly weigh-ins, get support for the great HealthyWage community of players, and win your hard earned money for reaching your set goals!
Check out more ways to get paid for losing weight, staying healthy, or just being fit: How To Make $1000 By Losing Weight
Want to pave the way for a future of financial freedom? Get loads of tips that I use every day to make extra money and save extra money as I prepare for mine!
The Money Tips Master List
Sign up for the master list of money tips that I use to get in shape for a future of financial freedom!
A little supplement won't hurt.
One of my favorite ways to get my vitamins is to have them with my coffee!
VitaCup is a vitamin infused coffee pod that is compatible with Keurig coffee machines. The product gives coffee drinkers the chance to get their daily source of vitamins and their coffee fix in one shot!
Note: Make sure to drink 8 ounces of water for every 8 ounces of coffee you drink to avoid dehydration.
Coffee by itself is already great for you. The coffee bean has an array of health benefits including increasing focus and boosting the metabolism. Adding your daily vitamins into the mix is a win-win! Check out more about VitaCup here.
Have fun with it!
Find a way to enjoy working out. I use to HATE IT. Then I found running. Sure, I hated running at first and thought anyone who said they loved running must be insane. Now, running has become a part of who I am. I can't get enough of it!
Somewhere along the line, I learned to love running. If you find something you love, you will stick with it. If you chose workouts you hate and dread doing, you are going to burn out. Much like anything in life, do what you love!
What are your 2018 weight loss, health or fitness goals?
I would love to hear more about you and your own health and fitness journey in the comments below!
Find more ways to save extra money or make extra money in 2018: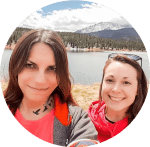 Daniella is the creator and author of iliketodabble.com. When her wife Alexandra and her aren't globetrotting or playing with their 7+ animals, they are hustling and working towards a future of financial freedom.