Our website is supported by our users and contains affiliate links. We get paid when you purchase or sign up for anything through those links. Read the full disclaimer for more information.
Last Updated on December 3, 2020 by Yovana
Pause the financial and side hustle content for a moment. We will get to that later down in the post.
A Black man was murdered by not 1, but 4 officers and it was all caught on camera.
It shouldn't take a video of murder happening in front of our eyes to realize Black lives matter. Black lives have always mattered, long before the Black Live Matters movement was founded in 2013 in response to the acquittal of Trayvon Martin's murderer George Zimmerman and long before George Floyd, but our society fails to recognize that.
It's true, our society is rooted in centuries old white supremacy that openly tolerates racism again and again. It's seen in our workplaces, our community leaders, police forces, and even our own president.
And this isn't just America, it's widespread internationally.
Something happens, we are all "outraged", and then it gets buried until the next injustice against the Black community is caught on camera and goes viral or something takes storm on social media.
I am not any better. I mean, what have I done? Not enough.
Quick History Lesson
Rewind back to 1921 during the Tulsa Massacre in the Greenwood district. Greenwood was the thriving self-contained and self-sustaining "Black wall street" where Black residents owned the houses, banks, stores, restaurants, theaters, everything.
Not everyone appreciated the success story of Greenwood, especially the members of the KKK that started to take root in Tulsa.
And then a Black man stepped on a white woman's foot, and all hell broke loose. Well, there is more to that story but I think this animated comic and amazing educational resource will tell you the story way better than I could (shout out to my friends at Gnomad Home for sharing it).
As many as 300 residents were killed, 9,000 residents were left homeless, 1,200 buildings were destroyed, and resulted in $50-$100 million in property damage. All at the hands of white rioters and the police who let it happen.
There were no prosecutions of the instigators. Fast forward to 99 years later today, May 31st 2020, and there have been no reparations.
This 100% happened and is true. You probably don't remember learning about it in your history books because your school probably didn't teach it to you. It isn't in our U.S. whitewashed history books and I certainly didn't get it taught to me at the mostly white catholic grade school I went to.
Racial Equality and Money
This is where it is clear that racial equality has everything to do with personal finance. The Black community in the district of Greenwood was absolutely thriving until those white rioters decided to take it all away from them.
This is still very true today in the way that our economy and society push our Black community out of the financial conversation time and time again. We like to feature them and tokenize them in big media sites all in the name of diversity but it's bullshit.
We don't try enough as a nation to help our struggling communities and give them the same access to financial services as more privileged communities have. This has a ripple effect for Black-owned housing, businesses, and more.
When they don't have this same access, it costs them more in their overall cost of living. This includes the rising costs of their access to their own money when they don't have a bank to go to and most even pay more in banking fees than whites because of the lack of access to the same services.
This isn't the only financial cost on the Black community, but one of many such as the predatory business of payday loans, lack of financial education and resources in general, crippling disadvantages to those who are getting out of the prison system, and many more that compound generation after generation. And when police officers and other white entitled groups take Black members from the community, it is left to the families to clean up the mess when they often are already struggling.
The racial wealth gap is just as real as the gender wage gap and the gay and transgender wage gap. An often, they intersect each other.
Fast Forward to 2020
Protests broke out across the country and the world in solidarity with Black lives and I'm with them. Even though attention is on George Floyd's public murder by Police Officer Derek Chauvin (with 3 other officers watching and allowing it to happen), this is about all Black lives mattering.
George Floyd isn't the first to die at the hands of a police officer.
Let's take a moment of silence to remember the lives taken from our Black community.
George Floyd
Ahmaud Arbery
Nina Pop
Tony McDade
Breonna Taylor
Natasha Mckenna
Regis Korchinski-Paquet
Tamir Rice
Eric Garner
Monika Diamond
Philando Castile
Samuel Dubose
Walter Scott
Terrence Crutcher
Christian Cooper
Kenneth Walker
Trayvon Martin
Sandra Bland
Oscar Grant
Jordan Davis
Sean Reed
Freddie Gray
Alton Sterling
A young man from my own neck of the woods, Michael Brown shot by police officer Darren Wilson almost 6 years ago in Ferguson, MO
And many many MANY others
Police officers need to be arrested and held accountable for their actions. No, not a lesser sentence or "take it easy" on them.
I'm talking full fledged convictions.
We shouldn't allow police officers to have some sort of untouchable status and we enable these murders by doing so.
As a white woman and as a Latina woman, I should've been doing more. We all should've been doing more. It isn't on Black people to be better, it is ON US to be better. THEY NEED US.
Let's talk about what we can do to help our Black community.
White/White Passing and Non-Black Folks: What You Can Do
If you are also outraged by this and wanting to learn how to help, start with looking inside.
Question your own biases – ideas planted in you by the society you grew up in, and how you can unlearn any anti-Blackness.
Be an ally past the #BlackLivesMatter hashtag.
This is what I am trying to do and recommending educators like Rache Cargle, books like How to Be an Anti-Racsist, and Black Feminist Thought, constantly questioning what I see, hear, and think (some of these books might be sold out now, but you can get their audiobook versions on Google Play or other similar audiobook providers).
Other books I recently purchased:
Even if you already donated to the Minnesota Freedom Fund, there are more organizations and people seeking your help, money, and representation.
The Minnesota Freedom Fund has already received a surplus of donations and started to funnel that money to other organizations. Let's talk about what else you can do:
Donate to the victim's families on sites like GoFundMe where you can search the victim's names and find their family's GoFundMe's they've set up. Check here for directions on how to determine if it is safe to donate to a campaign. Also, look on Instagram and Twitter to see if there are any family members or friends of victims sharing links to their GoFundMe campaigns. You can search hashtags like #BlackLivesMatter #GeorgeFloyd #JusticeForGeorgeFloyd or any of the victim's hashtags for their names above.
Donate to Black-owned organizations in your local area that are supplying those on the front lines of protests, bail funds, Black local owned small businesses, etc.
Sign any petition you can in support of Black lives mattering.
Show up and vote for every election, including your local and municipal elections (not just when presidential primaries roll around).
Vote with your wallet and buy from Black businesses, stop supporting corporations and businesses that don't support their Black communities and employees, and even urge your own employers to hire more Black and brown BIPOC (Black, indigenous, and people of color).
Where to donate (we will try to update this as often as we can):
Amplify Black Voices
Not only show up and support your Black community, amplify their voices, and share their stories. Post their links to their business page, to their YouTube, their social media, or better yet, volunteer for them and buy their stuff! Then tell your friends and families about their businesses and organizations.
Some Black voices in the personal finance sphere I want to highlight, please go check them all out, follow them, sign up for their email lists, and buy their stuff:
Black Folks: If You Need Help
If you are Black and are struggling right now, here are some resources that might be able to help you during this time that I've gathered from social media and other online sources (will also continue to add to this as much as we can):
Sending Love
We pledge to donate 50% of June 2020 ad revenue to 2 organizations we feel strongly about and that is Funding Queerly who help the liberation of LGBTQ+ Black and undocumented immigrant communities by giving them the funding resources to organize, build power and leadership, and make positive and sustainable change and Black Trans Femmes in The Arts who connect the community of Black trans women and non-binary femmes in the arts and to build power among themselves. You can help us by sharing this post with your friends, family, social media, and anyone you want.
I may not always be right or say the right words but I will continue to try my best to come out and be there for our Black folks. I hope you choose to do the same.
You don't have to be the best or perfect at it, you just have to try.
Please comment below if you have any additional resources or info to add to this and sending all my love to you!
Pin it for later!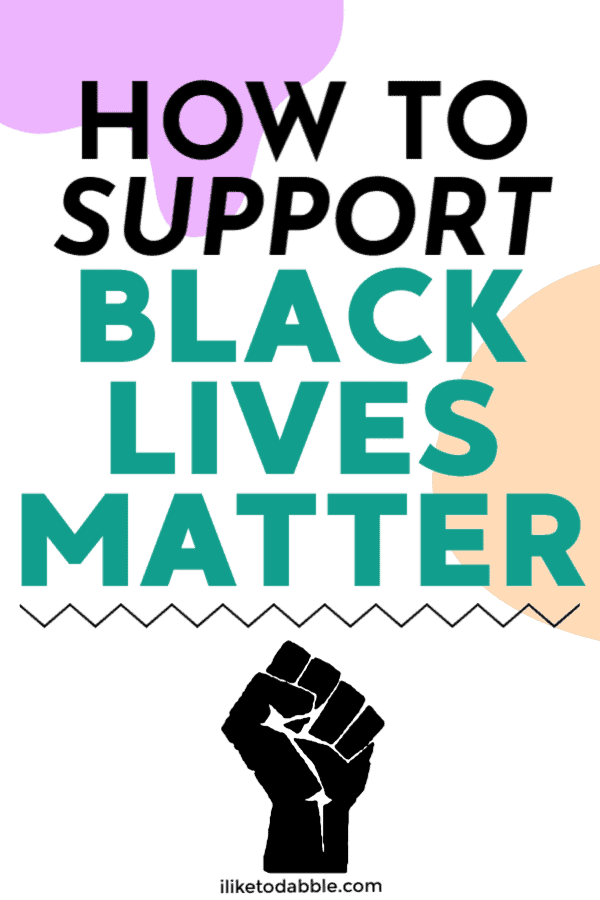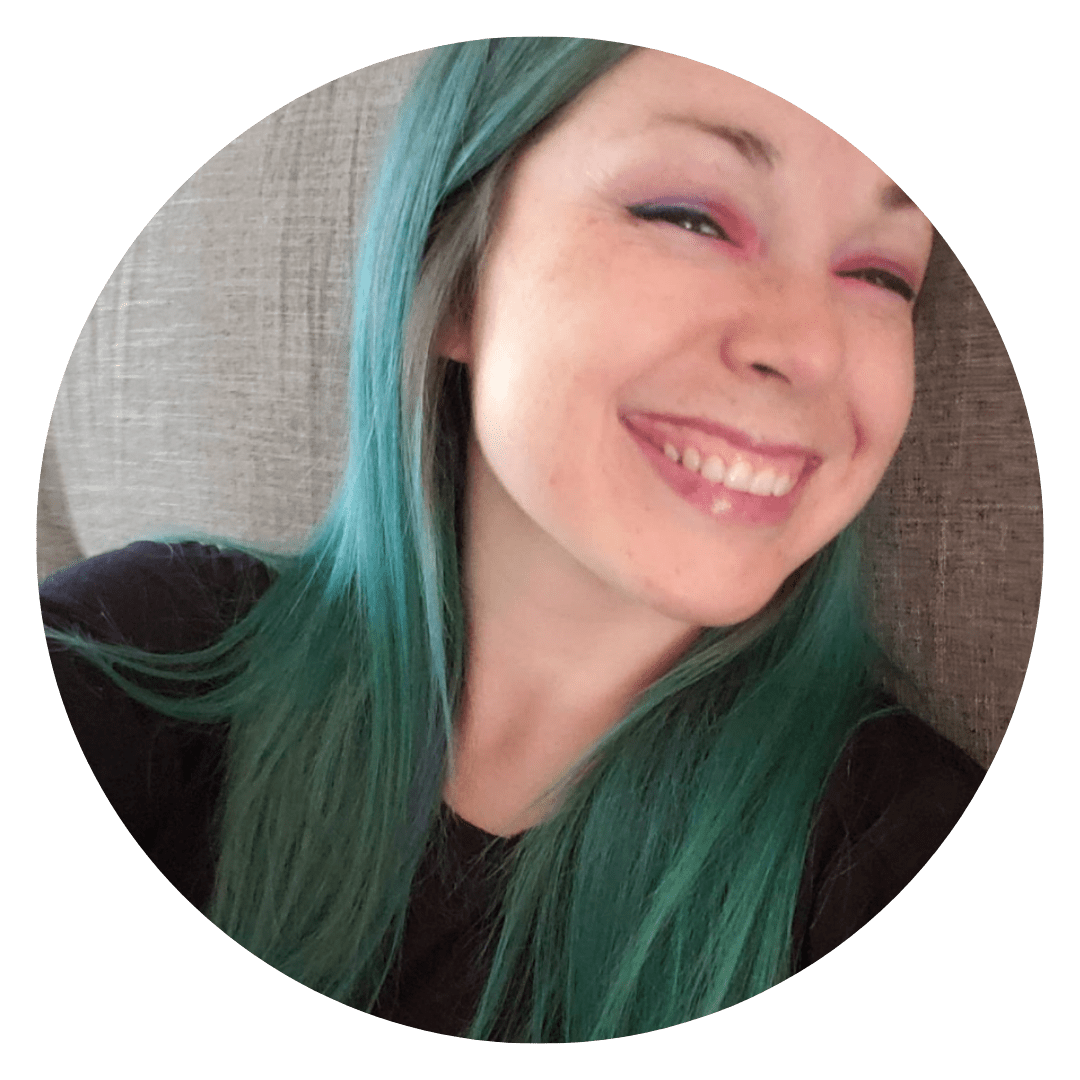 Daniella is the creator and author of iliketodabble.com. When their wife Alexandra and them aren't globetrotting or playing with their 7+ animals, they are dabbling and working towards a future of financial freedom.